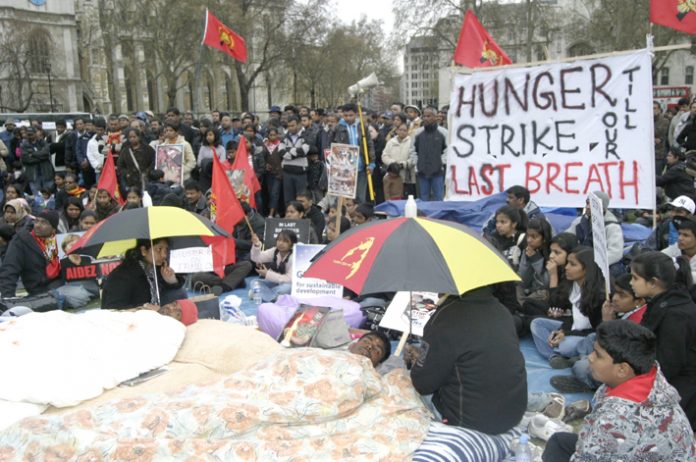 'TWO of our brothers are on a hunger strike to death,' Janani Paramsothy of the British Tamil students told News Line at Parliament Square yesterday.
The hunger-striking students Sivatharsan Sivakumaravel and Parameswaran Subramaniyan told News Line that their condition was 'not bad'.
Sivatharsan said: 'We are here for our people to save them from the killing. We are on our fourth day of fast. We are just taking water until this British government does something to stop the genocide.
'If they don't act after one week, we will continue not taking water. We are both prepared to die.'
Hundreds of Tamil supporters were in the square supporting the two students with many placards condemning the genocide being waged against the Tamil people in Sri Lanka.
Up to 200,000 Tamils are due to rally today at the Charing Cross Embankment from 1pm.
Paramsothy continued, 'They are determined to die if this British government doesn't take the action we want them to take. We want the British government to stop this genocide.
'We want an immediate and permanent ceasefire. There was a two-day ceasefire in February but all they did was evacuate the people and put them into "refugee" camps which were really concentration camps.
'And the people did not want to leave as it is their land and many are refugees from other Sri Lankan army attacks.
'The Sri Lankan armed forces are bombing, shelling and using chemical weapons including a recent gas attack that killed 1,500 people.
'I feel I would go and join the Tigers, that's how bad it is. I was born here in the UK. We were taught in schools that this government is democratic, that the UK and US saved the world.
'But they are supporting the Rajapakse regime, they fund it. What I particularly don't understand is why Sri Lanka has not been kicked out of the Commonwealth.'