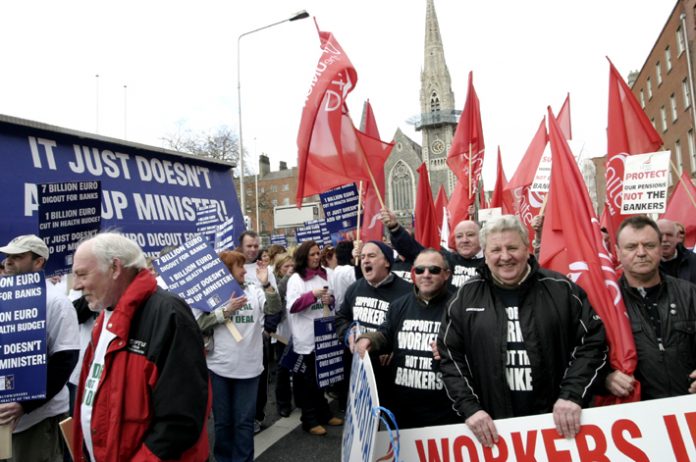 The Irish Hotel Federation (IHF) has claimed 150 hotels will be forced to close after the announcement that Bank of Scotland (Ireland) is to close.
The bank provides 20 per cent of all loans to the hotel sector in the Irish Republic.
In a weekend statement, the IHF expressed 'serious concern that the decision by Lloyds Banking Group to wind down Bank of Scotland (Ireland) and cease to provide working capital by the end of the year will place otherwise viable hotels in an impossible financial position.
'Bank of Scotland (Ireland) is a major lender to the Irish hospitality industry with loans in excess of two billion euros to the hotels sector.'
Paul Gallagher, President of the IHF stated: 'In addition to long-term loans, the existing package of facilities provided by Bank of Scotland (Ireland) to our members includes vital seasonal funding to carry them through the quieter winter period.
'Unilateral withdrawal of these working capital facilities at the end of December would be catastrophic, particularly at a time when other banks are reluctant to take on new customers and when asset securities would continue to be held by Bank of Scotland (Ireland).'
He called on the bank to honour its obligations at least until hotels find other bankers.
Gallagher added: 'The government and regulatory authorities also have an obligation to protect the economically important hotel sector from being at the mercy of the unilateral withdrawal of such vital facilities.'
Meanwhile in the UK, the chief economist at the right-wing Policy Exchange think tank, Andrew Lilico, has warned that interest rates could rise to as much as eight per cent.
Lilico forecast that a brief double-dip recession early next year is likely, but it 'would be quite compatible with a boom thereafter'.
Forecasting a leap in inflation, he said: 'I believe that this will be the combined result of natural recovery-driven growth and massive and unsustainable investment driven by huge monetary growth.'
To control inflation, 'interest rates will rise rapidly as well', Lilico added. 'To keep RPI inflation down to only ten per cent for one year, the economy will have to be able to tolerate interest rates of perhaps eight per cent.'
Lilico warned: 'Once the economy gets growing sustainably, there will be a huge expansion in the money supply, which will lead to inflation.'
He added that the 'money printing' policy of the Bank of England has quadrupled the monetary base and forecast that once the economy starts growing properly again, lending will expand and there will then be 'too much money chasing too few goods'.
Lilico believes that 'once inflation rises, interest rates will rise rapidly as well.
'Since interest rate rises will raise mortgage rates, the initial effect will be even more inflation.'
He concluded that this would prompt another recession.