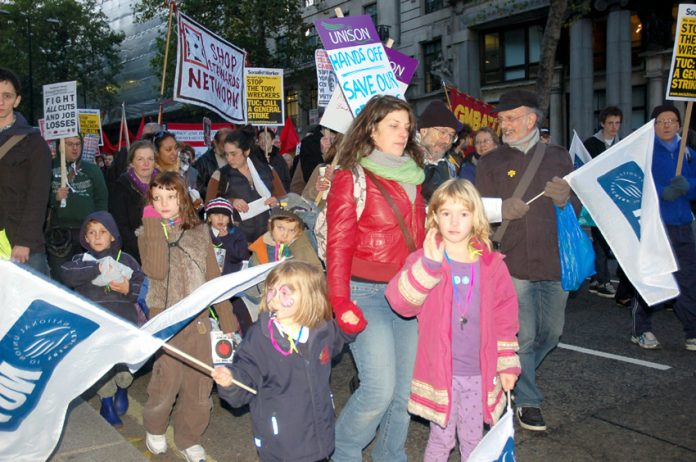 'Welfare changes starting today will see up to 111,000 single parents set up to fail as they are forced to seek work – or risk a benefit cut – without availability of jobs, adequate job-search support or childcare help', single parents charity Gingerbread warned yesterday.
It added: 'Today's reforms mean all single parents with a youngest child aged seven to nine will be switched from Income Support to the tougher Jobseeker's Allowance (JSA).
'Parents with a youngest aged 12 were moved to the new system in 2008 and those with a youngest aged 10 were moved over in 2009, but the system is currently not helping single parents to move into jobs.
'Only an average of 3.5 per cent a month of single parents with a youngest aged 12 to 15 have moved into jobs since they were switched from Income Support to JSA in 2008.'
Chief Executive of Gingerbread Fiona Weir said: 'Government needs to act fast to improve availability of jobs with flexible working hours, improve the job-search support provided from day one of a claim, and increase access to childcare.'
She added: 'We urge the government to introduce short-term measures to help make short-hours jobs pay, and to review recent decisions to cut help with childcare costs which will create a further barrier for single parents trying to get into work.'
Gingerbread cited the lack of jobs and that 'last week's Spending Review outlined nearly half a million job losses across the public sector by 2014/15, while City accountants PwC has estimated that a similar number will be lost in the private sector'.
Also that 'for a significant proportion of single parents, work is not a route out of poverty: 21 per cent of children whose single parent is in full-time work still fall below the poverty line, as do 29 per cent of children whose single parent works part time.'
Gingerbread warned that 'last week's announcement of reduced help for childcare costs will create an additional barrier to work, on top of the fact that only 45 per cent of local authorities report sufficient childcare availability for children aged 5-11.'
l Council chiefs have told MPs that cuts in Housing Benefit will force more than 200,000 to leave the Capital in what one MP has described as 'an exercise in social cleansing'.
Last Wednesday, as Chancellor Osborne outlined his Comprehensive Spending Review, representatives of London boroughs gave evidence to MPs on the House of Commons Work and Pensions Select Committee.
Council officers said that 82,000 families (more than 200,000 people) face losing their homes because private landlords will not cut their rents to the level of caps imposed by ministers.
Labour MP for Dagenham Jon Cruddas commented: 'It is tantamount to cleansing the poor out of rich areas – a brutal and shocking piece of social engineering.'
Housing officers told the committee that in order to house those who will be priced out of the London market, councils have already block-booked bed and breakfasts and other private accommodation outside the capital in towns such as Hastings, Reading, and Luton.