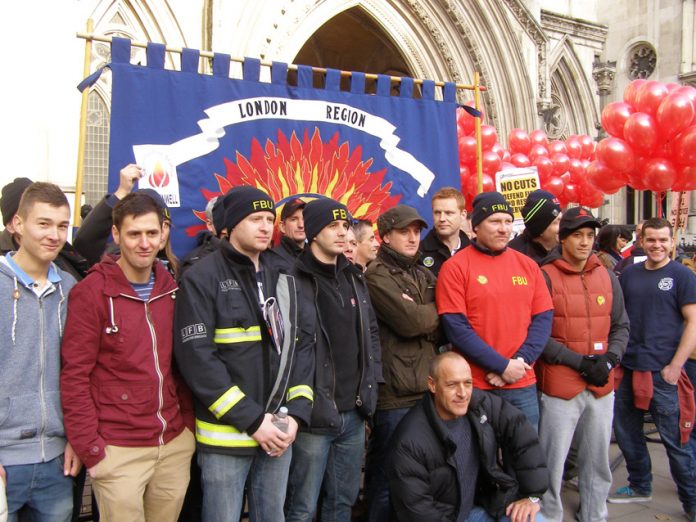 OVER 100 firefighters picketed the Royal Courts of Justice yesterday against the decision to close ten fire stations in London and cut 552 jobs as well as 14 engines and two Fire Rescue Units.
The courts were hearing a judicial review into London Mayor Boris Johnson's decision to savagely cut the London Fire Brigade.
Speaking to the News Line Paul Embery, FBU London Regional Secretary, said: We think that Boris Johnson's cuts are dangerous and wrong, and we hope the court sees it that way too.
'But one way or another, we will fight the cuts to the very last minute.
'Everybody in London is opposed to the cuts and we hope that the judge sees what everyone else can see.
'That is that these cuts will cost lives.
'We are keeping everything under review in terms of further industrial action, all options are still on the table.'
Ian Lehare, FBU Executive Council, said: 'We have got battles on pensions and battles on jobs.
'We have to fight in all areas against all the proposed cuts.
'The Fire Service is a vital service.
'We will keep fighting until we win.'
The fight to defend the Fire Service in London, jobs, stations, appliances, fire fighter pensions is part of the fight nationally against all the cuts and it will carry on whatever the court decides today.'
Adele Phemister, FBU member and retired firefighter, told News Line: 'I was in the fire service for over 25 years. It still makes me feel miserable and angry to see these people like Johnson destroying what is one of the best public services.
'With these cuts it will take longer for firefighters to get to incidents, and less of them will be able to attend.
'There is now a call handling policy to turn away what are considered to be less serious calls.
'The cuts are also affecting our training.
'The Trade Union leaders should call co-ordinated strike action, including the calling of a general strike.
'That's the only way to solve the problems that workers have.'