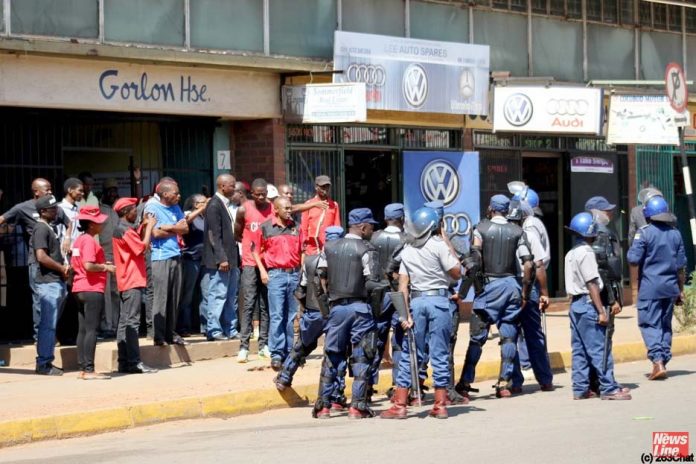 ZIMBABWE'S largest labour union confederation called a national strike starting midnight on Sunday/Monday after the government more than doubled fuel prices to among the highest in the world.
The Zimbabwe Congress of Trade Unions (ZCTU), which represents most labour unions in the country, issued the call on Sunday, just a day after the government upped petrol prices to $3.11 a litre from $1.34; and diesel to $3.21 a litre from $1.49. 'I think if nothing happens now after this ridiculous fuel price hike we Zimbabweans deserve what we get,' said Hamukwandi Mungofa, a 54-year-old self-employed mechanic in the capital Harare. 'I am for a national shutdown.'
The fuel hike capped a week of a deepening currency crisis, with the head of the main industry body saying many companies will close this month due to a currency shortage. 'The ZCTU general council resolved to call for a nationwide stay-away with effect from midnight today (Sunday) following the insensitive and provocative increase of the fuel price by the president of Zimbabwe,' said Japhet Moyo, the ZCTU secretary-general.
'The minister was given seven days to intervene, failure of which the labour body would mobilise Zimbabweans into a national strike. 'Of great concern to the ZCTU are the shocking massive price hikes that have affected almost every basic commodity, worsening the plight of the already struggling masses of Zimbabwe.
'Most workers, who earn an average of $300 per month, are now having to walk to their workplaces as they can no longer afford transport fares.' ZCTU president Peter Mutasa confirmed the planned stayaway, saying fuel price hikes had triggered the industrial action. 'The fuel hikes announcement came late on Saturday and on Sunday we consulted workers and affiliates,' Mutasa said.
'The issues that came out were that workers do not have the money to report to work because transport has been hiked to $5 in some places, and they cannot afford transport fares of $10 per day – which is $260 per month when the average worker earns $300 – this is primary school maths.'
He added: 'We resolved that with effect from midnight Sunday, we go for a stayaway – and it is not going to be one day. We are only just starting it.' Mutasa said ZCTU members would be in the city centre to encourage people not to report to work as it was not wise to borrow money to go to work. 'This time, we are going into a nasty round of suffering because fuel hikes affect every sector.
'We (ZCTU) are not afraid of arrests because we already know that we are dealing with a brutal government and people cannot continue living miserable lives.
'We have to take the mantle and move the people forward,' he said.
Mutasa added that ZCTU is demanding the government immediately addresses the economic challenges collectively with all stakeholders; immediately re-dollarises; and reverses the fuel increases – which are only for the benefit of the few cartels controlling fuel.
He pointed out that ZCTU had already given the government a seven-day ultimatum to sort out the economic quagmire or it would face nationwide strikes. 'We want government to make a policy pronouncement that from now on, all workers will be paid in United States dollars, and we have already given the Minister of Labour, Sekai Nzenza, a seven-day ultimatum to address the issue,' he said.
'We are talking to organisations dealing with children's rights as well as women's rights because women bear the brunt of the economic crisis. 'We are also talking to student groups because many learners are dropping out of schools because they cannot afford the fees, and we want them to join us in pressing government to address these problems.'
Progressive Teachers' Union of Zimbabwe (PTUZ) secretary-general Raymond Majongwe said the government's failure to sort out the economy is now driving every Zimbabwean to mutiny. He said when demonstrations by workers begin, they should not arrest the workers because they (government) caused these problems.
'Government is responsible for this chaos and for driving workers like civil servants to strike. So, when they start arresting demonstrators they must first arrest themselves (government) because they are the ones forcing people to act like this,' Majongwe said.
He said that with the new fuel hikes, the $1,733 minimum salaries being demanded by teachers' unions under the Apex Council are already out of date. 'Our incapacitation as workers has actually worsened, and now it means that government needs to be clever in addressing our issues otherwise the centre will not hold,' Majongwe warned.
'One also needs to understand that when the Apex Council first demanded a $1,733 wage increase, the PTUZ suggested $3,086 as of November 2018. 'As far as we are concerned, even this $3,086 has been overtaken by events after the 300% hike in fuel prices. It is impossible for employees to pay transport fares to work.'
Civil servants have warned the government that a full-blown national strike is imminent if their employer fails to review its decision to offer them a paltry $41 pay rise. Civil servants who met on Monday under the Apex Council to review last Thursday's outcome of the National Joint Negotiating Council resolved to reject the 10% salary increment offered by government and indicated they would embark on a strike within the next 14 days.
'Herein agreed by the Apex Council in a feedback meeting held on January 11, 2019, the NJNC (National Joint Negotiating Council) meeting of 10 January 2019 is void, as an offer of $160 million translates to a mere 10% salary increment, which falls far too short of our minimum demand and expectation, which government is well aware of,' the Apex Council said in a statement.
'While we await the lapse of our 14-day notice of a full blown industrial action, Apex Council leadership will be visiting sensitive offices to protest against the deteriorating situation,' the civil servants body said. The Zimbabwe Nurses' Association (Zina) also said that its membership can no longer guarantee reporting for duty following the paltry 10% pay rise, which they said was a 'mockery' of the services they provide.
Zina president Enock Dongo said nurses cannot report for duty now, especially with the recent hike in transport fares, and they reject the government's 10%. offer. 'As nurses, we are so incapacitated that the government cannot seriously offer us a mere 10% rise. It is also important to note that during these past months, nurses never considered downing tools,' he said.
Dongo said what is infuriating is the fact that the increment would only be effected in April. 'So what happens between now and then? How will our members be cushioned from this harsh economic environment? The government has no plan to solve this impasse. We are in the dark as to what the government intends to do to alleviate our suffering,' he said.
The nurses are on rotational duty and come to work two days per week, but Dongo said the shifts, done to mitigate against the economic woes, including transport, have not been helpful. 'Clearly, this strategy is not working. The nurses need to eat and also look after their families. How are they expected to perform their duties when they are not settled psychologically?'
The Apex Council is demanding at least $1,733 for the least paid worker, but government, which is firefighting a bloated wage bill, dug its heels in and only offered a paltry 10% salary increment. 'We urge government to engage with us and make a serious offer.
'Our members will soon be finding it difficult to continue subsidising the government by using their own resources,' (such as loans and savings) Dongo warned. He said the situation needs to be dealt with urgently to alleviate the crisis, adding that the health sector cannot possibly take another knock following the recent 40-day strike by junior doctors.