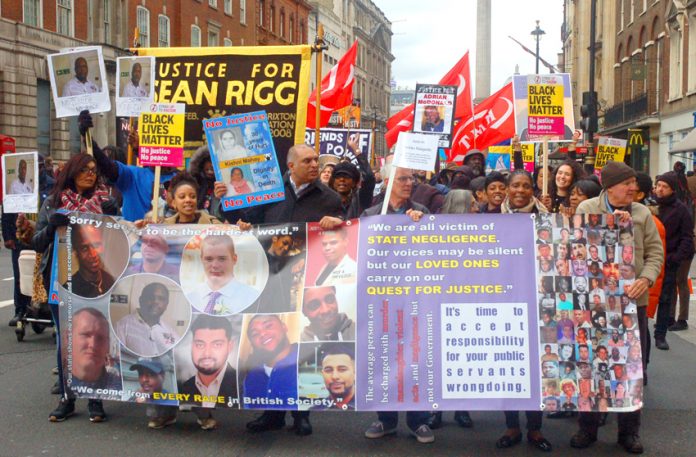 'No Justice, No Peace! Who are the murderers – Police are the murderers!' shouted over 300 bereaved relatives and supporters as they made their way from Trafalgar Square to Downing Street on Saturday.
The marchers were taking part in the United Families and Friends Campaign (UFFC) 20th annual march to demand justice for those killed at the hands of the state.
News Line spoke to several of the participants before they set off.
Carrying a Justice for Yassar banner, Mohamed Yaqub said: 'I'm the father of Yassar Yaqub who the police shot three times in the chest on January 2nd 2017. 'My son was stopped in a hard stop. His car was still in motion. 'He was shot three times without warning, no body cameras. Police said it was a pre-planned operation.
'I've taken a letter to Downing Street last year and I am today as well.
'I've had no answers whatsoever from the IOPC. 'The police said there was a tip-off – and we don't know anymore than that. 'My son was out eating in a restaurant in Bradford with friends.
'On his way back, as he came off the motorway on the slip road, as he was still moving, the police in an unmarked car banged into my son's car and shot through the windscreen. 'I've always alleged the police assassinated my son and I need answers.
'My son had no criminal record. He was a passenger in the car. The driver was arrested.
'The same police officer who shot my son said he found a gun in the car. My son was 28 years old, father of two little children. I will never let this go.' Yassar's brother-in-law, Issa added: 'I feel the same as Mohamed. We need to get justice for Yassar.'
Wearing a Justice for Winston T-shirt, Winston Augustine's mother Catherine Slatter said: 'My son died in prison. 'We believe that it was an unfair killing. He was in Wormwood Scrubs. 'They are trying to say he killed himself because he had cancer. But he got rid of the cancer 18 months ago. He died on August 30 this year.
'We have had no joy from the autopsy yet and we won't be getting an inquest until February or March next year. 'I feel ill. He's my only son. We can't move on with our lives. Me and my family want to know the truth. 'This government stinks. There's one rule for the government and another for normal people like ourselves 'The unions should take action to get rid of this government – that's the only way we'll get justice.'
Louis Neville said: 'My brother Darren had a mental health crisis and was in urgent need of medical assistance.' Carol Neville continued: 'Police arrived. They ignored their training, rushed in and restrained my son. 'Up to seven officers restrained him. As a result of that he suffered a cardiac arrest. 'He was not breathing for 15 minutes and then the ambulance came. They resuscitated him. He suffered hypoxic brain injury and was in a vegetative state and died 54 days later in hospital.
'I feel that the whole system has let us down. That includes everyone from the police right up to the government. We're devastated that we've lost our loved one. 'Nothing can bring him back. We want change to stop these deaths, we want accountability.'
Sonia Mahay said: 'My nan Kishmi Mahay was killed by a police car 30 years ago while she was on a pedestrian crossing in Wolverhampton. 'We're still campaigning. The inquest said basically it was her fault. We want the right verdict. We want dignity in death for my nan.'
Wayne McDonald told News Line: 'I'm the brother of Adrian McDonald. He died in Staffordshire on 22nd December 2014. 'He was tasered and bitten by a police dog. 'He was at a friend's party and became paranoid. Police were called. He barricaded himself in a flat.
'When the police arrived they sent a dog in, even though he was a vulnerable and scared individual. 'While he was getting bitten by a dog, he was tasered for 25 seconds, which is five times longer than he should have been.
'He died 18 months after police contact. There was a hearing where police were found guilty of negligence and misconduct – they didn't give my brother aftercare. 'A year later police appealed that verdict and the misconduct charge was dropped. 'We now have an inquest on 12 November. Usually you have an inquest first but the police had the misconduct hearing first.
'We feel let down by the system. It's supposed to be independent and transparent but it isn't. 'The police have all the information but they don't pass it on. The family are the last to get any information. 'It took the IPCC nine months to interview the officers. The people should be first in everything, we have to fight for everything.'
Lisa Cole said: 'My brother Marc Cole died last year, in May 2017, during a mental health crisis in Falmouth. He was tasered. 'We're here today to join all the other families who have lost their loved ones after contact with the police. 'We're calling for reform on how people with mental illness are restrained during crisis. 'We are waiting for a date of his inquest. No justice, no peace.'
At a rally opposite Downing Street, Lisa stressed: 'Tasers are lethal, they stop people's hearts. 'Police are killing our loved ones. They stop us from burying our loved ones.
'The whole system is involved, the families have had enough, we're not going to take it anymore.'
Kishmi Mahay's son Raj Mahay said: 'The police referred to my mother as a dog. It's been thirty years of hurt. 'Every time we say something the police put us in a corner with lies.'
Olaseni 'Seni' Lewis died after being restrained. His mother Aji told the rally: 'They said police weren't trained properly – they were trained to kill! 'Police, prison and hospital staff automatically get legal aid but not the families.'
The parents of Rebecca Louise Overy were on the march with their banner. Barry Wilson said: 'Our daughter Rebecca died three months after her eighteenth birthday whilst in the care of Annesley House Hospital, a for profit unit that is part of a failing mental health system due to the neglect of the government and its predecessors since the 1980s.
'The treatment of patients in mental health units is secretive and all incidents,including deaths are subject to an internal investigation only. 'The Mental Health Act is an Iron Curtain providing impunity rom prosecution for the providers of "care". 'I want to see prosecutions and those responsible held to account.'
Dorotea Dos Santos, mother of Nuno Cardoso, was on the march with a large group of Nuno's friends . Nuno was an Oxford University student, who died after being restrained by police in Oxford. Dorotea said: 'I want to see justice done from the court case we have pending.' Michelle Kelly from Birmingham was a neighbour of Mikey Powell who died at he hands of the police in 2003.
Michelle told News Line: 'The dad-of-three was hit by a police car, twice,, sprayed with CS gas, restrained on the ground – while suffering psychosis – and bundled into the back of a police van. 'At the inquest police officers showed no remorse and said they would do it again. 'It took ten years for the police to make an apology, and during that time the family has had no support for the grief and suffering after their loss.'
On the march David Johnson, cousin of Olaseni Lewis, explained: 'Seni died in Bethlem Hospital after being restrained by eleven police officers. The inquest found that police had used unnecessary, excessive and disproportionate force. Police used handcuffs and sat on Sheni for 45 minutes.
'We wanted a manslaughter verdict, it's tragic waste of a young life.' Tellecia Clarke, sister of Kevin Clarke who died after being restrained by nine police officers at St Dunstans college in Lewisham said: 'We need to fight for change.'
Outside Downing Street the march was addressed by speakers from the families' campaigns. Becky Shah from the Hillsbrough for Justice (HFJ) read a powerful statement to the rally.
'On the 15th April 2019 it will be exactly 30 years since the Hillsborough disaster. As a result 96 children, women and men were unlawfully killed. 'My mum Inger Shah, aged 38, was one of them. My little 13-year-old brother was there and luckily he survived.
'I was unable to get at ticket, so watched the entire disaster unfold on television. 'My brother and I had to go into the care of social services. It has completely destroyed our lives, and we miss her so very much.
'The HJC fully supports the UFFC in its campaign to bring to justice all those who in the name of the British state, kill and murder people in our social spaces and institutions, including on our streets, in our police stations, in our prisons, in our mental health facilities and in our immigration detention centres. 'Justice for all those who have died through contact with the state. 'Justice for Grenfell. 'Justice for Hillsborough.'
Concluding the rally at Downing Street, Marcia Rigg, sister of Sean Rigg who died in the hands of the police in Brixton police station on August 28, 2008 said: 'Thousands of people have been killed by police. There are more new cases every year. 'Look at Grenfell, not housed yet. Look at Hillsborough, no justice yet.'