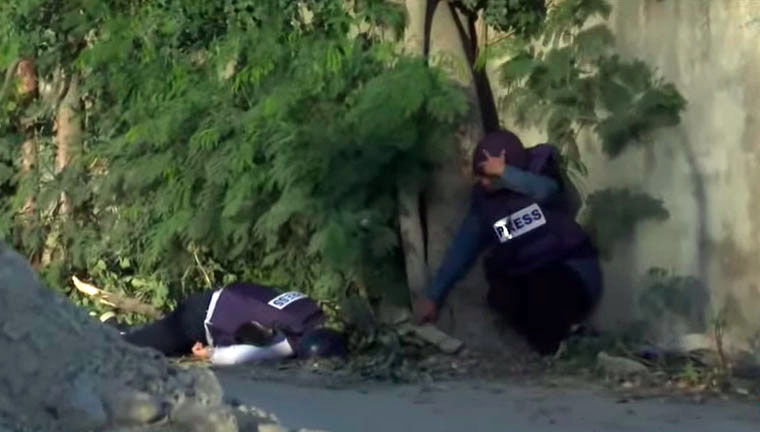 THE BIDEN administration has formally included Israel in the US Visa Waiver Programme.
This decision has ignited a heated debate surrounding issues of discrimination, American civil rights, and the intricate geopolitics of the Middle East. The Visa Waiver Programme permits citizens of participating nations to travel to the United States for business or tourism for up to 90 days, without going through the often-laborious process of acquiring a visa.
US Homeland Security Secretary Alejandro Mayorkas announced the move as one that 'will enhance our two countries' collaboration on counterterrorism, law enforcement, and our other common priorities.'
This diplomatic development has been a long-sought goal for Israel, marking it as a significant diplomatic achievement for Prime Minister Benjamin Netanyahu.
The Times of Israel reported that Tom Nides, who served as the US Ambassador to Israel until his departure in July this year, 'was seen as the driving force behind Israel's admission into the programme.'
His role in pushing Israel's inclusion cannot be underestimated, especially given his prior experience as a Morgan Stanley executive and his impending position as the vice chairman of the scandal-ridden Wells Fargo bank.
It's also noteworthy that this move comes at a time when Washington is actively pushing for normalised relations between Israel and Saudi Arabia.
The geopolitical implications are even more magnified when considering that the US might be using Israel's inclusion as a strategic carrot to entice Saudi Arabia into formal relations, a diplomatic coup that Netanyahu would cherish.
However, the move has not been without its critics. Some argue that the Biden administration is essentially rewarding Netanyahu for seemingly very little in return, especially given the ongoing controversial actions by Israel in the West Bank, such as rampant settlement building, which are in violation of both international law and established US policy. Critics claim that the move serves as a major diplomatic victory for Netanyahu, yet does little to advance the causes of peace or justice in the region.
On the domestic front in the United States, the inclusion of Israel has sparked legal action. The American-Arab Anti-Discrimination Committee (ADC) has filed a lawsuit against the federal government, asserting that it 'endorses Israel's discriminatory treatment of Palestinians with US citizenship while bolstering its far-right government.'
A few Democratic senators, who have historically been reliable pro-Israel stalwarts, have also voiced opposition. Their concerns echo the broader sentiment that the decision may embolden Israel's discriminatory policies against American citizens of Palestinian origin.
Countering this, State Department spokesperson Matthew Miller, during a recent press briefing, stated that 'the move will promote the freedom of movement of Palestinians with US citizenship, including those living in the West Bank.'
His statement has been met with scepticism. Critics argue that a two-month trial period during which Israel eased some travel restrictions 'provided no real opportunity for assessment', according to a coalition of civil society groups.
Abed Ayoub, the executive director of the ADC, added that Israel temporarily allowing entry to boosted numbers of Palestinian Americans falls far short of guaranteeing people their full rights.
One of the foundational principles of the Visa Waiver Programme is 'reciprocity,' which demands that participating countries extend the same travel privileges to all American citizens.
There is an increasing concern that Israel fails to meet this standard, as pointed out by AP reporter Matt Lee, who stated that the policy 'is discriminatory whether it is based on sound national security strategy or not'. For example, critics highlight that US citizens listed on Gaza's population registry must apply to the Israeli military for a permit to enter Israel, thereby undermining the concept of true reciprocity.
The ADC took issue with this, stating that the Department of Homeland Security 'is not following the law by redefining the meaning of reciprocity, a central tenet of the Visa Waiver Programme which requires that participating countries treat all American citizens equally.'
Further complicating matters is the Biden administration's decision to remove Kahane Chai (Kach) from its list of foreign terrorist organisations in 2022. This move was interpreted by experts as sending a 'clear signal to Netanyahu that US President Joe Biden did not object to his including the Kahanists in any future government'.
The removal of Kahane Chai from the list raises further questions about whether the United States is applying a double standard in its treatment of terrorist organisations, especially when considering that Hamas, the Palestinian faction that governs Gaza, remains on the list.
Meanwhile, across the Atlantic in Denmark, a tale of intrigue, ethical quandaries, and political upheaval is unfolding, casting a long shadow over the defence establishment and the international arms trade.
The country finds itself in the midst of a growing scandal concerning its arms purchases from Israeli weapons manufacturer Elbit Systems. The deal has baffled observers, given Denmark's previous stance against arms deals with Israel over violations of international law and Palestinian human rights.
In January, Denmark's government surprised many when it announced a $250 million deal with Elbit Systems to replace 19 howitzers that the country had sent to support Ukraine's military.
This was shocking for several reasons. First, it reversed Denmark's historical resistance to arms deals with Israel. Second, Elbit Systems has a highly controversial human rights record; it claims to supply 85% of the drones used by the Israeli military against civilian populations in Gaza and the West Bank. This led Danish pension funds to blacklist the company for years.
The decision was sanctioned by Denmark's centre-left coalition government and even gained support from two left-of-centre parties, SF (the Green Left in English) and De Radikale (Social Liberal Party). Both parties had previously been vocally against arms deals with Israel. The situation becomes more convoluted when one considers that SF was instrumental in halting a similar arms deal back in 2015 after a significant public outcry.
Now, scrutiny is falling on the procurement process. The defence ministry initially insisted that the deal had to be expedited, falsely claiming that Elbit's offer would expire at the end of January and that other weapons manufacturers could not deliver on time. These justifications were subsequently found to be untrue. In a further twist, it was revealed that the Elbit weapons systems purchased are not entirely compatible with NATO standards, a point highlighted by James Heappey, the UK's Minister for the Armed Forces. He told Danish state broadcaster DR that Denmark's decision could prove to be a 'weak link' in NATO's defence infrastructure.
The fallout has been extensive. Jakob Elleman-Jensen, the defence minister overseeing the deal, first dismissed a senior civil servant before himself being reassigned as the economy minister. However, Elleman-Jensen, also the deputy prime minister, remains under scrutiny. Further complicating matters is the revelation that Elbit agreed to drop a lawsuit against the Danish state just days before the contract was pushed through parliament. Opposition parties are questioning whether there was a quid pro quo arrangement. New Defence Minister Troels Lund Poulsen has committed to an 'independent investigation' into the murky circumstances surrounding the deal.
Elbit Systems seems to be leveraging the urgency created by the conflict in Ukraine to secure lucrative contracts. After Denmark, the Netherlands too announced a deal with Elbit, bypassing a previous agreement with the United States. 'This just shows how Elbit works,' said Huda Ammori of Palestine Action. 'I think they are taking advantage of what is happening in Ukraine.'
The consequences of this deal for Denmark are manifold. While Elbit has already delivered the first part of the order, questions continue to loom over the country's political leadership.
It appears that under Prime Minister Mette Frederiksen, Denmark has shifted from a principled stand on Israeli arms purchases to a position fraught with, at the very least, incompetence and subterfuge.