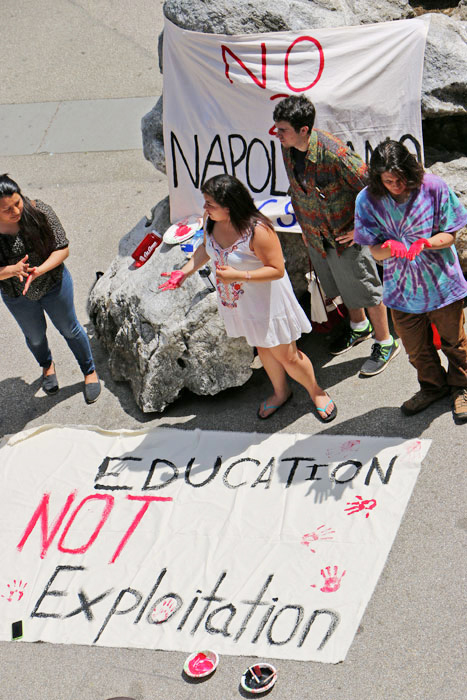 While reflecting on a long year of labour struggles at UCSC (University of California Santa Cruz), students looking to the future continued to call for the resignation of UC president Janet Napolitano at their May Day rally last Thursday.
The opposition of Napolitano is central to their fight for justice for workers, especially those who are undocumented.
'Janet Napolitano comes from the federal government as the head of the Department of Homeland Security. She has not only deported two million people but she has also separated many families and brought fear into undocumented communities,' an event announcement for the rally read.
In addition to calling for Napolitano's resignation, students also called for the university to settle a fair contract with UAW 2865, the labour union that represents Graduate Student Workers and for all charges against the 'UCSC 22' to be dropped.
They pointed out that May Day is International Workers Rights Day and since 2006 the workers holiday and day of activism has also become focused on international immigration justice.
At the UC Santa Cruz rally individuals spoke at Quarry Plaza, and a group also worked on decorating a large new banner that read 'Education Not Exploitation'. One undocumented student spoke about her experiences at UCSC, and several other students spoke about relatives who were undocumented and how it affected their education.
Michelle Glowa, a graduate student and one of UCSC's contract negotiators for UAW, spoke and began by highlighting the most recent victory for workers at the university. We just won the right on this campus to represent readers and tutors, so undergraduate students who are working are now going to be part of our union,' she said. If you are working next year, come join us!'
Graduate Student Workers have been without a contract since September, and in addition to attempting to negotiate with the university over wages and health care, they are fighting for the rights of undocumented graduate students.
'One of our biggest demands, that we will not settle a contract without making serious progress on, is the rights of undocumented graduate students,' Glowa said.
She went on to explain how graduate students without documentation are asked to work without pay and that they are not able to work as Teaching Assistants, which is how most graduate students fund their education.
'When TA-ships are not accessible to graduate students without documentation, graduate school is not accessible because we have to be able to pay our way through school,' she said.
Additionally, Glowa criticised Janet Napolitano for militarising the UC Santa Cruz campus during the April 2-3 UAW strike where riot police were deployed. As a result, 22 students who were attempting to maintain a peaceful picket line were arrested.
Glowa urged individuals to call campus provost Allison Galloway to demand all of the charges be dropped against the students, who are now known as the UCSC 22, before their arraignment, which was due yesterday, May 6, in Santa Cruz Superior Court.
Glowa concluded her remarks by emphasising the need for students to say no to a, 'racist, militarised university'.
•Over 100 teachers, par-professionals and San Francisco Unified School District UESF protested at the SF school board meeting late last month. They are demanding a living wage after an eight-year wage freeze.
San Francisco public school teachers, paras and education staff who are members of United Educators of San Francisco (UESF), rallied at the SFUSD school board for a 21% wage increase and for increased support of services and para-professionals.
After the rally workers spoke out at the board meeting. The massive speculative housing bubble according to teachers is driving teachers, paras and educational staff out of San Francisco and forcing them to commute large distances.
Teachers and education workers have not had a pay rise in eight years and many are being pushed out of San Francisco as well as being unable to afford healthcare for their families. They and their students in poorer Black and Latino schools also face workplace bullying by the San Francisco Unified School District officials, encouraged by the members of the Board of Education who vote to give millions to privateers and more testing in the schools.
UESF and SEIU 1021 workers who have spoken out against bullying against education staff and students have been retaliated against, forcing them out of the school and the district, ending their careers.
The district is also spending tens of millions of dollars on consultants and privatisation schemes while starving the schools in the poor areas of San Francisco and forcing education workers to live on poverty wages, in a city with 27 billionaires.
• Organisers of last Thursday's May Day march in Seattle insisted they were marching for immigrant and worker rights, including the campaign for a $15 minimum wage. But police said they were preparing for May Day protests later in the evening – which turned violent in the past two years.
The peaceful afternoon march, began at 3pm at Saint Mary's Church on 20th Avenue. Marchers travelled north and then west before ending at Westlake Park with a rally.
Two other demonstrations later on – an anti-capitalist demonstration at Seattle Central College at 6pm, then another one at the King County Juvenile Detention Centre at 6.30pm, involved confrontations with police.
Last year at least 17 people were arrested, police used flash-bang grenades and pepper spray to disperse crowds. This year, Seattle police escorted marchers through the streets, threatening them with pepper spray and blast balls for crowd control.
Marchers heard loud warnings over the public address system threatening the use of force.
Police said they were ready for whatever might come their way amid an unseasonably early heat wave that could inflame tempers.
'Our No. 1 concern is setting the conditions for people to protest or express their constitutionally protected rights and beyond that we'll develop probable cause to make arrests for violent crimes or crimes against property,' said Captain Chris Fowler of the Seattle police.
Police also threatened that just because someone isn't arrested on the spot during May Day protests doesn't mean that they won't be prosecuted. Fowler said they will search all the evidence in the days and weeks to come.
Meanwhile, a number of businesses hired private security firms to guard their property. Socialist Seattle City Council Member Kshama Sawant marched with the demonstrators, promoting her campaign for a $15 minimum wage.
Before the march Sawant issued a statement urging marchers to remain peaceful. She said: 'I strongly oppose violence and property damage. These tactics play into the hands of the police and the political establishment who aim to discredit and undermine our struggles.'
She went on to say she also opposes the 'provocative statements and actions' of Seattle police, accusing them of acting in a 'repressive and anti-democratic manner'.
• Laurie Valdez writes: 'My name is Laurie Valdez. On February 21, 2014, my partner Antonio Guzman Lopez was murdered at the hands of San Jose State University Police Department Sgt. Mike Santos, who claims he did it in defence of fellow UPD officer Frits Van der Hoek.
'The incident happened right by a childcare centre and in front of a sorority house. Clearly Santos had no concern for the safety of others or the fellow officer who, according to Santos, was standing right in front of Antonio, thus placing him in the line of fire.
'I hope Officer Santos, is aware of how many lives were affected by his actions. There was clearly a complete disregard for the safety of children, students, neighbours, and another officer!
'A community is traumatised, and they now fear for their own safety! No justice can be given to Antonio because he is no longer here. But our son Josiah, who is four-years-old, deserves justice for having to grow up without his daddy for the rest of his life.
'Josiah and Antonio had a lifetime of love to be shared and it was taken away from both of them. Josiah is left here to suffer without his daddy to hold him, hug him, or go to his first day of school. This is all because of the actions of Officer Mike Santos, and those who have persisted in remaining silent or continue to cover up his murder.'