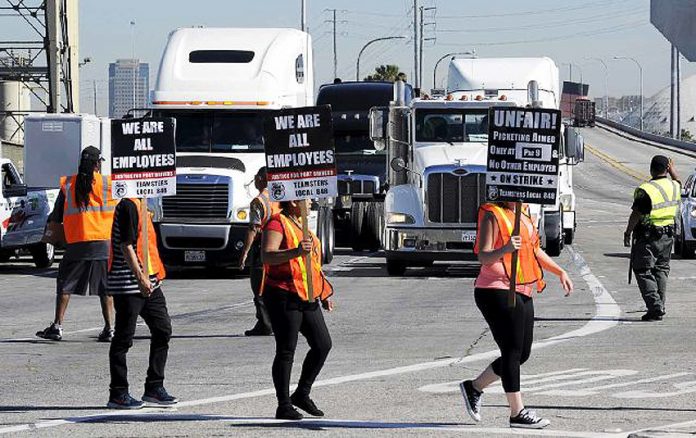 AMERICA's United Farm Workers union (UFW) is fighting an attack by Darigold, the largest dairy processor and cooperative in the Pacific Northwest.
UFW says: 'While their public image brags about family farms and local milk production, there is a dark underside to the business … Just ask dairy workers. 'Approximately 90% of the dairies in Washington State are members/suppliers of Darigold. 'Alarmingly, there has been a fatality on a dairy every year in Washington since 2015. Washington State dairy workers suffer injuries requiring them to miss work or to go on disability an astounding 138% more than all Washington industries combined.
'And these are just the workers who are brave enough to report their claims and seek medical attention. We've heard too often about workers being threatened and intimidated into not filing claims. 'Now, with the retaliatory lawsuit against the UFW and the Darigold Dozen – the 12 workers we told you of in last week's email who dared to speak up and were sued for this bravery – the fear will only increase.'
Margarito Martinez, one of the Darigold Dozen shares, 'What the farm is doing to us, counter-suing us – the Darigold Dozen and the union – is unjust. 'They're retaliating against us as workers, it's a message to us to remain silent. Their allegations have no basis or foundation. 'If they wanted to sue us for something, how come they did not do it before we exerted our rights? It is obvious that it is retaliation meant to scare us … We will continue fighting until the end.
'We cannot go back and continue being oppressed. Not Ruby Ridge, not Darigold, not any large market/retailer, consumer or justice system should allow this injustice against us and those of us who work in the fields.'
Earlier the union invited workers to 'Meet the Darigold Dozen'. It said: 'We want to (re)introduce you to a special group of courageous workers – the Darigold Dozen – Margarito Martinez, Armando Herrera, Elvis Flamenco, Cirilo Ramirez, Gildardo Perez, Jesus Perez, Teresita Anguiano, Saul Solorio, Rafael Muniz, Manuel Reynaga, Miguel Cuevas, and Miguel Espiritu.
'They are being subjected to some of the harshest retaliation we've seen in quite a while.
'While working at Ruby Ridge Dairy, one of the Darigold member dairies, they believed they weren't paid all their wages, allowed to take lunch breaks, or even the rest breaks mandated by state law.
'So they obtained a lawyer and filed suit. Their employer later fired them, then filed suit against them in retaliation.
'The lawsuit filed by Ruby Ridge alleges ridiculous claims that have not been substantiated by any evidence. The Ruby Ridge owners claimed that the Darigold Dozen (our term) intentionally damaged equipment and injured cows, among other absurd accusations.
'It gets worse. Once the lawsuit was filed, Ruby Ridge lawyers started inquiring about the legal status of the Darigold Dozen. These workers were required to appear before a combative attorney to be interrogated in depositions.
'In one case, one of these workers, Margarito Martinez, had to travel by bus from Tijuana to Washington state, where the day before, he had buried his son. 'Despite these attacks, the Darigold Dozen are standing strong.'
Miguel Cuevas, one of the Darigold Dozen, says, 'We have to stand up to these bullying actions; it's clear they're not only to trying to punish us for standing up for ourselves, but wanting to send a message to dairy workers at other Darigold dairies this is what will happen to you if you stand up for your rights.' The UFW added: 'The Darigold Dozen have been through a lot and their fight is not over. 'Neither is the fight for justice for all workers at Darigold. 'We'll be sharing more with you during the next few weeks about what's going at other Darigold dairies. 'For the first step, would you take a moment to sign a pledge of support to the Darigold Dozen? 'Your signature would let them know that they're not alone – that people throughout the nation have their backs.'
• Acting to protect New Jersey workers and preserve the State's ability to enforce its labour laws, Attorney General Gurbir S Grewal last Wednesday filed a brief urging a federal appeals court to rule that New Jersey's test for classifying workers as employees or independent contractors is not preempted by federal law.
Attorney General Grewal's amicus brief before the US Court of Appeals for the Third Circuit was filed on behalf of the New Jersey Department of Labour and Workforce Development in a case involving delivery drivers who claim their employer, American Eagle Express (AEX), misclassified them as 'independent contractors' and used that misclassification to avoid compliance with New Jersey wage and hour laws.
While Plaintiffs assert that they meet the criteria for 'employees' under New Jersey's established test, AEX has argued that the 1994 Federal Aviation Administration Authorisation Act (FAAAA) – a law governing the federally-regulated motor carrier industry – preempts that test.
Attorney General Grewal's amicus brief rejects that argument and asks the court to deny AEX's attempt to use the FAAAA as a 'preemptive sword' that could inflict economic and social harms never intended by Congress.
'Workers are the backbone of New Jersey, and I am proud to defend not only them, but also our state's labour laws and our economic interests in court,' said Attorney General Grewal. 'Misclassification of our workers means those workers lose wages and benefits they rightfully deserve, is unfair to the employers that play by the rules, and ultimately harms the state itself. 'Our state labour laws were intended to protect workers from these harms, and nothing in federal law prevents us from going after the companies that violate them.'
New Jersey Labour Commissioner Robert Asaro-Angelo said, 'misclassification hurts New Jersey's economy. It hurts workers, since independent contractors lack unemployment and disability insurance, are less likely to have health care and are more likely to report to unsafe workplaces.
'It hurts taxpayers through untold millions in lost revenue from unscrupulous employers who fail to pay employee taxes.
'And, it hurts law-abiding business owners who are assessed higher employee taxes to make up for those who shirk their responsibility. The Labour Department is therefore committed to working with our partners in the Attorney General's office to end this illegal practice.'
The brief notes that the issues central to the AEX appeal are at the heart of two cases presently being litigated by the New Jersey Department of Labour in the US District Court in New Jersey (PDX North, Inc. v. Asaro-Angelo, and Eagle Intermodal Services, Inc. v. Asaro-Angelo).
The brief asserts that if the Third Circuit finds New Jersey's scheme preempted by the FAAAA, a significant portion of the State's unemployment compensation and wage laws will be left 'eviscerated.'
The brief argues that in passing the 1994 FAAAA, Congress 'never intended to create a preemptive bulldozer', only to limit the ability of states to interfere with uniform federal regulation of the motor carrier industry where 'pricing, routes and service' were concerned. In fact, the brief contends, Congress specifically restricted the preemptive reach of the FAAAA, and made plain that its intent was to preserve the authority of states to create and enforce their own laws governing employee classification, wages, and unemployment compensation.