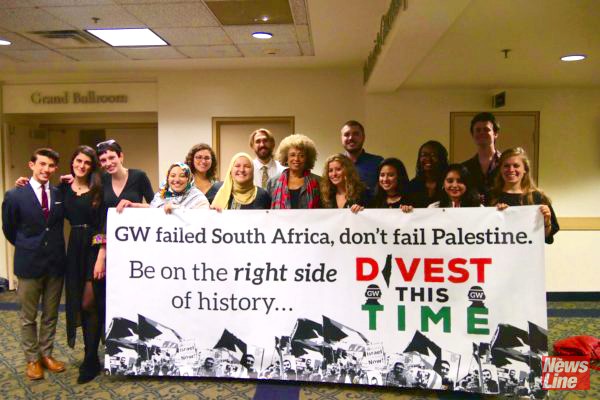 IN A HISTORIC move, Brown University in Rhode Island has become the first US Ivy League institution to pass a student referendum supporting divestment from companies complicit in Israel's human rights violations.
The Brown vote follows a similar divestment resolution passed by the student government at Swarthmore College in early March.
The Brown referendum calls on the administration 'to divest all stocks, funds, endowment, and other monetary instruments from companies complicit in human rights abuses in Palestine, including Boeing, Caterpillar, G4S, Hewlett Packard Enterprise CO, Motorola Solutions Inc., Oaktree Capital Group LLC, Textron, AB Volvo, and The Safariland.'
It garnered 69 per cent of the voting student body's support, according to students with the Brown Divest campaign, and the voter turnout 'was one of the highest in the history of elections held by the Undergraduate Council of Students,' the group adds.
The 21st March referendum was a 'historic day for Brown as we take an emboldened and clear stand against the university's complicity in human rights abuses in Palestine and in similar systems of oppression across the world', Brown Divest said.
Students say that the measure follows years of mobilisation and the unity of campus groups, and that they will continue to hold the administration accountable to implement the demands of the student body.
Since the measure passed, more than 250 students have applied to join the core group of Brown Divest. Student activists are also preparing to engage in public activism to pressure the administration to implement divestment.
Immediately following the outcome of the Brown referendum on divestment, the university's president emailed the student body denouncing the vote and dismissing the Boycott, Divestment and Sanctions (BDS) campaign for Palestinian rights as 'polarising'.
In the email, seen by The Electronic Intifada, president Christina Paxson also reiterated her 2013 rejection of calls for academic boycott against Israeli institutions.
Brown Divest organisers said they are 'disappointed, but unfortunately not surprised' by Paxson's remarks.
'The history of activism on Palestine is dotted with similar instances, when democracy is pushed aside to stifle Palestinian voices,' the group stated.
Meanwhile, in Philadelphia, the student government at Swarthmore College voted in favour of a resolution calling on the institution to pull its investments in companies complicit in Israel's crimes against Palestinians, including Boeing, Caterpillar, Elbit Systems, Hewlett Packard, Bank Hapoalim, Hyundai and Lockheed Martin.
The 3rd March vote followed an earlier attempt to pass a divestment resolution, which failed in February. The student government had scheduled a re-vote 'on the basis that student groups had not been heard out evenly or sufficiently',  according to the campus newspaper.
Leading up to the vote, students faced relentless smear campaigns and online harassment from Israel-aligned groups.
A Twitter account calling itself 'Stop Hate At Swarthmore,' which began tweeting right before the vote, smeared students who support the resolution as 'anti-Semites' and labelled Swarthmore Students for Justice in Palestine (SJP) as a 'hate group'.
Attempts by the Israel lobby groups to label SJP as a 'hate group' are a well-worn tactic, as exposed in the undercover documentary 'The Lobby–USA'.
Another Israel-aligned Twitter account, @Radical Alerts, 'then tweeted the location and time of the … meeting to its roughly 3,000 followers, calling on them to "show up and protest this hate",' according to the Phoenix.
A student member of an Israel lobby group on campus conceded to a right-wing Zionist publication that the streams by these Twitter accounts of accusations of anti-Semitism 'likely helped to persuade' the student government to vote in favour of the resolution, according to the Jerusalem Post.
Prominent scholars and professors including Angela Davis and Robin D.G. Kelley, human rights lawyers Maria LaHood and Noura Erakat, and Jewish Voice for Peace's executive director Rebecca Vilkmoerson and other leading Palestine rights activists wrote an open letter expressing support for Swarthmore students.
'This harassment is not happening in isolation and is no accident. Rather, it is part of a deliberate strategy we see on campuses across the country to intimidate and silence those who organise in support of Palestinian lives and dignity,' the letter says.
When students became aware of the harassment campaigns on social media: 'We immediately began informing campus administration about all of the incoming attacks. However, they were not just targeting members of SJP, they were also attacking members of our student government by name,' Joy George, a core member of Swarthmore SJP said.
At the vote, 'members of SJP were well versed in the tactics and practised non-engagement so as to minimise harm that would come to our more vulnerable members, but it was certainly stressful considering the disproportionate danger to Arab and students of colour,' George added.
Following the student government's vote to support divestment, the college's president stated that the institution's endowment would not be altered by student consensus on blocking investments in corporations that violate human rights.
'The policy states that we have a responsibility to manage the endowment to yield the best long-term financial results in order to fulfil Swarthmore's educational mission, rather than to pursue other social objectives,' President Valerie Smith stated in an email to the campus communit.
George said she was unhappy with the college position.
'Personally speaking, it was disappointing to not have the official support of the college in the face of blatant antagonisation from external groups, especially where there are students, both Palestinian and allies, in the immediate line of fire.'
She added that students will continue to meet with Smith 'in the hopes that more substantive backing can be garnered'.
Other administrators, she said, have been helpful in investigating the threats and smears against student supporters of Palestinian rights.
Other Universities are following suit. Cornell University's student government held a debate on 28th March on a resolution that would urge the administration to pull its investments in companies that violate Palestinian rights.
The divestment campaign is sponsored by the campus chapter of Students for Justice in Palestine (SJP) and is endorsed by nearly two dozen student organisations.
The president of the Ithaca, New York university has already remarked that she would not support any implementation of divestment over human rights issues and repeated talking points pushed by Israel lobby groups that denigrate and distort the boycott, divestment and sanctions (BDS) campaign for Palestinian rights.
In a letter to members of Students for Justice in Palestine, president Martha Pollack claims that 'BDS unfairly singles out one country in the world for sanction when there are many countries around the world whose governments' policies may be viewed as controversial'.
Ends