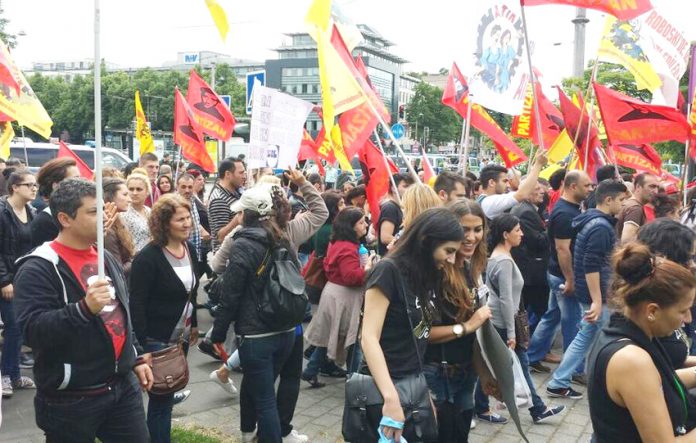 LAST Thursday and Friday, angry workers and youth once again took to the streets of Istanbul to condemn Erdogan's government, resulting in violent clashes with riot police that left two people dead.
Disturbances on Thursday began when a group of some 10 to 15 people began chanting slogans about a youth, Berkin Elvan, who died in March after clashes with police.
The 15-year-old died after nine months in a coma from a head wound sustained when he went to buy bread during an anti-government protest in Okmeydani, a working-class district in central Istanbul. Thousands clashed with police in Istanbul when he was buried.
Thursday's demonstrators also shouted slogans about the disaster at the privately run Soma mine the previous week in which 301 people died and Erdogan brazenly dismissed as nothing out of the ordinary.
Police used tear gas and water cannon, and fired warning shots in the air, to which protesters responded by throwing rocks and petrol bombs. One stray bullet struck 30-year-old bystander Ugur Kurt in the head.
He was reported to have been close to the protests, attending a relative's funeral inside the complex of an Okmeydani cemevi, the house of worship for Turkey's Alevi religious minority.
Around 400 demonstrators staged a sit-in outside the hospital where Kurt died, chanting: 'Murderer state has taken another life.' His death in hospital overnight triggered renewed clashes on Friday in which a second person was killed by a home-made grenade.
Nine people, including two protesters, a police chief and six of his officers, were injured when the grenade was thrown, the city's police department said. A picture of a wounded man lying in the street went viral on social networking sites in Turkey, with people posting the same word alongside it: 'Enough'.
Okmeydani is home to a community of Alevis, a religious minority in mainly Sunni Muslim Turkey who have often been at odds with Erdogan's conservative, Islamist-rooted government. It has staged frequent left-wing protests ever since nationwide anti-government protests broke out in Istanbul a year ago over Erdogan's rule.
Hence the concerns of the German state after Cologne police confirmed that the European Federation of Alevi Communities was organising the biggest rally to greet Erdogan, in Ebertplatz, only three kilometres away from the Lanxess Arena.
'We want to show Erdogan that he has more opponents in Germany than supporters and that here we can demonstrate, unlike in Turkey,' said Yilmaz Karaman, a spokesman for Germany's Alevi Community. We want him to see there is a democratic culture here, and he is undemocratic.'
Several NGOs and political groups had announced they had registered counter-demonstrations with the authorities. His visit has also stirred up right-wing fascist groups like PRO, NRW and PRO Cologne who announced nearby protests to peddle their poisonous anti-immigration policies.
The scenario forced several politicians, parties and groups to call for Erdogan's visit to be cancelled, saying it could lead to new divisions and tensions among immigrants in Germany. One leading Christian Democrat, Julia Kloeckner, urged Turks living in Germany to boycott the event in protest at Erdogan's reaction to the mining disaster.
The visit also came only a day before yesterday's European Parliament elections took place in Germany. The trip gave Germany's anti-immigrant, populist parties – and some conservative politicians – the opportunity to strongly criticise Erdogan to win the racist vote.
Ironically, the whole point of Erdogan's trip to address the UETD is widely considered to be nothing short of blatant electioneering for Turkey's upcoming presidential elections in August, even though the UETD says their anniversary event is unrelated to the presidential poll.
They say it would be sombre in tone to reflect mourning for the miners. Erdogan hasn't confirmed he will run in the elections, but jetting to Germany suggests otherwise, as new rules allow Turks, both home and abroad, to vote for the president instead of the post being bestowed by parliament.
The UETD is one of the most influential organisations among the three million Turkish immigrants in Germany, of whom over 1.5 million are eligible to vote. According to the Institute of Turkish Studies and Integration, this number is equivalent to the electorate of Turkey's fifth largest city, Adana.
After Erdogan spoke by telephone on Thursday to Chancellor Merkel, she said the next day: 'I assume he knows how sensitive this event is, especially this time, and that he will act responsibly.'
She acknowledged Berlin was 'concerned about some developments in Turkey, such as actions against demonstrators, attacks on social networks and the situation for Christians'.
Gokay Sofuoglu, co-leader of the Turkish Community in Germany said: 'You can hope that Erdogan will be sensitive but you cannot expect it. He will use the event to win votes. Anybody who knows him also knows that whether it be loss of life, or corruption allegations, he always manages to twist events to boost his own support.'
Sensitivity is not a quality Erdogan is renowned for, as grieving relatives of Berkin Elvan and 301 dead miners can testify. After visiting the Soma mining town the day after the fatal blaze, the worst mining accident ever to occur in Turkey, his entourage was caught on camera manhandling a demonstrator, after it was engulfed in an angry crowd chanting for Erdogan's resignation.
'If you boo this country's prime minister, you get slapped,' Erdogan was heard telling one young demonstrator in video footage of the incident. Moments later, an aide was photographed kicking a relative of a dead miner.
Arrogance and blatant disregard for international labour laws to attack the Turkish working class is what Erdogan's ten-year rule has been renowned for. This was highlighted as he left for Germany, when it was announced a three-member commission from the International Labour Organisation was arriving to discuss workplace health and safety issues organised by the Ministry of Labour and Social Security and the EU-Turkey Joint Parliamentary Committee.
The ILO in 2012 ranked Turkey as the third worst country worldwide – and the worst in Europe – in terms of labour safety. The ILO is affiliated with the UN but Turkey, which became a UN member in 1932, refuses to sign ILO convention 176, which was adopted in 1995 and pertains to mining labour safety.
Last Wednesday, Labour Minister Faruk Çelik claimed Turkish mining safety laws are in full compliance with European Union standards and are more advanced than ILO regulations. Convention 176 has been ratified by 28 countries, including the US, Armenia, Brazil and, of course, Germany where, by coincidence, the Georgian Trade Unions Confederation are currently on an official visit.
GTUC President Irakli Petriashvili announced deep condolences for the families of the deceased miners and all of the citizens of Turkey. He also stated that he stands together in a show of solidarity with the current strikes that were organised by the Trade Unions of Turkey.
He noted that 'due to the small size of Georgia, the workplace accidents here have not been looked at seriously even though our labour safety standards are much worse than that of Turkey'. Petriashvili said that until a labour inspection institution is created in Georgia, this problem will not be solved.
'Yet again, I ask the government to establish this institution and not fall prey to the "casino type" economists and businessmen,' he said.
• German police were put on a state of alert on Saturday as planned demonstrations against the visit of Turkish Prime Minister Recep Erdogan threatened to echo violent clashes in Istanbul that continue to erupt over the Soma mine disaster.
According to the German press, nearly 6,000 policemen would be deployed in Cologne, where the leading ally of imperialism addressed the 10th anniversary of the Union of European Turkish Democrats (UETD) in the Lanxess Arena Congress Centre.
But a measure of Erdogan's popularity among Germany's three million Turkish immigrants saw him face several protests in the city.
According to Cologne police department spokesman Carlo Kreitz, nine demonstrations were registered across the city, three of them anti-Erdogan rallies at which as many as 80,000 attended. German authorities had every right to be on tenterhooks, as Erdogan escaped scenes of carnage back in Turkey.