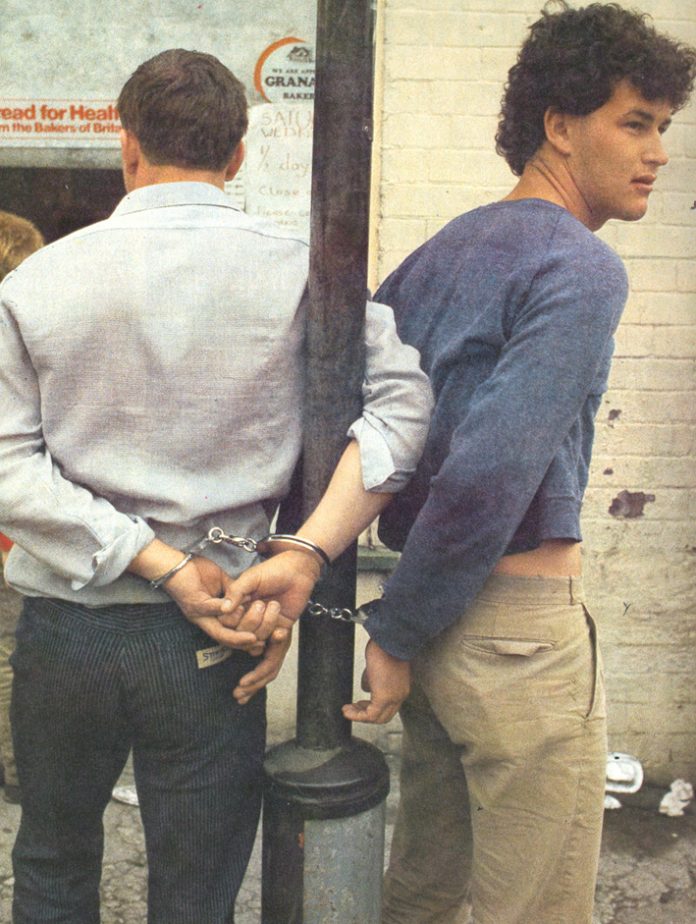 LABOUR MP TOM WATSON made an intervention of some interest in the emergency debate on the News International phone hacking scandal in the House of Commons last Wednesday.
We quote from the Hansard parliamentary record.
Mr Tom Watson (West Bromwich East) (Lab): News International's decision to throw Andy Coulson to the wolves last night was an attempt to divert us from an even bigger wrong: that company was systematically, ruthlessly, and without conscience or morality, interfering with the phones of victims of murder, cruelly deceiving their families and impeding the search for justice. Glenn Mulcaire has accepted some share of responsibility for this moral sickness, but the editor in charge of him refuses to take responsibility.
Indeed, far from accepting blame, she has—amazingly—put herself in charge of the investigation into the wrongdoing; the chief suspect has become the chief investigator.
Bob Stewart (Beckenham) (Con): I, like many Members of the House, have run an organisation. Sometimes in organisations things go wrong and there are faults that might not be the fault of the person running it — but it is certainly their responsibility, and responsibility goes right to the top.
Rebekah Brooks is responsible for what has happened. If she does not resign, the person above her should understand that it is his responsibility to —
Mr Speaker: Order. I respect the hon Gentleman's sincerity and integrity, but interventions must be brief from now on, as otherwise we will find it very difficult to make progress.
Mr Watson: I fully agree with the hon Gentleman, and thank him for his brave contribution.
I believe that Rebekah Brooks was not only responsible for wrongdoing, but knew about it. The evidence in the paper that she edited contradicts her statements that she knew nothing about unlawful behaviour.
Take the edition that she edited on 14 April 2002, which reveals that the News of the World had information from Milly Dowler's phone.
In other words, they knew about the messages on her phone. They wrote that there was 'left a message on her voicemail after the 13-year-old vanished at 4pm on March 21. On march 27th, six days after Milly went missing in Walton-on-Thames, Surrey, the employment agency appears to have phoned her mobile.'
It was a central part of the paper's story that it had evidence from a telephone — evidence that it could get only from breaking into that phone at the time.
The story that Rebekah Brooks was far from the Dowler events is simply not believable when her own newspaper wrote about the information that it had gained from that phone.
I want to inform the House of further evidence that suggests that Rebekah Brooks knew of the unlawful tactics of the News of the World as early as 2002, despite all her denials yesterday.
Rebekah Brooks was present at a meeting with Scotland Yard when police officers pursuing a murder investigation provided her with evidence that her newspaper was interfering with the pursuit of justice.
They gave her the name of another senior executive at News International, Alex Marunchak. At the meeting, which included Dick Fedorcio of the Metropolitan police, she was told that News of the World staff were guilty of interference and party to using unlawful means to attempt to discredit a police officer and his wife.
Rebekah Brooks was told of actions by people whom she paid to expose and discredit David Cook and his wife Jackie Haines, so that Mr Cook would be prevented from completing an investigation into a murder.
News International was paying people to interfere with police officers and was doing so on behalf of known criminals. We know now that News International had entered the criminal underworld.
Rebekah Brooks cannot deny being present at that meeting when the actions of people whom she paid were exposed.
She cannot deny now being warned that under her auspices unlawful tactics were used for the purpose of interfering with the pursuit of justice.
She cannot deny that one of her staff, Alex Marunchak, was named and involved. She cannot deny either that she was told by the police that her own paper was using unlawful tactics, in that case to help one of her lawbreaking investigators.
This, in my view, shows that her culpability goes beyond taking the blame as head of the organisation; it is about direct knowledge of unlawful behaviour. Was Mr Marunchak dismissed? No. He was promoted.
Steve Rotheram (Liverpool, Walton) (Lab): Twenty-two years ago, my city warned anyone who would listen that scurrilous rags such as The Sun were out of control, after it printed blatant lies about the Hillsborough disaster. News International lied to the country in 1989, and it still seems to be lying to the country now. Does my hon Friend agree that the government should ensure that it does not take 22 years to put right this latest wrong?
Mr Watson: I agree, and, just as the people of Liverpool no longer buy The Sun, thousands of people have joined a Facebook group to boycott — along with advertisers — the News of the World. I am sure that people watching this debate will consider that fact.
Jim Sheridan (Paisley and Renfrewshire North) (Lab): My hon Friend will be aware that there are people currently serving prison sentences in this country, none more so than Tommy Sheridan, the former MSP.
That successful prosecution was based on evidence from Andrew Coulson, but it now seems that the jury did not get all the e-mails that were pertinent to the case.
If that is true, surely the appropriate authorities should revisit the case and ask Mr Coulson whether that evidence and that information were withheld intentionally.
Mr Watson: I cannot answer my hon Friend fully, because of the time restrictions. I will reveal more on the issue later in the week, except to say that I think the Sheridan trial was unsound and may need revisiting.
Families who trusted Rebekah Brooks when she said she felt their pain, families who have been cruelly let down by the intrusion into private grief and the callous exploitation of their suffering — anguished families, indeed — are now being tortured yet again by the knowledge that in the world of Rebekah Brooks no one can grieve in private, no one can cry their tears without surveillance, no one can talk to their friends without their private feelings becoming public property.
The whole board of News International is responsible for the company. Mr James Murdoch should be suspended from office while the police investigate what I believe is his personal authorisation to plan a cover-up of this scandal.
Mr James Murdoch is the chairman. It is clear now that he personally, without board approval, authorised money to be paid by his company to silence people who had been hacked, and to cover up criminal behaviour within his organisation. That is nothing short of an attempt to pervert the course of justice.
There is now no escape for News International from the responsibility for systematically breaking the law, but there is also now no escape from the fact that it sought to pervert the course of justice.
I believe that the police should also ask Mr James Murdoch and Rebekah Brooks whether they know of the attempted destruction of data at the HCL storage facility in Chennai, India. Mr James Murdoch and Rebekah Brooks now have to accept their culpability, and they will have to face the full force of the law.
Their behaviour towards the most vulnerable, their knowledge of lawbreaking and their failure to act, their links with the criminal underworld and their attempt to cover up lawbreaking and to pay for people's silence, tell the world all we need to know about their character — that they are not fit and proper persons to control any part of the media in this country.