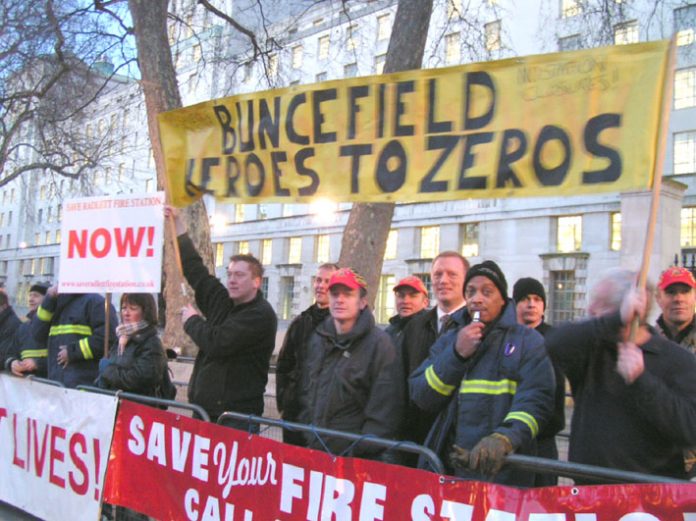 The Buncefield Major Incident Investigation Board (MIIB) on Tuesday published its 6th report, covering emergency preparedness for, response to and recovery from a major industrial incident.
The MIIB has been investigating the December 2005 blast at the oil terminal in Buncefield, near Hemel Hempstead, Hertfordshire, and its aftermath.
Lord Newton, Chairman of the Board said: 'Our report calls on all those involved in dealing with major incidents to work together so that the emergency preparedness, response and recovery arrangements are made more effective.
'However much improvement is made in preventive measures, there can be no guarantee that a major incident will not occur.
'These wide ranging recommendations are directed throughout the UK.
'They apply to operators, local authorities, primary responders, central and regional government, devolved administrations, and regulators.
'The measures we call for include better mutual aid and other collective arrangements across Britain to assure all aspects of potential emergencies are adequately catered for, including public health aspects.'
The report's starting point is for operators to reassess the major hazard potential of their sites.
Prior to Buncefield, violent explosions and fires engulfing many tanks were not judged as being credible events.
Subsequent recommendations call for adequate preparations to contain a developing incident on the site and prevent it becoming a major incident.
The greater part of the report deals with a major incident affecting the local area.
It recommends a consistent approach in government for specified ministers to have responsibility for firstly the emergency phase, and secondly the recovery phase.
It calls for special status (and central funding) for areas affected by a major incident and suggests this should begin without delay in the Buncefield area.
Lord Newton concluded: 'The Buncefield incident had a huge impact on the lives of local residents and businesses, and we would like to acknowledge the great resilience of the local community and business in the ongoing recovery effort to bring about a return to social normality.
'We also applaud the efforts of many organisations in the impressive emergency response to Buncefield.
'This relied on initiative and good working relationships of the responders, dealing with an incident that had been unforeseen and therefore not planned for.'
Responding to Newton's statement, Hertfordshire Fire Brigades Union chairman Andy McLean said: 'The main thing is to have the equipment and personnel to deal with a major incident.
'The problem with Buncefield, was it was such a vast incident, initial resources weren't sufficient.
'You have to plan for another incident on that scale.
'The best thing to do with the fire service is to stop cutting it back as this government is doing.
'The government should leave the fire service alone so it has enough staff and equipment for the future.'
The Board said in its Initial Report, July 13 2006, that emergency preparedness and response was one of four main areas of concern in its investigation.
The MIIB noted on Tuesday: 'The issue of managing the recovery of devastated communities back to social normality has become increasingly important over the lifetime of the Board.
'The paramount need remains for precautions to prevent fuel escaping from the vessels in which it is contained (Report 5 addresses this specifically).
'The second top priority, addressed in this report, is to ensure that the emergency preparedness and response arrangements are effective, because however much improvement is made in preventive measures there can be no guarantee that a major hazard incident will not occur.
'Overall the Board is emphasising:
• The need for review/ changes in thinking towards major incident risk management at COMAH sites (sites with a potential to be the site of a major hazardous incident – News Line) by site regulators and operators;
• The importance of emergency preparedness and response around COMAH sites, involving central and devolved government, all responders and the surrounding local community; and
• The importance for clear ministerial/ lead and central financial support in dealing with a major incident, with appropriate provisions considered during both the incident and recovery phases.'
More than a year after the massive explosion ripped through the Buncefield oil storage site in Hemel Hempstead, many have still received no compensation.
Some 2,000 homes were evacuated and 92 neighbouring companies were affected by Europe's largest peacetime fire.
The Buncefield Major Incident Investigation Board was set up to supervise the inquiry into the fire and make recommendations for the future.
Three areas are being considered by the Health and Safety Executive and the Environment Agency.
Officials have been looking into possible criminal charges; reviewing policies for regulating on-site activities, and seeking to identify the root causes of the incident and the lessons to be learned.
A year on, in December 2006, investigators were still saying the devastation of the site and the resulting problems in collecting evidence made Buncefield more difficult to probe than most major incidents.
Lord Newton said then: 'Local residents and businesses have continually demonstrated strength and determination to overcome the devastation and changes to daily life which have been caused by the explosion.
'The Board is aware that great uncertainty remains and continues to work extremely hard on reaching its own conclusions and recommendations.'
A separate report by Hertfordshire Fire Service, which was aided in the emergency response by crews from across England, came up with 30 recommendations.
Among these were suggestions for a national system of incident command support teams, earpieces for radios to enable communication while wearing a helmet and a proposal that early consideration needs to be given to deployment of national resources.
The clean-up of 26 million litres of stored contaminated water used to fight the blaze, as well as ground water contaminated by diesel entering a borehole, remained a concern one year on.
During 2006 some 800,000 litres of stored water was found to have leaked into the Colne, a tributary of the Thames, from the Blackbird sewage treatment works.
Dacorum Borough Council said 2,000 homes were evacuated during the fire.
Compensation claims against the site owners were to be settled by negotiation or mediation, without admission of liability.
Some 3,300 claims, worth a potential £700m, were filed by individuals, loss assessors and companies.
Of the claims, there are about 250 from individuals, which total £20m, and 2,754 out of the 3,300 claims are for less than £10,000.
The MIIB said yesterday: 'The primary investigation into whether there are any criminal offences to answer is continuing and is obliged to consider all reasonable lines of enquiry.
'Once that investigation is complete it is for the Environment Agency and the HSE to independently decide if there is sufficient evidence upon which to base a prosecution for breaches of environmental and health safety law respectively.
'In the meantime the Major Incident Investigation Board must be careful not to undermine the fairness of any potential criminal proceedings and thereby jeopardise the possibility of a prosecution should that prove appropriate.'