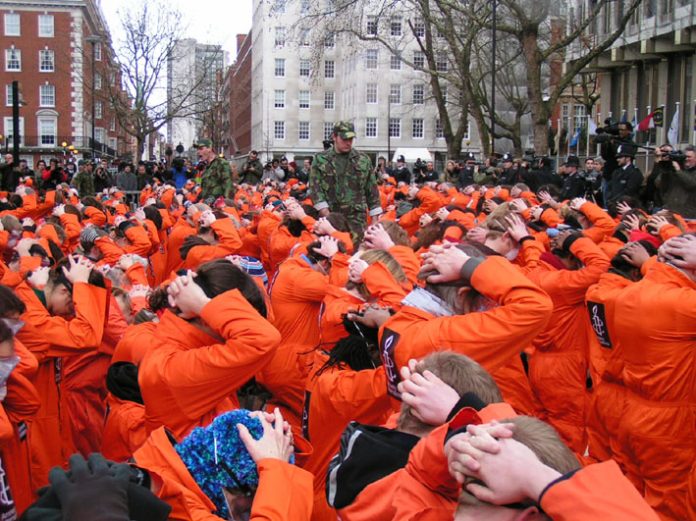 On January 11, 2008 it will be six years since the US authorities first transported 'war on terror' detainees to the military prison at the naval camp at Guantánamo Bay, Cuba, said Amnesty International yesterday.
'Half a decade on and not a single detainee has yet been put on trial.
'The only trials in prospect are unfair military tribunals.
'Please join us in calling for the closure of Guantánamo Bay.'
Three of the UK residents – Jamil el Banna, Omar Deghayes and Abdennour Sameur – have been released and returned home to the UK. Please continue to send greetings cards to the remaining two UK residents Binyam Mohamed and Ahmed Belbacha.
Amnesty International UK Director Kate Allen said:
'We're pleased to see these men finally coming out of the oppressive conditions at Guantánamo and able to reunite with their families after years of illegal captivity.
'As we have said before, if there is any evidence of wrongdoing from these individuals then of course legal proceedings against them should be considered.
'But the Guantánamo returnees should be treated first and foremost as victims of a serious miscarriage of justice: having suffered 'rendition', secret detention and alleged torture.
'Guantánamo is a travesty of justice. It's important that the government speaks out about the hundreds of men still held there – including at least two other men with ties to Britain: Ahmed Belbacha and Binyam Mohammed. These men must not become Guantánamo's forgotten prisoners.
'Meanwhile, government ministers should unequivocally condemn the practice of "rendition" and secret detention: both of which have "fed" the system at Guantánamo in the past six years.'
Recent reports that Mr El-Banna, Mr Deghayes and Mr Sameur were to be released from the prison camp also included news that another UK resident, Shaker Abdur Raheem Aamer, would be released back to his native Saudi Arabia.
Amnesty International has long campaigned for the fair trial or safe release of all prisoners at Guantánamo, including UK residents among the 290 still held detainees at the camp.
The organisation is now seeking urgent clarification over the continuing detention without charge or trial of Binyam Mohammed, an Ethiopian national who has been resident in the UK, and Ahmed Belbacha, an Algerian man with permission to remain in Britain pending a decision on his asylum application.
Last year, on October 17, US President George Bush signed into law the Military Commissions Act (MCA).
The MCA turned flawed executive policy into flawed domestic law and enabled the US administration to continue to avoid full judicial scrutiny of 'war on terror' detentions.
Among other things, the MCA strips the courts of jurisdiction to consider habeas corpus petitions from any foreign national held as an 'enemy combatant', in Guantánamo or elsewhere.
Beginning in July 2004, the cases of Guantánamo detainees have been reviewed by Combatant Status Review Tribunals which decide whether each detainee is 'properly detained' as an 'enemy combatant' or not. These bodies consist of panels of three military officers who can consider hearsay, classified and coerced information in making their determinations.
The detainee does not have a lawyer or access to any classified evidence used against him. The decisions of the Tribunals are subject only to narrow judicial review, which has not yet occurred.
Removed from the protective mechanism of habeas corpus, detainees have been subjected to enforced disappearance, torture and other-ill-treatment, secret detentions and transfers, as well as arbitrary detentions at the hands of US forces.
The Military Commissions Act is incompatible with international human rights law. The first anniversary of its passage into law serves as a reminder of the US government's failure to respect the rule of law and fundamental human rights principles in its security and counter-terrorism policies and practices.
Amnesty International is campaigning for repeal or substantial amendment of the Military Commissions Act and for the Combatant Status Review Tribunals to be abandoned as part of restoring the rule of law and closing the Guantánamo detention facility.
Amnesty International is amongst numerous organisations and individuals to have filed amicus curiae briefs in the Supreme Court in August 2007, seeking to have the Court recognise the Guantánamo detainees' right to habeas corpus. The Supreme Court is due to hear oral arguments in the case on December 5 2007, and will issue its decision in 2008.
To mark the 6th anniversary we want as many people as possible dressed up in Guantánamo-style orange boiler suits, kneeling down outside the US Embassy in London.
Anyone can attend: please wear warm clothes but avoid bringing a bag with you.
We will muster outside Grosvenor Square at 9.30am, and the demonstration will take place inside the square from 10.30am.
To mark the 6th anniversary we want as many people as possible dressed up in Guantánamo-style orange boiler suits, and leading a chain-gang through Belfast City Centre.
Anyone can come to the demonstration, no costume required. However, to mark the 6th anniversary we want as many people as possible dressed up in Guantánamo-style orange boiler suits, kneeling down outside the United States' Consulate in Edinburgh.
From the consulate we will parade along Princes Street towards the Mound and repeat the action in the open space beside the National Gallery.
Last Wednesday December 12, Amnesty launched Poems from Guantánamo: the detainees speak, an extraordinary anthology of poems is written by men imprisoned in Guantánamo Bay.
Since 2002, at least 775 men have been held in the US detention centre.
They wrote their poems with little expectation of ever reaching an audience beyond a small circle of their fellow prisoners.
'O Father, this is a prison of injustice.
Its iniquity makes the mountains weep.
I have committed no crime and am guilty of no offense.
Curved claws have I,
But I have been sold like a fattened sheep.'
These words were written as part of a poem by Abdulla Thani Faris al Anazi in Guantánamo Bay.
Amnesty said: 'Al Anazi, a Saudi Arabian citizen, was arrested in Afghanistan on his recovery bed, following the amputation of his leg, and turned over to US forces by bounty hunters.
'He was held in Guantánamo from 2002 to 2007, not knowing when or if he would ever be released and with no prospect of a fair trial.
'Like many of his fellow detainees, al Anazi turned to poetry in order to express his anguish at the injustice of his situation.
'The US authorities have long sought to suppress the voices of the individuals they are holding in illegal detention.
'In the first year of their detention, many of the men in Guantánamo did not have access to pens and paper, so some wrote fragments of poetry on styrofoam cups, passing them from cell to cell.
'From 2002, writing materials have been granted to some of the detainees.
'However, much of the writing is likely to never see the light of day because the US military refuse to declassify it for circulation outside the camp.
'They have argued that poetry "presents a special risk" to national security because of its "content and format".
'A number of the poems that have been cleared for release have been compiled in a book by the defence lawyer, Marc Falkoff, who has represented 17 Guantánamo detainees.
'These poems allow the thoughts and feelings of Guantánamo detainees, many of whom remain in the detention camp, to finally be told in their own words.'