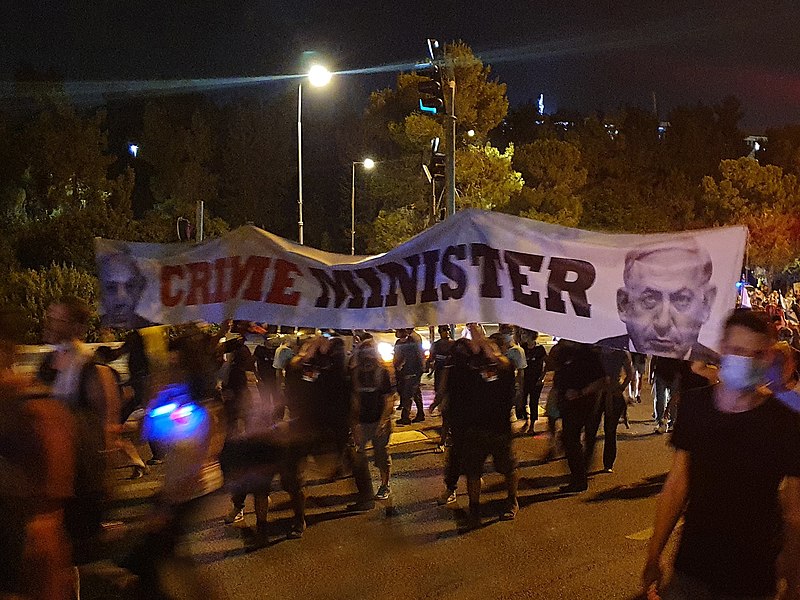 A SENIOR Israeli intelligence official has warned of 'politically-instigated domestic violence' similar to the January mayhem on the United States Capitol, after the opponents of Prime Minister Benjamin Netanyahu announced the formation of a coalition to oust him.
Last Saturday, Nadav Argaman, head of the Israeli regime's internal spy agency Shin Bet, expressed concern about 'rising incitement and hate speech' on social media amid political infighting after the opposition announced they'd agreed to form a coalition cabinet without Netanyahu.
Argaman warned this could spark political violence similar to the takeover of the US Capitol building in Washington DC early this year.
On January 6th, a large group of staunch supporters of then-US president Donald Trump stormed the Capitol to stop Congress from certifying Joe Biden's victory in the 2020 presidential election, which he had claimed was 'rigged'. House Democrats then impeached Trump for 'inciting insurrection', but he was eventually acquitted in the Senate.
'We have recently identified a serious rise and radicalisation in violent and inciting discourse, specifically on social media,' Argaman said in a statement, warning that such online chatter could lead some groups or individuals to take violent action and even harm others.
'This discourse may be interpreted among certain groups or individuals as one that allows violent and illegal activity and could even lead to harm to individuals,' he added, calling on political leaders and their supporters to show responsibility and tone down potential incitements.
The warning comes as Netanyahu faces the prospect of an end to his 12-year run as premier after Israel's centrist opposition leader Yair Lapid announced last Wednesday that he had succeeded in forming a coalition following the fourth inconclusive election on March 23.
The coalition – an amalgamation of left-wing, liberal, rightist and religious parties – has been under fire from Netanyahu, who has warned that it is being organised by 'a dangerous leftist'.
Naftali Bennett and Ayelet Shaked, the leaders of the right-wing Yamina alliance – which very recently joined the newly formed coalition – as well as other coalition politicians and their supporters have allegedly received threats from Netanyahu backers, prompting police to ramp up their security.
Israel's right-wing groups are angry at Bennett, who is slated to replace Netanyahu in a power-sharing pact with Lapid, as he had promised before the election he would not join any party in a coalition.
Netanyahu has been premier for the past 12 years, earning the nickname 'magician' for managing to hold onto the post by hook or by crook.
His popularity, however, suffered a fatal plunge amongst Israelis, who have been holding regular rallies outside his residence for months on end to force him to resign.
The far-and-wide resentment is owed in part to Netanyahu's indictment in a number of corruption cases as well as his mishandling of the economy and the Covid-19 pandemic.
Meanwhile, Israeli forces have detained a prominent female Palestinian activist in a raid on her home in the Sheikh Jarrah neighbourhood in occupied East Jerusalem.
Muna al-Kurd, 23, leads the #SaveSheikhJarrah campaign, which has been trying to mobilise local and international action against Israel's plan to displace dozens of Palestinian families from their homes in Sheikh Jarrah.
Her family say she was arrested on Sunday.
Her father, Nabil, told reporters that an Israeli police force savagely raided their home, seized his daughter and took her to an Israeli police station in occupied East Jerusalem for questioning.
In footage widely shared on social media, Muna is shown handcuffed and taken by Israeli forces out of her family's home.
Speaking to the international media in front of the police station, Nabil said his daughter's arrest is part of 'an operation to terrorise the parents, because the voice that emerged from the neighbourhood was thanks to its youth.'
The Israeli police have also ordered Muna's twin brother Mohammad, who was not at home at the time of the raid, to turn himself in.
Their father said that his son was away teaching in the West Bank city of Ramallah, but was on his way back to cooperate with the police summons.
Soon afterwards, Mohammad submitted himself to the Israeli police in occupied Jerusalem.
Supporters of Muna and her brother say their detention is part of a broader Israeli effort to halt opposition to the evictions in Sheikh Jarrah, where illegal Israeli settlers are planning to move into Palestinians' homes under an Israeli court ruling.
Without explicitly naming Muna, an Israeli police spokeswoman said: 'police arrested under court order a suspect (23) who is a resident of East Jerusalem, on suspicion of participating in riots that took place in Sheikh Jarrah recently.'
Muna, who has a degree in communications and journalism, launched an online campaign under the hashtags #SheikhJarrah and #SaveSheikhJarrah three months ago in order to publicise the threatened evictions.
She and her brother, who belong to one of 28 Palestinian families facing the threat of forcible eviction from Sheikh Jarrah, have been keeping the world well-informed about the situation there.
They have garnered more than 180,000 Twitter followers and more than half a million more on Instagram for their activism.
In a recent interview, Muna warned that 'if our families are evicted, the rest of Jerusalem al-Quds will be taken too.'
The al-Kurd family is one of four families who were initially set to be expelled at the beginning of May. Half of their home has already been seized by a group of Israeli settlers in 2009.
On May 2nd this year, the Israeli district court ruled that the four households must either be evicted or reach a compromise with the settler organisations by paying rent and recognising them as landlords.
However, the families have resolutely refused to give in.
Israeli forces have been demolishing Palestinian homes and structures in the neighbourhood in order to construction of a new (illegal under international law) settlement outpost in the area under an Israeli court ruling.
Following days of strong protests by Palestinians both in the occupied West Bank and the besieged Gaza Strip against the decision by Israel to evict the Sheikh Jarrah families, an Israeli court on May 9th decided to postpone a hearing on the decision by 30 days.
A spokesman for the Palestinian resistance movement Hamas has warned Israel against evicting Palestinians in East Jerusalem.
'The mass displacement of our people in the Sheikh Jarrah neighbourhood and the seizure of their homes is an obvious targeting of the Palestinian identity of Jerusalem and the Palestinian presence in the city,' Fawzi Barhoum said.
Following Palestinian retaliation against violent raids on worshippers at the al-Aqsa Mosque and the Israeli regime's plans to force the Sheikh Jarrah families out, Israel launched a bombing campaign against the besieged Gaza Strip on May 10.
Apparently caught off guard by the unprecedented barrage of rockets from Gaza, fired in retaliation, Israel announced a unilateral ceasefire on May 21, which Palestinian resistance movements accepted with Egyptian mediation.
According to Gaza's Health Ministry, nearly 260 Palestinians were killed in the Israeli offensive, including 66 children, while some 2,000 others were wounded.
In response, Palestinian resistance factions fired more than 4,000 rockets and missiles into the occupied territories (Israel), killing 12 people.