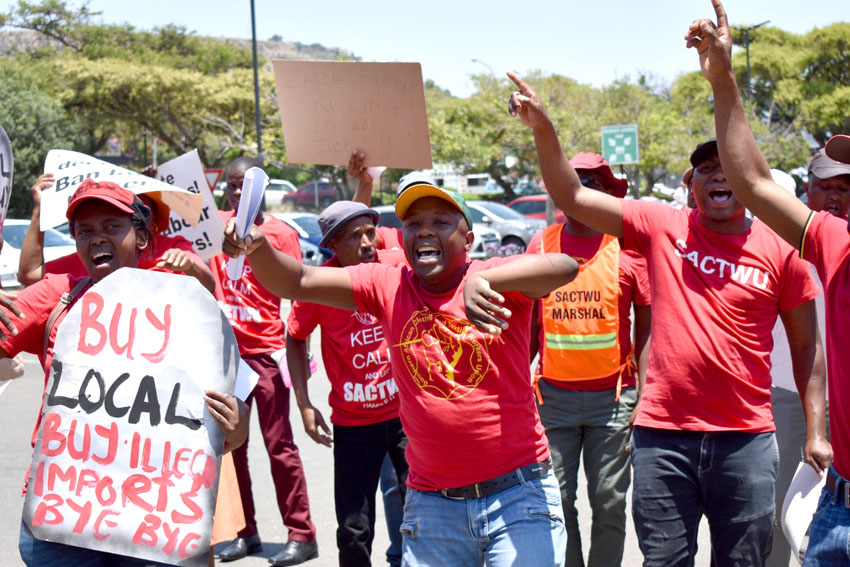 SAMA the South African Medical Association has expressed concerns over KwaZulu-Natal (KZN) hospital bed shortages, and medical staff fatigue.
The South African Medical Association believes that the KZN Member of the Executive Council's (MEC) claims that the province has enough beds to cope with the upsurge in Covid-19 cases is misleading and has gone on to express concerns over 'a dire shortage of medical staff, oxygen and Personal Protective Equipment (PPE) in the province'.
SAMA chairperson, Dr Angelique Coetzee, said the MEC's claims were counter-productive to efforts to effectively deal with the pandemic.
KZN MEC for Health, Nomagugu Simelane-Zulu, yesterday disputed claims adding that bed occupancy in the province is only at 66% capacity.
Simelane-Zulu further slammed reports that there were not enough beds in KZN hospitals. Addressing the media during a webinar on Wednesday, Simelane-Zulu said people have even digitally manipulated audio-visual material and shared it online to present a false picture that the government is failing to manage the Covid-19 pandemic.
However, according to Coetzee, based on the feedback they have received from doctors on the ground, this is incorrect and the figure quoted by the MEC includes all hospital beds, not those specifically designated for Covid-19 patients.
'We've had reports that these patients are waiting on benches, stretchers and in wheelchairs to be admitted,' Coetzee said.
She said having available beds is only noteworthy if there is sufficient medical personnel to treat those who lie in them.
Coetzee said this was one of the key concerns for SAMA.
'Without trained doctors and nurses, a person lying in a bed may as well not even have a bed. We have consistently highlighted the severe shortage of healthcare workers in KZN; it's a situation which doesn't appear to have been resolved yet.
'We are hearing stories every day from doctors in the province that they are overworked and on the verge of burnout,' she said.
Coetzee said apart from the concern over adequate human resources, the issues of operational resources also remain unresolved.
'It's become an almost daily occurrence for us to receive emails and telephone calls telling us about the problems with a lack of oxygen and (PPE).
'There have also been reports that PPE which is delivered is sub-standard, meaning it breaks when used and does not offer the correct level of protection,' she said.
She notes that the three key issues of adequate beds, adequate numbers of healthcare workers to manage those beds, and sufficient and proper PPE must be addressed urgently at the highest level to ensure effective care is provided to the patients of KwaZulu-Natal.
'Our information is coming directly from doctors who are risking their own lives on the frontlines of this pandemic.
'They have no vested interests in creating a political storm, only to provide the best possible care to their patients while at the same time remaining safe themselves.
'We can't be in a situation where we fool ourselves into believing all is well when it isn't – that won't solve anything and, in fact, will only make dealing with the pandemic harder in the future,' Coetzee said.
A paramedic who spoke on the basis of anonymity, said they are having to re-route patients to different hospitals due to a lack of beds and oxygen.
'In some cases, we are standing outside hospitals for two to three hours while patients wait for beds. We are even calling hospitals as far as Richards Bay to find out if we can transport patients for care,' the medic said.
Both business and labour are concerned about the crippling double-impact stricter lockdown regulations and load shedding will have on employment in the year to come.
Business Unity South Africa on Thursday said it understood the decision to move to level three lockdown, but Cosatu maintains it could have been avoided.
Eskom implemented stage two load shedding for a second consecutive night in order to build up reserves ahead of next month when millions of people return to work.
'The excuse is getting tiresome – to hear that there is something that are unavoidable – it means there are people who are in charge and it can't be that everything in this country just deteriorates.'
Cosatu's Sizwe Pamla doesn't mince his words when reflecting on the double impact of load shedding and Covid-19 safety regulations will have on the labour force 2021, especially in the mining sector.
'We are deeply concerned; it makes all of the business recovery plans redundant.'
Business Unity South Africa's Cas Coovadia knows the latest lockdown will impact the economy, but the organisation supports President Cyril Ramaphosa's decision to put his foot down.
'We are happy that the president has put a firm time limit to the level three lockdown and that we have a period of time until mid-January to see how we as citizens can conduct ourselves so that we can have a positive impact on the virus.'
The virus isn't the only thing to worry about. Uninterrupted power is also key to economic health.
And Eskom on Wednesday said it was trying to build up reserves over the next few days to make sure it could meet the demand when businesses resume in January.
President Ramaphosa has apologised for government 'failing' healthcare workers amid the Covid-19 pandemic.
Ramaphosa called 2020 a year from hell and paid tribute to the armies of healthcare professionals who've been working with little rest since Covid-19 first arrived.
President Cyril Ramaphosa has acknowledged that there were times in 2020 when the government failed health care workers.
Ramaphosa was speaking at a New Year's Eve candle lighting ceremony in Khayelitsha last Thursday.
'At times we failed you. We didn't give you the PPEs that you required on time. We didn't give you the protection that you required on time and we humbly apologise for that.
'We should have cared for you much more. We should've given you more recognition – and we will,' Ramaphosa said.
'You've given us courage to go on. There were moments when my own hope was getting lost.'
Health Minister Zweli Mkhize attended a similar event in KwaZulu-Natal, raising concerns about the high infection and death rates among health care workers.
He confirmed 436 health professionals have died as a result of the virus in 2020 and that every time a health care worker catches the virus, the system loses at least 10 days of labour.