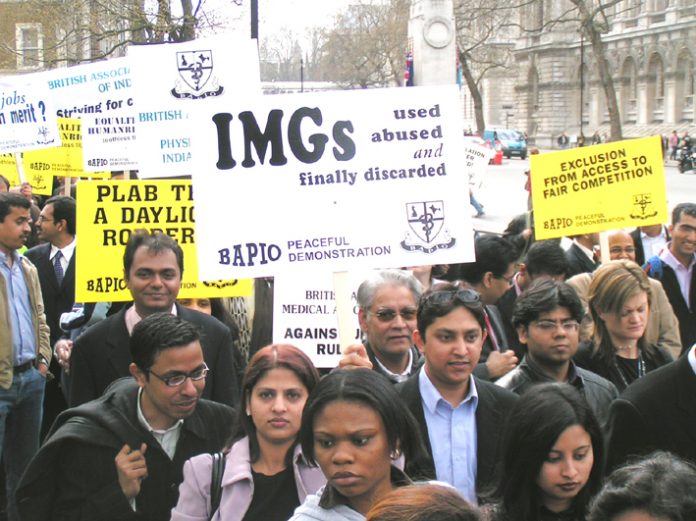 MORE than 1,000 angry doctors rallied at Downing Street last Friday, vowing to fight to reverse a sudden change in the law that threatens them with deportation.
The new rules, imposed without consultation by the government, openly discriminate against doctors from Commonwealth countries, who have played a vital role in building up and sustaining the National Health Service.
They have been told that they will not be able to train in the UK without a permit, and that they will only be considered for posts in the NHS if a UK or EU doctor cannot be found to fill a vacancy.
Doctors from the EU economic area (EEA) will not require permits to train and work in the NHS.
The British Association of Physicians of Indian Origin (BAPIO) warned before the rally that 20,000 medics in training in Britain faced imminent destitution and being forced to leave the UK, with their careers in tatters.
Outside Downing Street last Friday Dr Z Banu, from Southall, told News Line: 'Thousands of doctors are going to be forced to leave the country. At least three thousands will be forced to leave by September.
'There are a whole lot of concerns doctors have right now: cuts, getting rid of consultants and the drive to create a business atmosphere in the NHS.'
Dr V Kumar, from Preston, said: 'This was arbitrary and sudden, without any consultation.
'There should have been some consultation with the International Medical Graduates or BAPIO.
'Always when we apply for posts they give us an Equal Opportunities form to fill in.
Are we going to fill in an Equal Opportunities form now? Because it is clearly going to be unequal opportunities from now on.'
Dr Mervat El-Khatib, from east London said: 'I'm here to express solidarity with my friends because we feel we are being discriminated against.
'The British medical examinations take on average one and a half years to finish.
'Blair is more worried about his war in Iraq and Afghanistan.
'Look at all the money that's been wasted there killing human beings, instead of saving the NHS.
'In addition', said El-Khatib, 'EU doctors are getting the jobs, in spite of the fact that they don't have to take the linguistic or professional examinations that we have to take.
'This jeopardises and destroys the NHS principles of recruiting safe doctors and non-discrimination and equal opportunities.'
Dr Wasim Ashraf, from east London, told News Line: 'We feel the nationality of the doctors should not matter.
'What we are talking about here is health care. There should not be any compromise on health care on grounds of nationality.
'And, moreover, the whole process has been very abrupt.
'We only found out about this change in the law on March 7, when the first press statement came out from the Department of Health.
'And in that also it was mentioned that the changes would be effective from July this year.
'But in fact, they implemented the changes immediately.
'We're talking about doctors here: they have to go through their studies to get a degree for almost seven years and it's almost impossible for doctors to relocate at such short notice – in fact at no notice at all.'
He continued; 'We are talking about the uprooting of the doctors and their families.
'Their children are admitted in schools, they are in their mid-terms.
'People have mortgages to pay off and all these things and now, all of a sudden, we are told to leave.
'We are not against the concept that every country needs to look after its own citizens, but all IMGs who are right now in the UK have come here with the knowledge of fair play and equal opportunities at work.
'And now, midway, the rules have been changed.
'If I had known back home the rules would be changing, I would not have come at all.'
He stressed: 'We are not opposed to European Economic Area doctors working here. Why should we be?
'But we say doctors from the Commonwealth and other countries outside the EEA should have the right to be considered in the UK on their individual merit.
'We want to appeal to the British citizens to say, if they are sick, would they go to a doctor because of his nationality or because of his capability? That is the basic issue.'
Speakers at Downing Street from the BAPIO vowed: 'We will fight for you. We will win.'
One BAPIO leader said: 'The British government has been promoting equality and now what the Department of Health has done is say there is no equality.
'There was no consultation, no warning.
'We estimate that there are 20,000 junior doctors who now have careers which are completely shattered.'
He said that the law change meant open segregation of doctors, spelling the 'death knell' for the NHS.
Dr Muzammal Butt said: 'It took me a lot of time and money to come to the UK to train.
'Now every option of further studies or getting a job is almost closed, because the new immigration rules will not allow any overseas doctors like us to get a training post or a job.
'We are asking the Department of Health to withdraw these measures.'
Mr Kureshi, a representative from the Mayor of London's office, said: 'Londoners greatly appreciate the difference doctors of Indian origin make to public services in London.
'One in five doctors in the NHS are of Indian origin.'
He continued: 'They haven't discussed this with your representatives or the BMA and there are no transitional arrangements.
'I think there is a case for discrimination here and I will talking to Trevor Phillips (chairman of the Commission for Racial Equality) this afternoon about it.
'I think it would be scandalous if adverts appeared barring Indian doctors,' he added to loud applause.
Keith West, from the Immigration Advisory Service, said: 'Something like 25 per cent of all doctors in the NHS were trained overseas.
'Migration is a fact of the modern world. People should have the opportunity to train and get these skills, and if they then want to return to their countries to help improve the quality of health care there, then the British government should support them.'
Umesh Prabhu, a leader of the BAPIO, said: 'Today there are 117,000 doctors in the NHS.
'Forty thousand are from overseas or International Medical Graduates.
'We have made a tremendous contribution to the NHS.
'This is not the way to treat us and we are not going to accept it lying down.'
Dr Phillip Abiola, a GP from east London, said: 'We are not asking for charity. We are asking for fairness and equality.
'We are not here as Indians or Africans, but as Commonwealth citizens.
'It's easy to say that people who are not EU citizens are not human beings, but the NHS can't survive without people from Africa or the Indian sub-continent.
'I want to know where is the justice here?
'They are allowed under one law to come into this country to do their training and then, all of a sudden, a law is coming in saying: "Thankyou, you can go to hell now! We don't want to know you anymore.''
'This regulation must be repealed in the name of justice.'
Darlington consultant Dr Peter Trewby, a leading member of the Royal College of Physicians, said: 'For the first time in the history of the NHS, we are going to see race and origin trump merit and that is a very sad thing indeed.'
He declared: 'You have the support of the royal colleges, the BMA, every doctor who works in this country and all the patients you've treated since the NHS began.'
Dr Patil, a Senior House Officer at a hospital in Wales, said: 'Keep showing the unity and let people know how many problems this rule will cause.
'Keep the spirit up. Good luck to all of you.'
Dr Ike Anya, from Bristol, asked: 'Where is the humanity?
'People have left their families, taken loans at great cost to themselves.
'They have worked in this country and they are now saying: pack your things and go because we don't need you any more.
'It is a sad day for patient care if this law isn't repealed.
'Think about the consequences of this decision.
Dr Ravi Chaudi said: 'I'm going back to my country. When I go back, I don't know where I'll do my training. I haven't finished my exams.'
Dr Anand Ravikumar, who works in neurosurgery, said: 'I've trained here for four and a half years to be a consultant.
'My future is being lost at the patients' cost.
'Let the public receive good doctors. I humbly request the NHS and the Department of Health to give fair competition, not charity, and we will fight.'
Dr Ninze Gadong said: 'This is a regressive step in any civilised country. This is not right, not for the patients or the doctors.'
Dr Hatem Jlala, from the Libyan Doctors' Association, said: 'I came here for training and experience and what we are finding now by new legislation is inequality and discrimination.
'The UK is a great country and British people are wonderful.
'All we ask is to be treated equally.'
Dr Kishore Sajjanrha said: 'We spent a lot of money, we took exams and spent all our energy to clear PLAB 2 exams.
'Then we looked for attachments for months in despair and started doing observerships without pay for months, thinking that our knowledge and efforts will count and someone will consider us for a job.
'If you can call it exploitation, let it be.
'We work alongside other SHOs and don't get paid.
'We get a paid job not for a life of luxury but just to earn our living.
'We spend months and months in despair.
'We spend £500 to extend our visas. All the while we try to do our membership exams.
'Why is such a ruling made?' he asked.
'We are not even being given a transitional period to get back home with dignity.
'Please don't discriminate on grounds of nationality.'