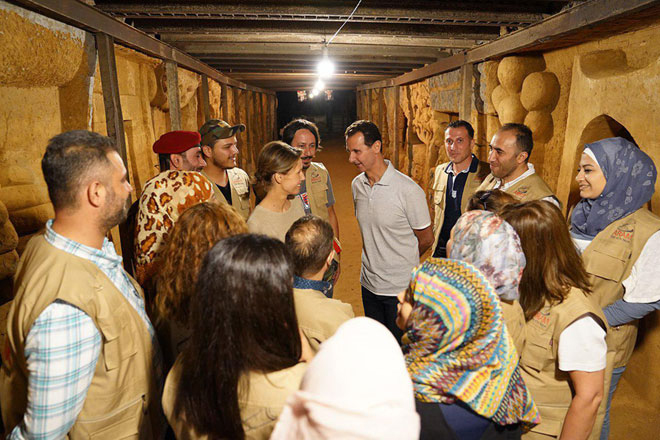 PRESIDENT Bashar al-Assad and his wife Asma have visited one of the 'tunnels of death' which were dug by terrorists in Jobar neighbourhood, but which have now been transformed into a place of art and creativity by 18 Syrian artists who have made dozens of sculptures and paintings on the walls.
Last Thursday President and Mrs al-Assad praised the initiative and efforts of the 'Aram' team's artists who decorated the tunnel and 'cleansed the fingerprints and the darkness of terrorism that haunted it for years,' with art depicting the sacrifices of the Syrian Arab Army, the Unknown Soldier and the ancient and modern history of Syria.
President al-Assad affirmed that the destruction, darkness and death are the terrorists' culture while construction, light, life and art are 'our own'.
'Every sculpture on these walls reminds us of the heroes of the Syrian Arab Army who fought valiantly to liberate this holy soil, which is mixed with the blood of our martyrs and wounded,' the President said.
The tunnel, which was dug by terrorists under a school destroyed by mercenaries, has been transformed by the group of Syrian artists into an art gallery, including 20 paintings and sculptures carved on its walls.
The work took 25 days, and covers an area of 80 square metres to a depth of nine metres underground.
Meanwhile last Sunday, May 26, during a mopping up operation in the town of Qalaat al-Madiq in the country's western province of Hama, Syrian military forces discovered another long tunnel once used by the Takfiri terrorists.
Syria's official news agency SANA reported that the soldiers found the 20-metres deep and 50-metres-long, tunnel as they were combing Qalaat al-Madiq for hidden ordnance and remnants of terror groups.
The tunnel incorporated a detention facility with several rooms, where extremists apparently used to hold civilians in captivity and torture them.
Command centres for high-ranking militants were also found inside the tunnel, and the Syrian government forces have recovered various kinds of munitions, in addition to improvised cannon from the site.
Syrian army forces have managed to establish full control over Kafr Nabudah town in Hama province, after eliminating the last remnants of the Jabhat Fateh al-Sham terrorist group, formerly known as al-Nusra Front, there.
SANA reported that the government forces scored the victory following intense clashes with the Takfiris, which inflicted heavy losses upon the latter's ranks.
Separately, Syrian government forces have also discovered a considerable amount of munitions and arms caches left behind by Takfiri militants in Kirkat village, in Hama province.
The ammunition included mortars, BM-21 Grad rockets and artillery shells.
Syria has been gripped by foreign-backed militancy since March 2011. The Syrian government says the Israeli regime and its Western and regional allies are aiding Takfiri terrorist groups that are wreaking havoc in the country.