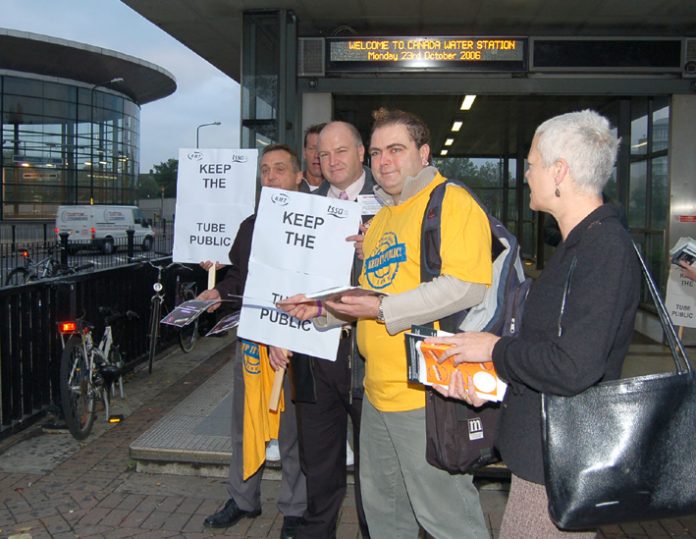 COMPLEX and fragmented arrangements for running the privatised 'London Rail' franchise will make it 'more difficult to manage operationally and safely', with potentially disastrous consequences, according to leading rail-safety expert, Peter Rayner.
At least eight components will be involved in running 'London Rail' – two responsible for signalling, two for infrastructure maintenance, two for infrastructure renewals, one for train and station operations and another for train maintenance.
Transport for London intends that the East London Line's operations are taken from London Underground and handed, along with the North and West London lines, to privateer MTR Laing.
Introducing his report, Rayner says: 'Examples of where the fragmented system has failed include Tebay and Edge Hill – but one could also quote Southall, Hatfield, Potters Bar and of course Ladbroke Grove all of which from Expert Witness Reports for Criminal Court Proceedings and the Public Inquiries show fragmentation to be a contributory factor in the incidents.'
Rayner says that 'it is important to remember that over many years we have had services working together as BR/LUL, each with running over powers, running on each others infrastructure.'
However, he adds: 'A degree of cooperation has always been possible and only the failures of the last ten years of privatisation and confusion have called that into question.'
Rayner continues: 'I have reviewed a number of Services bearing the fragmentation and unclear organisational issues in mind, because any criticism that is levelled about this proposal will be met by examples like the Thameslink Services (now called First Capital Connect) which is demonstrably complicated.
'It operates over three different Regions and Regional Controls on Network Rail; it operates its own stations, uses LUL stations (Farringdon), Network Rail stations (eg London Bridge), Southern stations (eg East Croydon) and even South West Trains stations (Wimbledon).
'It runs intermixed with Midland Main Line, South East Trains, Southern and Gatwick Express.
'It leases its trains from a ROSCO and has yet another contract with Southern to maintain those trains at Selhurst.
'Such an arrangement is a prime example of how not to run a railway.
'Add the infrastructure maintenance fragmentation to that matrix and it can be seen how foolish it is.
'It can be demonstrated quite clearly the lack of control of safety by fragmentation, particularly where contractors and sub-contractors are concerned.
'The prevailing system appears to require the contractee to only ensure that the contractor next in the supply chain has the necessary competence and systems to carry out the work safely and so on down the chain of sub and sub-sub contractors.
'In effect, the contracting entity only directly manages the contractor next below and requires that body to manage anything below that and so on down the line.
'It is for debate whether this issue has been addressed adequately by previous accidents, and alterations made to prevent a recurrence, and whether this shortcoming has been addressed in the proposed organisational structure and systems proposed for the ELL (East London Line).
'For ELL to have good safety and operational management there would be a need for one organisation to have primacy which is not clear from the proposals I have examined.
'A clear chain of command would be needed that works even with different levels belonging to different organisations.
'The roles, responsibilities and decision making powers must be clearly spelled out within the chain and the organisation involved must sign off acceptance.
'This is not easy with everyone looking to defend their own organisations and shifting blame.'
On Driver only operation (DOO), Rayner states: 'I have reviewed the principle of DOO and list below some points for consideration.
• DOO Equipment is costly and depends upon the type of Unit, Driver position, Cab layout and curvature of platform.
• LUL (TfL) are developing Radio Contact system 'Connect' which is being rolled out piecemeal.
• LUL (TfL) requirements are based upon the close proximity of stations and the full staffing of those stations.  It is not clear what requirements will obtain on this Heavy Rail and Sub Surface line.
* DOO on NR if correctly staffed and equipped can deal with train operational safety but NOT with passenger interface issues.
• Examples exist on NR where Drivers sometimes open and shut doors in minimal time and without a proper examination of train side.
• Examples exist on NR of fatal accidents caused by persons being trapped in doors and train moving off.
• Examples exist on NR of parties of schoolchildren being separated by train departing DOO with only half of the party of thirty on board.
'The DOO costs on the Surface railway as illustrated by Thameslink and the South Eastern are considerable and probably outweigh many of the claimed advantages.
'There is increased manning on curved platforms, high cost of maintenance of TV equipment.  In the case of staff on platforms many are not PTS (Personal Track Safety) trained and therefore cannot go on to the track in an emergency which conflicts with present LUL practice.
'It cannot be argued that DOO itself is unsafe.  However it can be examined as to how cost effective it is to make it safe.
'If the South Eastern application is looked at there are heavy staffing requirements at Waterloo East, London Bridge (SE) and other busy stations with curved platforms which CCTV cannot safely cope with.
'Another problem with even straight surface level platforms is low sunlight (morning and evening) and lighting levels themselves.
'The quality of CCTV has improved dramatically but the equipment itself needs maintenance and cleaning which is another high cost.
'The costs therefore of DOO on the ELL, a relatively small railway, are likely to be very high in equipment and Control Centre arrangements and it needs to be carefully considered what other advantages may be obtained with more on train staff or fully manned properly qualified station platform staff.
SUMMARY
From my examination of the proposal there are two major areas of concern with both Safety and Cost implications.
'1. Fragmented Maintenance
'The Edge Hill and Tebay examples illustrate the problems of the contractor, sub contractor and sub-sub contractor issues i.e.  examples of where five of six organisations are involved in one worksite or the setting up of unauthorised worksites, the failure to plan and document the work.
'Unless this sort of confusion is addressed the entire question of "in house" maintenance is questionable.  Correct levels of staff, correct training, correct audit and correct supervision are essential.  The present known problems with the PPP proposals makes continuing with it, in my view, an action that places TfL and Network Rail being at variance with their Safety Case.
'2. Fragmented Operation exacerbated by DOO
'From the list of examples it is my view that not only is DOO more costly but it also poses operational difficulties not questioned in today's railway simply because in strict operating terms it is safe.
'With the passenger interface however it is less safe.
'If there is to be DOO it should be with directly operated LUL staff, fully manned stations and to LUL standards. To start to implement a bastardised form of DOO to suit the ELL is in my view unsafe and uneconomical.
'The proposed method of working for the ELL is fragmented and a difficult way to run a railway. The opportunity to provide Vertical Integration and run where possible on TfL infrastructure and TfL Staff on stations and trains and with TfL ownership of those trains has been lost.
Many of the problems would not exist if LUL were given the Franchise to run directly. 
CONCLUSION
'The East London Line as proposed involving Network Rail, LUL, TfL, Metronet and the sub contractors of Metronet and the franchisee, MTR Laing I consider will be difficult to manage both operationally and safely and could result in incidents similar to those illustrated in this Report and its Appendices.'