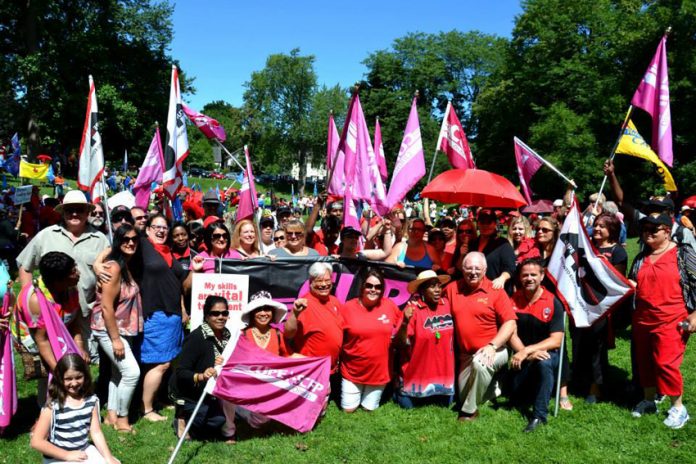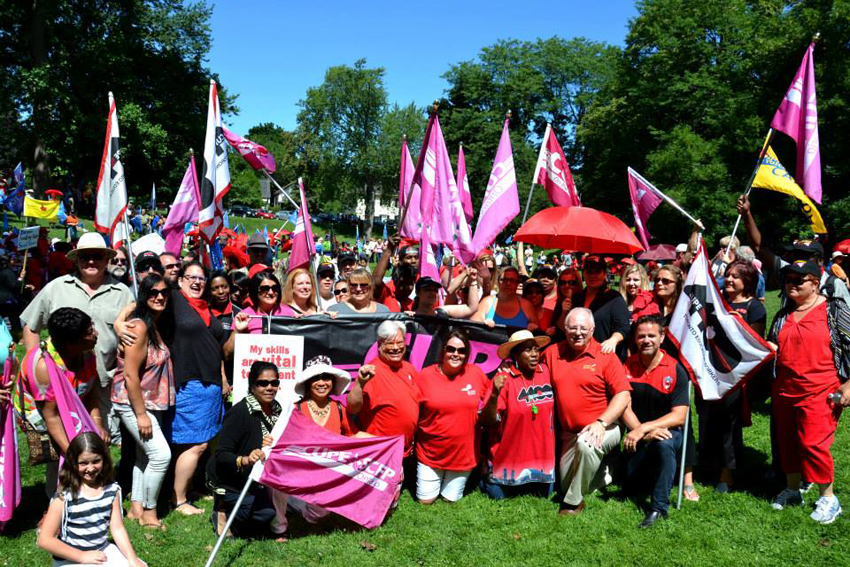 OCCUPATIONS, strike votes and rallies by health and care workers are sweeping Canada as trade unionists fight against low pay, unequal pay and privatisation of public services.
New Brunswick nursing home workers occupied the constituency offices of eight cabinet ministers across the east coast Canadian province on Monday, demanding binding arbitration to obtain a fair collective agreement.
The move came on the heels of a tense CUPE (Canadian Union of Public Employees) three-day sit-in at the Fredericton office of Social Development Minister Dorothy Shephard last week.
At that time, members of the bargaining committee were demanding a meeting with Shephard or Premier Blaine Higgs to discuss the contract dispute and the union's push for higher wages – a move Shephard described as 'bullying'.
CUPE's Simon Ouellette said members of the New Brunswick Council of Nursing Homes Unions were 'energised' by the actions of the bargaining committee.
'Members have been at the offices since around 7am and plan to stay until 'later tonight,' said Ouellette on Monday. 'They won't (to my knowledge) stay there overnight.'
The parties are scheduled to return to the bargaining table today, Thursday.
Members want Thursday's bargaining meeting to 'be fruitful', said Ouellette. If no contract agreement can be reached, they want binding arbitration.
The nursing home workers sat outside deputy premier Robert Gauvin's riding office in Shippagan on Monday.
Outside deputy premier Robert Gauvin's office in Shippagan, the protesters sat on the ground, while his employee continued working.
When someone came out of the office, the protesters tried to enter and 'were jostled', said Brenda Roy, spokesperson for CUPE locals 1507 and 1378. 'They did not want us to come in.'
Gauvin took a few minutes to talk to the workers – an unexpected meeting that he quickly cut short.
In Moncton, about 30 workers exchanged trumpets with car horns in front of Finance Minister Ernie Steeves's office, which was locked even though it's usually open on Mondays.
'In some places the ministers just left,' said Ouellette. 'They need to hear from their constituents, they have this obligation to serve their constituents, and these workers are also their constituents.
'They're not just nursing home workers, they're also citizens and they have rights and they vote.'
Meanwhile, Chancery Place in Fredericton, which houses several government departments and the Premier's Office, has been locked down.
Security personnel said it's a precaution against more CUPE protests such as the one down the street last week at Shephard's office.
CUPE ended its sit-in at Social Development Minister Dorothy Shephard's office on Saturday but said its fight with government for wage increases isn't over.
About 4,000 nursing home workers, including licensed practical nurses, resident attendants and support service workers, have been negotiating a contract since 2016, seeking higher wages.
In early March, workers voted 90 per cent in favour of a strike, but on April 26, the Court of Appeal overruled a labour board decision that would have allowed the workers to walk off the job.
The three-justice panel ruled there will be no strike until a judicial review of the labour board decision is completed or until further orders from the Court of Queen's Bench.
Last month, the streets of Fredericton were filled with black and yellow as hundreds of unionised public sector workers voiced their anger with the Higgs government in a very public show of support for nursing home employees.
The labour board decision said provincial legislation that deems nursing home work an essential service is unconstitutional because it doesn't allow workers to fully strike.
The province, which provides money to operate the homes, is challenging that decision.
Higgs has said the province would agree to binding arbitration only if the arbitrator took into account the wages of similar jobs in the public and private sectors.
The union contends this imposition of conditions would not be binding arbitration.
Meanwhile, Unifor joined the Equal Pay Coalition's intervention in a judicial review hearing regarding a pay equity dispute between a group of Ontario nursing home employers and the unions ONA and SEIU.
The case stems from Ontario nursing homes which are mostly staffed with women, and pay equity is determined with no male counterparts present.
In a win for gender equity, the judicial review ruled that not following the proxy method to maintain pay equity fails to uphold values of the constitution.
'Today's unanimous judicial review decision by the courts is an important step in achieving economic justice for women working in the health care sector,' said Jerry Dias, Unifor National President.
'This ruling serves as a reality check to nursing home employers who have been unwilling to adopt pay equity methods. Women must be paid the same as men and will use every resource they have to achieve pay equity.'
The case arises over a dispute between ONA, the SEIU and the participating Nursing Homes about what steps the nursing homes must take in order to maintain pay equity in their workplaces.
Women who make up the majority of the staff in nursing homes do not have access to male comparator jobs within their workplaces with which to conduct the pay equity analysis.
The Pay Equity Act recommends in cases where male comparators are absent, employers should use the proxy method in determining pay equity.
Meanwhile, UFCW (United Food and Commercial Workers) members from across Ontario joined thousands of health care professionals and community and labour allies at a major rally in support of keeping Ontario's health care system public.
Participants gathered on the lawns of the Ontario Legislature to protest at the Ford government's health care restructuring plans and austerity measures – plans that include changes to the province's paramedic services and drastic cuts to public health.
Many at the rally also raised concern over the Ford government's drastic service cutbacks and elimination of other health services, including funding for mental health initiatives, overdose prevention sites, autism assistance programmes, and more.
'Good, public health care is a cornerstone of Canadian society,' said UFCW Canada Local 175 President Shawn Haggerty, who joined other labour leaders and activists at the rally.
'The changes that the Ford government has revealed to our health care system will undermine that cornerstone.
'As a union that represents thousands of workers in the health care sector, including EMS workers and long-term and home care workers, among others, we are proud to make our collective voice heard and to support good, universal public health care in Ontario,' he adds.