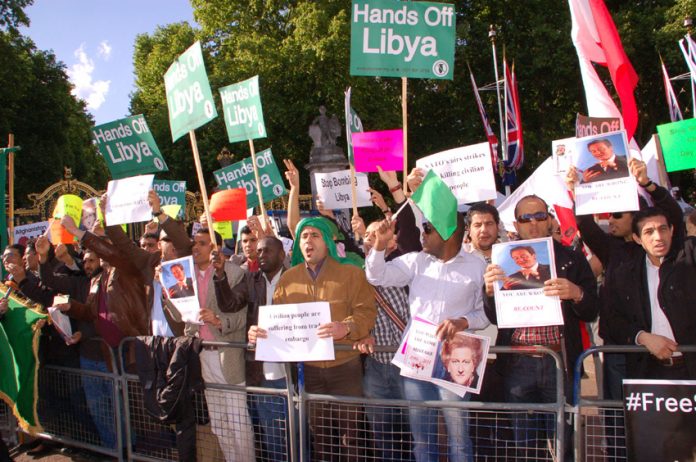 THE Libyan prime minister gave an hour and 55 minute-long news conference relayed by Al-Jamahiriyah TV at 11.35 gmt last Thursday.
Al-Mahmudi said he wanted to shed light on what had happened in the African Union's (AU) extraordinary summit.
He had in front of him a draft of the AU statement which, he said, would be issued in 'the coming hours and will be distributed officially'.
He summed up the main points of the statement 'which expresses the united stance of Africa' as 'The AU calls for an immediate ceasefire, and for an emergency session of the UN Security Council to review its resolutions and the violations of Resolutions 1970 and 1973.
'It stresses the need for a peaceful way out for the Libyan issue and reiterates the importance of the African Union's initiative.'
He added that 'in the light of these recommendations and resolutions, which have been issued or will be issued by the summit in the coming hours, Libya affirms its commitment to this AU statement and is eager to implement everything issued by the AU.'
Mahmudi then turned to the NATO attacks.
'The destruction of our infrastructure indicates that there is a pre-planned agenda to harm a large number of citizens, particularly civilians, as the shelling takes place late at night when families are in their homes.
'Consequently, there is no doubt that the main objective is to harm civilians, and not to protect them, and to eliminate this peaceful and small, but strongly determined, people.'
He then drew attention to the shortage of fuel because of the naval and air blockade 'which prevents medical doctors and people from reaching their work places, leading to the increase of the death toll in hospitals. So this is the protection of civilians!'
Al-Mahmudi then reiterated Libya's commitment to the UN Security Council's resolutions, but noted that the ultimate goal of the attacks on Libya is 'to bring this people to its knees', stressing that any missiles or bombs dropped on the Libyans would only 'cement their cohesion' and their solidarity with their leader.
Al-Mahmudi expressed regret and 'bitterness' at the fact that some Arab countries are taking part in what is happening in Libya 'despite the fact that they are our brothers'. And he went on to attack the Arab League, saying that 'it does not pass anything for free'.
The Libyan prime minister then directed his criticism at Turkey 'despite all the billions-worth of remunerative contracts' granted to Turkish companies, to the extent that the two countries were very close to 'economic integration'. Libya had encouraged Turkey to propose an initiative to resolve the conflict in the country, he said, but that 'initiative was presented in different colours'.
He hoped that Turkey would have refrained from 'joining NATO in attacking Libya' instead of participating in these attacks and 'even going further to interfere in Libyan internal affairs'.
Regarding relations with EU countries, Al-Mahmudi recalled the strong Libyan-European cooperation in the various spheres and the visits paid by all the European leaders and prime ministers to Libya who 'sat in Muammar Gadaffi's tent', including the prime minister of Italy with whom a 'friendship, partnership and cooperation treaty' had been signed.
He wondered how all these visits and agreements could have 'disappeared in minutes!' Al-Mahmudi admitted to 'having been deceived' by the Europeans who 'are involved in attacking Libya at present'. In this context, he referred, in particular, to cooperation between Libya, France and the UK.
Al-Mahmudi praised the Russian and Chinese positions and hoped that the two countries would have a 'role to play in the Libyan issue'.
After touching on the strained relations with the US in the past, Al-Mahmudi noted that all problems were resolved in direct talks between the two sides which resulted in the signing of agreements and contracts allowing US oil companies to return to Libya.
He said that 'these contracts still exist between us and the companies still have their oilfields', stressing that 'we still aspire to a better friendship based on mutual respect'. Al-Mahmudi stressed that the US 'will find the best friend in Libya' and that Libya 'aspires to a special relationship with the US'.
As for those Libyan 'dissident' brothers 'who occasionally have a (different) point of view', Al-Mahmudi held them responsible for what is happening in Libya and for 'directly contributing' to all the resolutions issued by the UN Security Council and the Arab League against Libya.
And he noted that all Libyans were responsible for re-building Libya and pointed out that 'the time has probably come for us, Libyans, to deal with our own problems and to reach points of understanding over everything to end this critical situation' against our people. He appealed to the rebels 'to resort to reason'.
The Libyan PM said despite the fact that Libya is going through a difficult time 'this does not mean that we are weak. On the contrary, we are strong thanks to our people, our leader, our determination, our friends and our African continent. Consequently, we never feel weak. We will not accept to be kneeled down.'
The developments in recent months prove that the 'solution cannot be military and there is a need for a free dialogue among Libyans away from bombs and rockets' he said.
'Consequently, we see that time has come for all parties to comply with the UN Security Council Resolutions 1970 and 1973, particularly with regard to a ceasefire.'
Al-Mahmudi said the Libyan government had requested the AU and the UN to 'set a date for a ceasefire and to send international observers.
'With regard to political reform and political dialogue, no state in the world is against political reform.
'Naturally, this needs a safe environment. It is not possible for a political dialogue to take place under the dropping of bombs.
'Therefore, we hope they will leave us alone as Libyans to hold a dialogue, because we are brothers.
We have no sects or religious doctrines. We have always been one family. Even if we disagree, we quickly settle our differences.
'Only Libyans are capable of determining their own future'.
Al-Mahmudi then reiterated that the government is 'ready to observe a ceasefire and ready for a political dialogue based on the freedom of the Libyan people away from the dropping of bombs and firing of missiles.'
He said the government had informed the AU, the UN secretary-general and his envoy of such intentions.
In response to a question by a Fox News reporter on yesterday's call by President Obama and Prime Minister Cameron for the Libyan leader to step down, Al-Mahmudi said: 'Muammar al-Gadaffi is the leader of the Libyan people. Leader Muammar al-Gadaffi is in the heart of every Libyan. If Muammar al-Gadaffi leaves, all Libyan people will leave.'
And in answer to an ITV reporter's question about the deteriorating situation in the western Yafran region, which reports allege is under siege, bombarded and with no electricity, food or water, Al-Mahmudi said the journalist is welcome to 'visit Yafran to see the facts on the ground. I do hope you will soon visit Yafran to see for yourself''.
On the prospect of Britain sending helicopters to Libya, he said: 'We are in our country. Now, we are receiving missiles and bombs daily. So nothing will change. Whether they send helicopters or aircraft carriers or even an atomic bomb we are in our country.'
In response to a CNN reporter's question on whether the AU ceasefire initiative involves the return of the Libyan army to barracks, he said the government is 'committed to a ceasefire and we have asked for two things. The first is for the UN and the AU to set a date for a ceasefire, and we asked for observers to oversee the ceasefire. Any ceasefire anywhere has its specific arrangements.
Therefore, such arrangements will be implemented after a ceasefire.
'Everything will be discussed after the ceasefire. The Libyan armed forces are for Libyans. Had you left the Libyan armed forces with the Libyans this would not have happened. What is happening now is the fact that there are Libyans being attacked by NATO bombs and missiles, while the Libyan armed forces do not have such bombs and missiles.
'Therefore, don't worry about the presence of the Libyan armed forces wherever they may be.'
In response to a question by a Hong Kong TV reporter about the 'positive' role that could be played by China and about Libyan-Chinese relations Al-Mahmudi replied:
'China has the potential to play a very important role. It is a considerable political and economic power' and that it was in a position to play a 'leading role in international peace and security' and that Libya 'appreciates China's role, and we hope that it will play a bigger role by coming up with an initiative on this Libyan issue.'
He compared China's possible role to that of Russia's intervention in 1956 to 'stop the three-state aggression against Egypt. Therefore, we are relying on China and Russia to play this role again.'
Once again, he said that Gadaffi does not run state affairs: 'What is laughable is the so-called International Criminal Court Prosecutor Ocampo saying that Sayf al-Islam is the head of the government! This is totally wrong. It is the General People's Committee which is responsible and which is accountable to the people.
'Through this news conference I call on the People's Congresses to bring everyone to account, including those you are talking about in the so-called INC who were, in the recent past, members of the executive body.
'As a secretary of the General People's Committee, I am ready to be tried and brought to account by the People's Congresses. It is not in our morals or in our religion to wash our hands of responsibility.
'What can we call those who broke away from the Libyan state, from the General People's Committee or from the executive body in Libya? Cowards or lacking in patriotism!
'Who was responsible for implementing foreign policy in the past, both legally and practically? They are now on the other side pleading innocence? Who was responsible for the security in Libya? They are the ones who are now on the other side.
'It is them who are calling on NATO to attack Libyans! Who was responsible for justice in Libya? Who was responsible for running the Libyan economy? Who was responsible for the planning in Libya? Who was responsible for the monetary policy in the Central Bank?
'Now they have become clever and capable of being opponents. Are they opposing their own policies? I am saying this, but we are still brothers and we are all responsible before the Libyan people. The leader is a symbol for this people and he is not responsible for foreign policy or for implementing executive powers. We are the ones who are responsible for that before God and before our people.'
The Al-Jamahiriyah TV reporter put forward the following question: 'Naturally, we know that the brutal crusader aggression had killed many Libyan civilians and destroyed the infrastructure in an attempt to destroy this people and make it kneel down, but this will not happen.
'In return, lies have been spread as Resolutions 1970 and 1973 had been issued on the basis of false reports by biased TV channels. First, with their steadfastness the Libyan people have assumed their duties and played their role by closing ranks with their leader.
'What have those who were entrusted by the Libyan people to implement the decisions of the domestic and foreign policies done to stand up to these two resolutions? Second, some Western politicians spread lies such as the Italians who spread lies on martyr Sayf al-Arab Muammar al-Gadaffi?'
Al-Mahmudi spoke of the political and economic dimensions of the UN resolutions. He said on the political level a UN envoy had visited Libya 'seven times and we discussed the ways and mechanisms to observe a ceasefire. We also discussed humanitarian aid and the frozen assets and took a series of measures which would help to implement the Security Council Resolutions.
'Now, it seems that there is a desire by all parties to observe a ceasefire and we are ready for that. All parties, especially NATO, feel that there is no military solution. Now, they are all speaking about a peaceful solution to the Libyan issue.'
Al-Mahmudi then said that in order to conclude the news conference he wanted to stress that the Libyan state was 'serious about a ceasefire which will be observed by all parties.
'In particular, NATO must end all attacks because, as you have seen, civilian victims are increasing every day.
'I want to stress that political dialogue has begun and will continue, and that the whole of Libya is ready to sit round one table. Now they all feel that the time for dialogue and negotiations has come in order to deal with issues and to take Libya forward.'