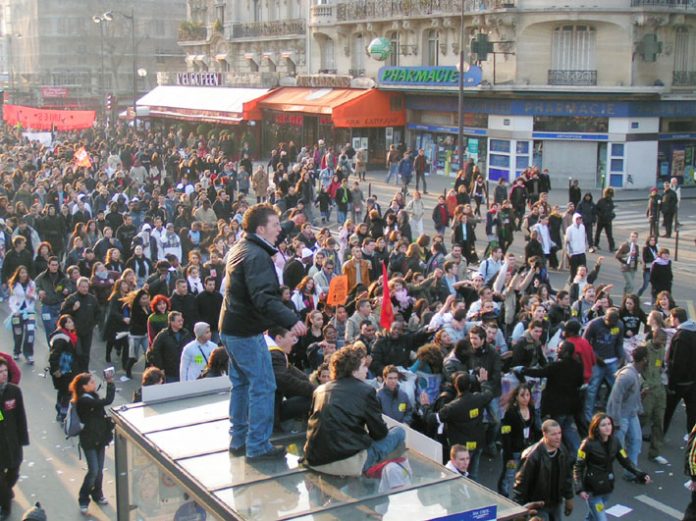 TWO Gate Gourmet locked-out workers went to the TGWU London South East and East Anglia Regional Office in north London on Tuesday, to ask for their hardship payments.
The union members, two of the 760 workers, who were locked out on August 10 last year, have not received any hardship payment from the union since January 6, along with hundreds of other locked out workers who have refused to sign the compromise agreement, made between Gate Gourmet and the TGWU leadership.
The locked out workers are demanding that the union makes their dispute official and that they must be returned to their jobs on their old terms and conditions. They are opposed to the Compromise Agreement sell out to Gate Gourmet.
The TGWU signed the compromise agreement on the basis that all workers would have to sign it for any worker to be eligible for financial compensation for the lock out and being sacked.
However, once a worker signed the Compromise Agreement he or she gives up all rights to take Gate Gourmet to an industrial tribunal or to take legal action against Gate Gourmet for what happened during and after the lock out. There have been allegations made against the company including false imprisonment, assault, and racial discrimination.
Gate Gourmet is desperate to avoid Tribunal cases and any other legal actions that might arise out of them.
The TGWU leadership has acted to get what Tony Woodley called the 'Gangster Capitalists' off the hook.
As well, a signee agrees never to seek work again at Gate Gourmet or at any company associated with Gate Gourmet, and if he or she is re-engaged agrees to work according to the company's survival plan, that is on completely new terms and conditions.
Up to January 6th 2006, only 200 workers had signed the compromise agreement.
Up till then workers that refused to sign the compromise agreement were getting monthly hardship pay, but after January 6th this was stopped and reversed, with only those who signed the compromise agreement eligible for hardship pay.
This meant that the TGWU leaders had joined the company in trying to starve workers into giving up their tribunal and other legal rights, while rewarding workers that gave them up.
It is very embarrassing for the union leaders to be caught trying to starve out workers and force them to agree to Gate Gourmet's demands.
Tony Woodley had earlier denied in a signed letter that the hardship payments had been stopped.
Sukhwinder Mundy and Surinder Dhariwal met the union's finance officer, Harry Timpson, on Tuesday morning.
They handed him a letter accompanied by an appeal signed by 20 fellow locked-out workers demanding their hardship payments.
They asked Timpson for payments, but he said that he had been instructed that the hardship payments were only to be made to those of the locked-out workers who had signed the Compromise Agreement and not to those who refused to sign.
Asked whose decision this was, Timpson said: 'Tony Woodley's.'
However Tony Woodley in a signed letter to the ACTS 1/524 TGWU branch, dated March 3 said the opposite.
He wrote, 'Thank you for your letter dated 2 February. I am able to advise you that Region 1 have subsequent to your letter, sent out a further hardship payment. So it is inaccurate that the Hardship Payment has stopped.'
Woodley is being deliberately misleading. he neglects to say that hardship payments since January 6 have been made to those workers who gave into Gate Gourmet and TGWU leadership pressure and signed the compromise agreement, while those who stand by their rights and won't sign have been starved of hardship payments, and with the TGWU leaders ruthlessly aping Gate Gourmet, cut off.
Timpson in a signed letter given to the women made it clear that they were being punished for refusing to sign the compromise agreement by the withholding of hardship payments.
His letter states: 'I would refer to your visit to this Office of today's date in connection with your Appeal against Hardship Grants having been stopped in your particular case.
'You have handed in an Appeal Form signed by a number of members appealing against the same decision.
'I informed you that as you were taking your case through an industrial tribunal, that no payments after the 6th January would be forthcoming in your case. You are appealing against this ruling and quote a letter of 3/3/06 from Brother T Woodley, General Secretary, to Sister Mary O'Reilly of Region 1 ACTS Branch which you say contradicts me.
'You have requested that your appeal goes above my level to the Regional Secretary, and have consulted with his Office, I can advise that he is prepared to meet you after your circumstances have been investigated with the Industrial Officers who were involved in the Dispute.
'He will write to you in early course, once these investigations have been completed, and at which point, if necessary, a further meeting can be arranged.'
After the meeting, Sukhwinder told News Line: 'We need our hardship payments. We've had nothing since January 6.
'We are also worried about our bills and mortgages.
'The reason they have stopped paying us is to punish us for not signing the Compromise Agreement. But we are not accepting. We know it is our right.
'I have been a fully paid-up member of the union for 22 years.
'Before that, when I was a hospital worker, I was a member of the GMB for 16 years.
'I have been a trade unionist all my working life and have never had any trouble until now.'
Surinder said: 'We came all this way for our hardship payment cheque and have been told we won't get it.
'The union has made payments to people who have signed the Compromise Agreement, but not us.
'When we asked Mr Timpson whose decision it was to stop our payments, he said it was Tony Woodley's.
'Tony Woodley has written to supporters of ours in other TGWU branches, saying the hardship payment has not been stopped, but today we have been told that it has and that it was Tony Woodley's decision to stop it.'
Surinder added: 'We appeal to all trade unionists to support us and join our march through Hounslow this Saturday.'
While they are trying to starve the locked out gate Gourmet workers into accepting Gate Gourmet's Compromise Agreement and give up their tribunal and legal rights, the TGWU has supported a May 1 march for freedom for the Trade Unions, and trade union rights, and cited the Gate Gourmet struggle, and the conduct of the Gate Gourmet bosses, as a very good reason why the Tory anti-union laws must be revised.
Every TGWU member and every trade unionist should know that while they are doing this they are attacking their own members who are fighting for trade union rights and insisting that they give them up to Gate Gourmet! and that they are trying to starve them into doing it.
The TGWU leaders nauseating hypocrisy must be rejected by the whole of the trade union movement.
Trade unionists must march through Hounslow next Saturday with the locked out Gate Gourmet workers and demand with them that their dispute be made official, that they be paid official dispute pay and all the hardship money that they are due, and that the TUC and the TGWU organise a great national demonstration like the Irish TUC did over Irish Ferries, to spell out to Gate Gourmet that they must reinstate these workers on their old terms and conditions and that Britain is going to be declared out of bounds to gangster capitalists.