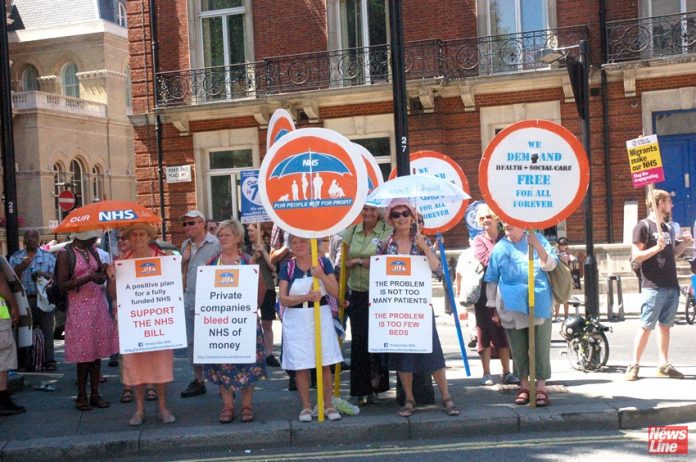 FEARS are being expressed about the threat of privatisation of NHS cervical screening services used by thousands of women throughout the country every year, the Unite trade union is warning this week.
Unite, with some 100,000 members working in the health service, are ringing the alarm bells warning that this week has become a 'deadline' for the tendering process for all laboratory services involved in cervical screening. The successful bidders for the NHS contract are expected to be announced on 12 April, with the full implementation of the HPV programme by the end of 2019, when the current 46 screening laboratories could be reduced to just nine.
Unite national officer for health, Colenzo Jarrett-Thorpe, said: 'Unite will be campaigning to protect healthcare science jobs and skills in the NHS to ensure thousands of women have a world class cervical screening service. 'We don't believe privatisation of this essential NHS service is in the long-term interests of patients and staff.
'The uncertainty facing the current workforce, as a result of possible privatisation, could result both in instability and in the ability of current NHS providers to be able to deliver a robust service.
'The possibility of losing hundreds of skilled, highly qualified professionals from the NHS, thus eroding the science and technical skills base in the NHS, is to be deplored. The impact on thousands of women, who rely on cytology screeners to analyse cervical smear tests, is a huge concern.
'Basically, everyone will be kept in suspense until 12 April. This has resulted in the knock-on effect of posts not being replaced, resulting in further delays in turnaround times at a number of sites. 'Turnaround should, ideally, be within ten days, but it is widely known that eight weeks is now commonplace.'
Unite wants NHS England to guarantee that the NHS remains the primary provider for these services and to rule out any job losses as a result of this new set-up. Unite lead officer for cytology services Gary Owen said: 'The sudden announcement of a reduction to just nine centres for primary cervical cytology screening is a hammer blow to our members working in this vital service.
'Compounding the matter is the prospect that our members may be transferred out of the NHS to a private, profit-hungry, company, whose paramount interest is putting money into shareholders' pockets. 'Many of our members working in cytology screening are part-time women, with many years of loyal service, and who have a dedicated skills set, so it is hugely disappointing that their future employment faces such an uncertain future.
'Unite will do all it can to support these members through this difficult process.'
Meanwhile, doctors' union the British Medical Association (BMA) is warning that its members are being literally short-changed by 'a pay body that's no longer independent'.
The BMA says that doctors have been 'severely let down' by the independent body which advises them on pay, and is now questioning 'how truly independent the pay body really is'.
Each year the Doctors' and Dentists' Remuneration Body (DDRB) is supposed to consider salaries for doctors and dentists working in the NHS and to recommend, to the Prime Minister and the Secretary of State for Health, and their equivalents in Scotland, Wales and Northern Ireland, fair pay levels for doctors. 'In making those recommendations, the DDRB also takes evidence from the BMA,' the union continues.
'However, a decade of austerity and pay caps in the public sector have seen a major erosion of pay levels for doctors – by as much as 30 per cent. While the one per cent pay cap was lifted for nearly every other group of workers in the public sector, last year's pay award fell short of that for many doctors.
'As a result, the BMA's confidence in the independence of the DDRB has been completely eroded. The BMA is now calling for the Body to assert its independence by recommending an uplift that is at least in line with inflation and to start addressing the real-terms pay cut most doctors are experiencing.'
Commenting on the erosion, BMA Council Chair Dr Chaand Nagpaul said: 'The repeated failure of the Body to adhere to its founding principle of independence from government, and ensuring fair pay, is deeply worrying. 'We have advised the DDRB that it has failed in its duty and, crucially, it must rectify its failings by securing a better deal for doctors in future. However, if the DDRB continues to act in such a partisan manner, we may have no choice but to reconsider our future relationship.'
The BMA's strong stance comes at a time when doctors are working harder and longer than ever without adequate recognition or reward. 'We know our members are suffering mental health issues, stress and burnout,' it stresses. 'This was evident in the BMA's own survey, Caring, supportive, collaborative? – Doctors' views on working in the NHS in November 2018.'
Dr Nagpaul continued: 'Whilst recommended pay rises for GPs and some specialist hospital doctors were closer to inflation, recommended rises for other doctors were significantly below inflation and all fell far short of correcting the long-term pay erosion.
'For example, the derisory new pay settlement for hospital consultants in England gives them an average weekly increase of just £6.10 after tax – at a time when they have lost nearly a quarter of their take-home pay in the last decade. The effect this has had on motivation and morale is untenable.
'The DDRB and government must act now to avert a full-blown workforce crisis by recognising the value of doctors with a pay rise at least in line with RPI for 2019, and with a concrete commitment to start addressing the real-terms pay cut doctors have experienced since 2008.'