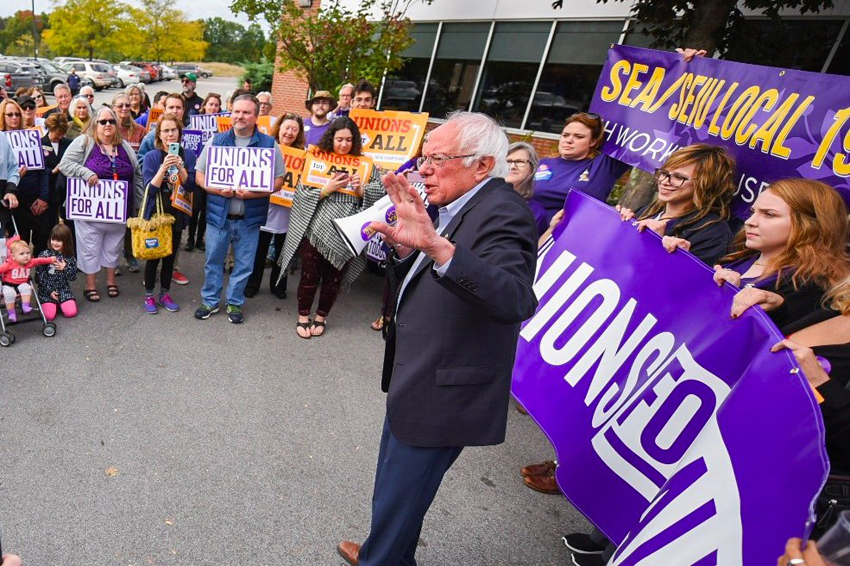 The New Hampshire chapter of the Service Employees International Union (SEIU) has endorsed Senator Bernie Sanders of Vermont for president.
In doing so, the Granite State chapter of the union broke ranks with the national leadership, which has so far remained neutral in the endorsement process.
The endorsement was officially announced on Monday.
About 10,000 workers across New Hampshire are represented by the SEIU's collective bargaining contract, and its national affiliate organisation represents about two million workers nationally.
In a statement, New Hampshire SEIU president Rich Gulla praised Sanders' commitment to labour issues, saying that workers are 'thrilled' to endorse him for president.
'Senator Sanders has taken the time to stand with us on multiple occasions.
'This type of unwavering dedication to New Hampshire's workers means that we can trust him to have our backs.
'For these reasons and more, we are thrilled to endorse Senator Bernie Sanders for president.'
Sanders held a town hall meeting with the union and publicly supported the state employees association during a stop on his 'End Corporate Greed' tour of New Hampshire in late December.
He has recently released a number of pro-labour policy proposals, including a sweeping 'Workplace Democracy' plan.
This proposal, which aims to double union membership during Sanders' first term in office, would increase workers' rights to bargain for better benefits and wages, ban companies from classifying employees as independent contractors and penalise employers who refuse to negotiate in 'good faith'.
'For decades, Senator Sanders has represented the interests of workers all across this country, and during these past few months, he has taken the time to support SEA/SEIU Local 1984 specifically,' president Gulla said in a statement.
New Hampshire will hold the second primary contest in February and victory in the state has historically helped fuel candidate momentum.
Sanders, who represents neighbouring Vermont in the US Senate, is an early favourite to win the New Hampshire primary.
But polls continue to show him in a tight race with rivals US Senator Elizabeth Warren, former Vice President Joe Biden and former South Bend, Indiana Mayor Pete Buttigieg.
Warren represents Massachusetts, also a New Hampshire neighbour.
The same union backed Sanders in 2016 when he ran against Hillary Clinton and was credited with helping him secure victory in the state's primary.
It is unclear whether other local chapters will now become more involved in the presidential race.
In a statement, Sara Lonardo, a spokeswoman for the national union, said: 'SEIU members are paying close attention to this race and are still evaluating candidates on their plans to put power back in the hands of working families and give all working people the ability to join together in unions, no matter where they work.
'We will continue engaging our members nationwide to determine who they see as the best candidate for our union to endorse.'
Sanders has increasingly gathered grass-roots support in recent months, as the Democratic Party's left wing has rallied around his candidacy.
Sanders has received endorsements from a number of House of Representatives Democrats including Ilhan Omar of Minnesota, Rashida Tlaib of Michigan and Alexandria Ocasio-Cortez of New York.
He has also gained the backing of labour organisations like National Nurses United and left-wing advocacy groups including the Centre for Popular Democracy Action and People's Action.
He has also just received the backing of two progressive issue-focused groups: Dream Defenders, a Florida-based collection of activists that focuses on criminal justice reform, and the Sunrise Movement, a group made up of young climate activists.
Hundreds of 'temporary' workers at General Motors assembly plants in the USA were told last week that their jobs are now permanent.
Among them, the largest group in one facility were 255 temps at Detroit's Flint Truck Assembly Plant, which builds the Chevrolet Silverado and GMC Sierra heavy-duty pickups.
Moving temporary employees to permanent status was a major sticking point in negotiations in the five-week United Auto Workers (UAW) strike against GM last autumn, and this move was foreseen in the contract they ultimately agreed on.
The terms of the contract state that full-time temporary workers with three or more years of continuous service could begin to convert to permanent status starting on January 6th, giving them a higher hourly wage and ability to accrue seniority.
Some 930 GM employees got the new status last week, among them workers from 30 of GM's 52 UAW-affiliated US facilities.
By terms of the new contract, in addition to the change in status for this set of workers, GM agreed to give permanent status to an additional 2,000 temporary workers by 2021 by converting full-time temporary workers with two or more years of continuous service.
The status of these long-term temporary workers had been a major point of contention in union talks last year.
According to the Free Press report, temps make up as much as 10 per cent of the GM workforce, or about 4,100 workers as of the end of 2019.
Separately, Ford's contract with the UAW, ratified in mid-November, calls for the same terms for temps, including the conversion of temporary workers to full-time status immediately if they have three years of service and in 2021 with two years of service.
This week, Ford moved 592 people from temporary to permanent status.
Teamsters union members protested outside the Embassy of France in Washington, DC and the Consulate General of France in Los Angeles last Friday.
The demonstrations were a show of solidarity with striking workers in France, many of whom are transportation workers and members of CGT, the transportation union whose record-breaking strike has entered its 36th day.
Additionally, the Teamsters called on the French corporation Air Liquide, which owns the US-based company Airgas, to respect workers' rights to organise and to provide a dignified retirement for employees.
At the demonstrations, Teamsters carried signs which read, 'Air Liquide: All Workers Deserve Secure Retirement.'
'Teamster members have much in common with French workers, including that both are fighting for a secure retirement,' said Jim Hoffa, Teamsters General President.
'We stand with Airgas workers in the US and workers in France who deserve a secure retirement.'
'We stand here at the Los Angeles Consulate General in solidarity with our brothers and sisters on strike in France to protect their pensions,' said Eric Tate Secretary-Treasurer of Teamsters Local 848 in California.
'There is an international war on workers. Pensions are under attack in France, our government has yet to address the pension issue here in the United States, and multinational corporations like Air Liquide are allowing their American companies to refuse to give their workers a secure retirement and to illegally harass and intimidate union workers.'
After the demonstrations, letters of support for the French workers were delivered by the Teamsters to the Embassy and the Consulate General.
The letters read in part: 'The 1.4 million members of the Teamsters Union stand in solidarity with workers in France during their struggle to maintain a pension that allows them to retire with dignity and respect after years of hard work.'
Keith Gleason, Teamsters Tankhaul Division Director, stressed that the union will always stand up to fight for workers.
'American workers, Canadian workers, French workers, all workers around the world deserve to enjoy their golden years.
'Multinational corporations like Air Liquide make billions in profits and need to respect their workers and ensure there is a secure retirement for them,' Gleason said.
'We are asking Air Liquide to take a closer look at how its workers are treated in the United States and ensure that Airgas ends its unlawful behaviour.'
Founded in 1903, the International Brotherhood of Teamsters represents 1.4 million working men and women throughout the United States, Canada and Puerto Rico.