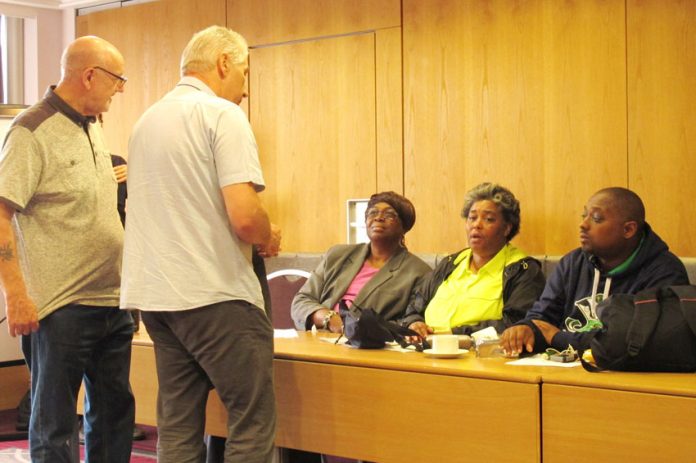 'NATIONAL Express needs to step up to the plate and take responsibility for the activities being perpetrated in its name in America,' Teamsters' General President Jim Hoffa said in response to a Teamters report on one of the company's subsidiaries in North Carolina.
Later on Wednesday, Jim Hoffa, and Unite General Secretary Len McCluskey attended a briefing in Birmingham ahead of a Lobby and Intervention at the National Express Group Shareholders AGM.
Along with a group of Teamsters workers and officials, Unite and ITF officials and pension fund representatives, Hoffa and McCluskey addressed the company shareholders in the city's International Convention Centre.
A statement handed out to shareholders on a joint resolution put by Greater Manchester Pension Fund, Islington Council Pension Funds, Nottinghamshire County Council Pension Funds and the International Brotherhood of Teamsters General Fund, read: 'Resolution 22 does not seek to increase employee head count, but to make better use of the resources National Express already possesses.
'The Safety and Environment Committee with eight members is the largest Board committee and should be able to accommodate the additional responsibilities of the human capital strategy. The Committee includes both the Chairman and Vice Chairman of the Company.
'We strongly believe that by implementing a mechanism to assure appropriate Board oversight, and developing and implementing a comprehensive policy on human capital based on recognised international standards, National Express would bolster its brand-name integrity, reduce its workers' rights risk exposure and, in turn, increase long-term shareholder value for all.
'As committed long-term shareholders, we believe it is vital that the Company improves it's management of human capital. We urge fellow National Express Group shareholders to vote for Resolution 22 to mandate the need for improved global oversight and disclosure of the Company's most crucial assets – its people' the statement concluded.
Opening the briefing, Teamster's Director of Organising, Jeff Farmer introduced Teamsters members Patricia Chillis from Illinois, Evelina Moultrie from South Carolina and Lester Hawthorne from Florida. Farmer said: 'It's great to have these workers here from Durham School Services in Carolina (a National Express subsidiary).
'This company has been extremely vicious towards its workers. Patricia, Lester and Evelina represent stages in trying to organise at the company. Patricia is tying to organise at the company in Aurora, Illinois.
'Lester, he and his co-workers voted 15 months ago to be represented by this union. Fifteen months later the Labour Relations Board certified the union saying "the company's objections had no grounds".
'Evelina, and her co-workers, are a strong Teamsters Union in South Carolina. They have raised safety issues with Durham School Services,' he said.
Teamsters Assistant Director Capital Strategies, Louis Malizia explained to the briefing: 'The AGMs of National Express are usually a public relations display. It seems a tough place to get our point across, but we have to go in and ask some tough questions and expose what is going on.
'Year after year we have seen their policies that have caused devastation for its workers.
'We are warning: "This threatens the reputation of the company".
'Safety is going out the window – buses have bald tires, and steering that doesn't work. We are making the point that the company is in danger of losing and is losing contracts. We have this opportunity to tell the Board "You've been sleeping at the wheel for years – it's time to take responsibility".'
A representative of the Islington Pension Fund said: 'We support the Resolution as investors in National Express we want the company to grow. To grow its Durham School Services business, it is necessary to have good industrial relations and good Health and Safety', the representative stressed.
Evidence emerged on the eve of its London AGM, that National Express Group is pushing human rights in its North American operations to the limit. Over the last decade serious concerns have been raised by the negative human rights and labour relations record of National Express Group's US private school bus transportation subsidiary Durham School Services.
New research by the Teamsters of 165 drivers and monitors employed by Durham School Services in South Carolina last summer showed that buses had frequent breakdowns when students were on board, many buses were overcrowded and a catalogue of mechanical malfunctions were reported, such as broken heaters and speedometers.
Research in Santa Rosa County in Florida also revealed similar problems. Teamsters' general president Jim Hoffa said: 'National Express needs to step up to the plate and take responsibility for the activities being perpetrated in its name in America.'
Unite assistant general secretary Diana Holland said: 'As the largest transport workers union, we welcome the Teamsters' intervention at the annual meeting and hope this will shame the company to stop its abysmal anti-employee attitudes in the US.
'Our fear is that, if Durham School Services is allowed to get away with these abuses, such behaviour could creep into National Express' UK operations which Unite would fight tooth-and-nail for transport workers and for passengers.'
Mac Urata, ITF inland transport section secretary, said: 'I have witnessed the working conditions and spoken directly with Durham workers and I firmly believe National Express is falling short of its responsibilities to its US workers.
'The conditions I have seen risk the safe transportation of school children and the workers who operate the buses. The company cannot hide behind rhetoric; we are part of an international coalition that demands immediate change.'
Last year the report, National Express Group's Diminution of Labour Rights in the US was commissioned by Britain's largest union, Unite and the International Brotherhood of Teamsters.
The company has been the recipient of many US National Labor Relations Board complaints and charges that raised concerns of unlawful terminations, surveillance, retribution and disparate treatment of its employees who supported unions.