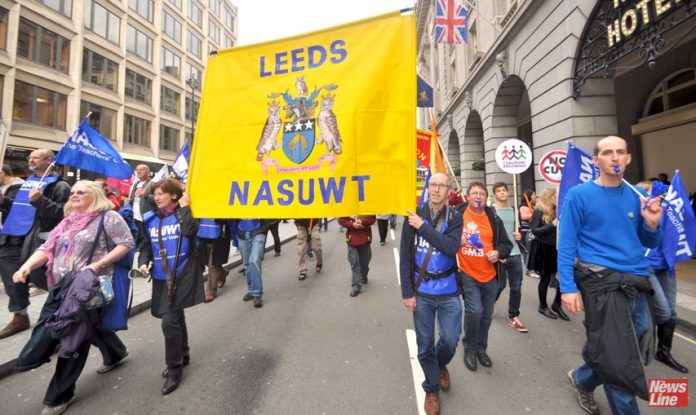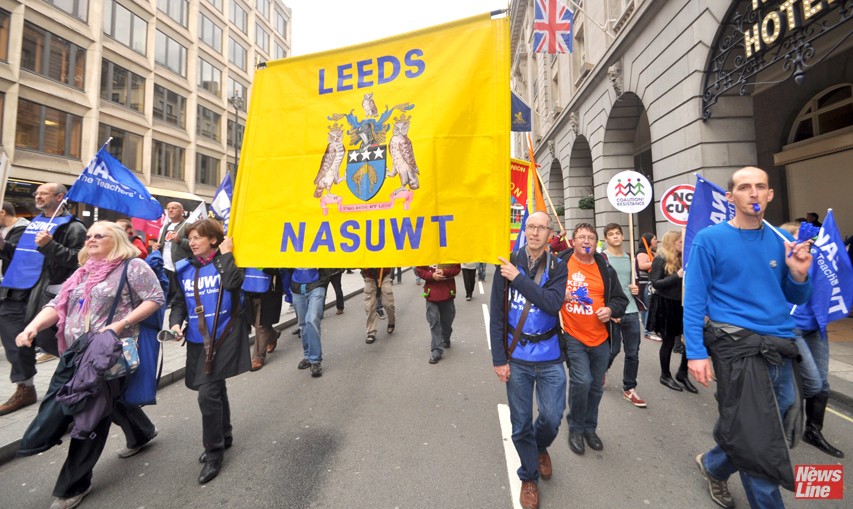 TEACHERS have instructed their trade union's executive to consider calling action, 'up to and including strike action' against the Tory government's attacks on their pay.
The National Association of Schoolmasters and Union of Women Teachers (NASUWT) Conference held in Belfast in the north of Ireland on Saturday, Sunday and Monday, debated numerous resolutions on vital issues.
Birmingham, Leeds and North Tyneside NASUWT proposed the motion on pay under the headline 'NATIONAL PAY FRAMEWORK IN TATTERS'.
It read: 'Conference is appalled by the on-going erosion of the national pay framework and the refusal of the DfE (Department for Education) to implement the recommendations of the 28th Report of the School Teachers' Review Body (STRB).
'Conference calls on the National Executive to campaign for:
(i) the reinstatement of the national pay framework;
(ii) fully-funded pay increases in pay awards and
(iii) the outcome of the STRB to be binding.
'Conference further calls upon the National Executive to consider balloting members for industrial action up to and including strike action if future STRB recommendations are not implemented in full.'
A survey has found that 73% of NASUWT members think potential recruits are being put off a career in teaching because of pay levels.
According to the union's 2019 Big Question survey of members, 82% of teachers think teaching is not competitive with other professions in terms of pay.
NASUWT General Secretary Chris Keates said: 'A key contributory factor to the current recruitment and retention crisis is that teachers face a pay lottery with no guarantees about the pay award or pay progression they will receive, however hard they work, however well they perform or whatever the Review Body recommends.
'No other group of workers in public service have been treated so shabbily and unfairly.
'Excessive freedoms and flexibilities given to schools and employers have led to a race to the bottom on teachers' pay. Discrimination and unfairness is rife.
'Instead of compounding the problem by arrogantly sweeping aside evidence-based Review Body recommendations, the Secretary of State should restore the national pay framework, bringing back fairness and certainty of reward to which teachers are entitled.'
Another motion argued that action is needed urgently to tackle age discrimination being faced by many older, experienced teachers.
Despite the expectation that teachers will work for longer and the valuable contribution older and experienced teachers make, many older teachers face being hounded out of their jobs because they are considered to be too expensive.
General Secretary Keates said: 'Instead of older teachers being valued and their contribution to the school appreciated they are facing grossly unfair and unacceptable treatment.
'All our evidence shows a catalogue of older teachers being disproportionately placed on capability procedures, denied access to professional development, subject to excessive observation and scrutiny, having pay awards and pay progression withheld and put under intense pressure to leave their job.
'We have even had examples of overt and blatant age discrimination, with teachers over sixty being asked outright by headteachers whether it wasn't now time for them to think of doing something else.
'Inequality and discrimination is rife across schools and despite being confronted with irrefutable evidence ministers still fail to act.
'Ministers are issuing recruitment and retention strategies to tackle the teacher supply crisis while ignoring the factors which are driving good teachers out of the profession.
'The skills, knowledge and expertise older teachers can contribute should be celebrated by employers, not shunned and devalued.'
On another issue, action was called for to end the 'secret garden' of school and college funding.
Overwhelmingly carried, the NASUWT motion read: 'Conference deplores the wholly unnecessary UK government austerity measures that have severely reduced public spending and profoundly exacerbated social divisions and equality.
'Conference condemns the continued cuts to education funding but is further concerned by the fact that many schools and colleges still prioritise spending on non-essential consultants, software, service level agreements and excessive salaries for senior leaders, whilst job security, pay and classroom provision are cut.'
In another debate, the NASUWT Conference said that teachers and pupils are being burnt out by the demands of the assessment, tracking and data systems employed in many schools.
These drive up teacher workload, undermine the ability of teachers to focus on teaching and supporting their pupils and generate anxiety and stress in many pupils, delegates argued.
General Secretary Keates accused some schools of 'setting up' teachers to fail in order to keep their pay down.
She said: 'In too many schools, data is being abused and misused to set teachers up to fail and to deny them pay progression.
'Reforms to assessment have resulted in schools creating and implementing their own, often bureaucratic and workload intensive, assessment and testing structures for pupils.
'The high-stakes accountability system is driving up teacher workload, stress and anxiety with the consequent adverse impact on the provision of high-quality education for every child.
'An alternative approach to assessment, data and accountability  which genuinely supports schools to assist every pupil to achieve their full potential is long overdue.'
The motion, which was overwhelmingly carried, read: 'Conference believes that effective assessment is critical to ensuring that children and young people can benefit from high-quality learning experiences.
'Conference further believes that pupil achievement data can play a useful role in informing professional dialogue about pupil progress and attainment.
'Conference, however, is concerned that in many schools and colleges, assessment, tracking and data practices are not fit for purpose and are driven by the high-stakes accountability system.
'Conference calls on the National Executive to continue to challenge data and assessment practices that:
(i) make use of pupil assessment data to deny legitimate pay progression to teachers and call their competence into question;
(ii) over-emphasise assessment at the expense of teaching and learning;
(iii) place unacceptable workload burdens on teachers and school leaders and
(iv) involve purchasing overpriced commercial packages that are of limited educational value and fail to provide effective support for learning.
'Conference further calls upon the National Executive to:
(a) investigate education systems which do not have this accountability culture;
(b) investigate the impact of the high-stakes accountability system on the health and wellbeing of teachers and children and young people and
(c) lobby the government to provide an alternative system conducive to the health and wellbeing of all educational stakeholders.
'Conference continues to endorse the work of the National Executive in protecting members, including through the use of industrial action where necessary, from the adverse consequences of poor assessment practices.'
Meanwhile, the increase in the retirement age for teachers to 68 is 'completely unrealistic in a climate where teachers are burning out after only a few years in the job' the conference heard.
Keates said: 'Teaching is a highly challenging profession at whatever age.
'The failure of governments to tackle effectively cuts to pay, excessive workload and pupil indiscipline has piled on even more pressure and made the increase in  the retirement age  all the more unrealistic and unacceptable.
'Ministers wring their hands and wonder why there is a teacher supply crisis.  They need look no further than the policies they have inflicted on the teaching profession for the answer.'
The motion on Pension Reform, passed overwhelmingly, stated: 'Conference deplores the imposition of detrimental pension reforms on teachers across the UK from 2011 onwards, including swingeing increases in pension contributions and the unacceptable equalisation of the state pension age and teachers' pension age.
'Conference further deplores the actions of some independent school employers who are seeking to withdraw from the Teachers' Pension Scheme'
It went on: 'Conference applauds NASUWT members in independent schools who have successfully resisted employer attempts to opt them out of the Teachers' Pension Scheme.
'Conference calls on the National Executive to continue to implement action, up to and including industrial action, against employer withdrawal from the Teachers' Pension Scheme.'