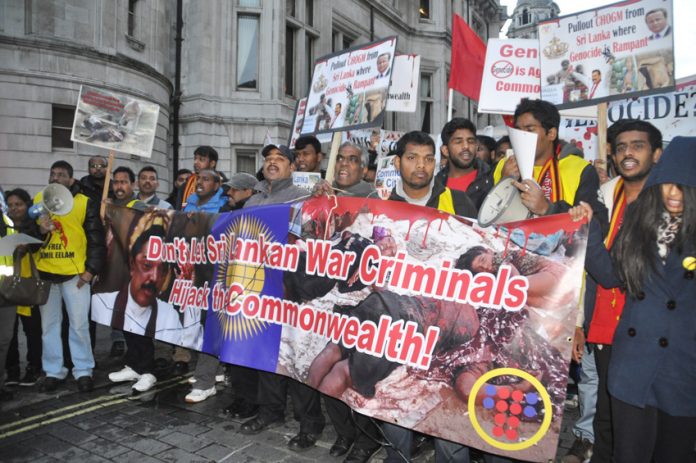 MORE than 2,000 Tamils and their supporters marched from Embankment to Downing Street on Saturday afternoon.
They demanded the Commonwealth Heads of Government Conference planned to be held in Sri Lanka from 15th-17th November must be cancelled.
As the march was assembling, Indran told News Line: 'We are demonstrating against David Cameron's and Prince Charles's participation in the Commonwealth Conference in Sri Lanka on the 15th-17th of this month.
'The Canadian PM, Stephen Harper, and the Canadian Foreign Minister have decided to boycott because of the appalling genocide carried out by the Rajapaksa regime.
'100,000 killed and 150,000 missing presumed killed at the end of the war in 2009.
'For 26 years we have been fighting for Tamil Eelam.
'Cameron is the prime minister who decided to hold the conference in Sri Lanka for reasons of trade.
'Rolls Royce is selling an £800 million order to Sri Lanka Airlines.
'It's a trade-off in exchange for international acceptance of the genocide of the Tamils.'
The march moved off with the lead banner depicting Sri Lanka President Rajapaksa with blood on his hands and stating: 'Don't let Sri Lankan war criminals hijack the Commonwealth.'
Other banners read: 'Commonwealth Heads of Government Conference in Sri Lanka will be the end of the Commonwealth', and 'Expel Sri Lanka from the Commonwealth'.
Jeramay told News Line: 'The Sri Lankan president is a war criminal.
'If the Commonwealth accepts him they are accepting a war criminal, they are accepting genocide.'
Shyna said: 'Cameron and Rajapaksa are friends.
'If we are going to have a peaceful life, we need to get rid of both of them.'
Abiramy said: 'Most of our people were killed by Sri Lankan government war crimes.
'It is intolerable for the Commonwealth meeting to be held there.'
Earlier, British Tamils Forum members and local constituency residents met Labour Party leader Ed Miliband to discuss the UK's participation in the upcoming Commonwealth Heads of Government Meeting, which is due to take place in Sri Lanka later this month.
Delegates recounted the horrific abuses of the 2009 war, in which Sri Lankan security forces are accused of killing tens of thousands Tamils, and 147,000 Tamils still remain unaccounted for.
They also handed Miliband a copy of BTF's recent report, Reconciliation in Sri Lanka?, which describes the human rights abuses, land grabs, economic persecution and other crimes that continue to be perpetrated against Tamils by the Sri Lankan state today.
The BTF added that Miliband confirmed the Labour Party's stance opposing Cameron's attending next month's conference and that an international, independent inquiry must take place into allegations that war crimes and crimes against humanity were perpetrated during the war in 2009.