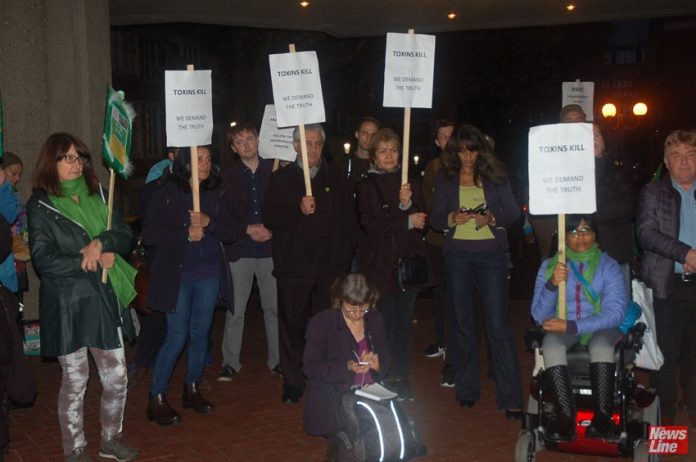 EXTENSIVE research by the University of Central Lancashire into toxic contamination surrounding the Grenfell Tower after the tragic fire there has now been published following the preliminary report from last year.
The paper is published by the Chemosphere journal, and its lead author is Professor Anna Stec, who has acted as an expert witness at the Grenfell Tower Inquiry.
Stec, professor in fire chemistry and toxicity at the University of Central Lancashire (UCLan), said: 'There is undoubtedly evidence of contamination in the area surrounding the Tower, which highlights the need for further in-depth, independent analysis to quantify any risks to residents.
'It is now crucial to put in place long-term health screening to assess any long-term adverse health effects of the fire on local residents, emergency responders and clean-up workers. This will also provide a future readiness for dealing with any further such disasters.'
New analysis of soil, debris and char samples following the Grenfell Tower fire has uncovered significant environmental contamination in the surrounding area. This includes known cancer-causing chemicals and respiratory sensitisers, highlighting the need for a detailed investigation and long-term health screening to fully establish potential health risks to those in the local area.
One month after the fire, researchers at UCLan discovered that char samples from balconies 50 to 100m from the Tower were contaminated with cancer-causing polycyclic aromatic hydrocarbons (PAHs).
This led to further analysis, six months after the fire, of soil, fire debris and char samples, taken from six locations up to 1.2km from the Tower.
Based on the level of chemicals discovered, researchers have concluded that there is an increased risk of a number of health problems to those in the local area, from asthma to cancer.
The research revealed that soil samples within 140m of the Tower contained six key PAHs at levels of around 160 times higher than those found in reference soil taken from other urban areas.
Soil samples collected within 50m of the Tower also contained phosphorus flame retardants, materials commonly used in insulation foams and upholstered furniture that are potentially toxic to the nervous system.
In this soil, as well as in fallen debris and char samples, researchers identified synthetic vitreous fibres matching those present in products used in the Grenfell Tower refurbishment.
Elevated concentrations of benzene, a proven carcinogen, were discovered up to 140m away from the Tower in quantities 25-40 times higher than those typically found in urban soils.
Dust and a yellow oily deposit from a window blind inside a flat 160m from the Tower, collected 17 months after the fire, were also found to contain isocyanates – potent respiratory sensitisers that can lead to asthma after a single exposure.
These substances were discovered in quantities that could indicate that they resulted from the burning of specific materials which were used in the 2016 refurbishment of Grenfell Tower.
The yellow oil on the window blind has been previously characterised as a part polymerised product of isocyanates.
Discovery of methyl isocyanate (MIC) deposition, a volatile liquid (boiling point at 38 °C), on part of the window blind that was exposed to the outside air, is an obvious health concern particularly as it was found 17 months after the fire within a living space.
The four soil samples (S1-S4) closest to the Tower indicate significantly increased cancer risk from dioxin and furans, as well as for PAHs, via dermal intake.
The abstract of the report highlights more detail of the already mentioned chemicals involved:
The Grenfell Tower fire in central London, started within a flat, engulfed the whole 24-storey building in flames, killed 72 people and spread toxic effluent via the plume and particulate deposits.
Soil samples from 6 locations up to 1.2km from the Tower, together with semi-burnt fire debris and char samples, were collected 1 and 6 months after the fire. Additionally, dust samples and condensates were collected from a flat 160m away from the Tower after 17 months.
Samples were analysed for common potentially toxic components of fire effluents and synthetic vitreous fibres.
Samples collected within 140m of the Tower showed, amongst other toxicants, polychlorinated dibenzo-p-dioxin concentrations 60 times greater than UK urban reference soil levels; benzene levels were 40 times greater; levels of 6 key polycyclic aromatic hydrocarbons (PAHs) were approximately 160 times greater. PAHs levels are approximately 20 times greater than those reported from nearby Hyde Park before the fire.
To explain the presence of these pyrogenic contaminants char and partially burnt debris were also collected and analysed.
Benzene, PAHs, isocyanates and phosphorus flame retardants were found.
Hydrogen cyanide and synthetic vitreous fibres were present in both soil and debris.
Particulate and pyrogenic contamination in the immediate vicinity is clearly evident, and may have leached out of fire debris, char and dust. Further analysis of the area around the Tower is necessary to understand potential health risks.
In section 1, Introduction, of the report, the first part comments on the health effects of chemicals released by fire:
It points out that UK National Fire Statistics (2018) show that the acute toxicity of fire effluents is the biggest short-term cause of death and injury from unwanted fires.
As the fire develops, the yields of all products of incomplete combustion including CO, HCN, organic compounds and soot increase – typically by factors of 10 to 50. Molecular toxicants bind to smoke particles (airborne soot and tarry droplets) allowing them to penetrate deep into the lung causing respiratory distress and pulmonary oedema (flooding of the lungs).
Fires also release a rich cocktail of pollutants, many of them acutely or chronically toxic, including carcinogens such as semi and volatile organic compounds (SVOC/VOCs), PAHs, respiratory sensitisers such as isocyanates from some nitrogen-containing fuels, and persistent, bioaccumulative and toxic compounds.
Benzo(a)pyrene (BaP) was initially identified as the most toxic PAH species, however more recent studies identified 7,12-dimethylbenzo(a)anthracene as having a 20-fold higher toxic equivalence factor than its parent compound and twice that of BaP (Andersson and Achten 2015).
PAHs are transformed in the atmosphere or metabolically into hydroxy-PAHs, which are more genotoxic than the parental PAHs. These compounds have been linked to firefighter cancers through the analysis of their exposure (Stec 2018).
Studies by Lippmann (2014 and 2015) on the aftermath of the World Trade Centre showed that synthetic vitreous fibres (SVF) were one of the most significant health damaging contaminants after the fire.
The report concludes by saying, 'Any health effects, together with long-term fire exposure monitoring, should also be carried out and supervised by a multidisciplinary team with medical, environmental, fire and combustion toxicology expertise.
'Public agencies need to be adequately prepared to provide reliable guidance to the public on more appropriate means of exposure assessment, risk assessment, and preventive measures – in the event of a recurrence such as this tragic fire.'