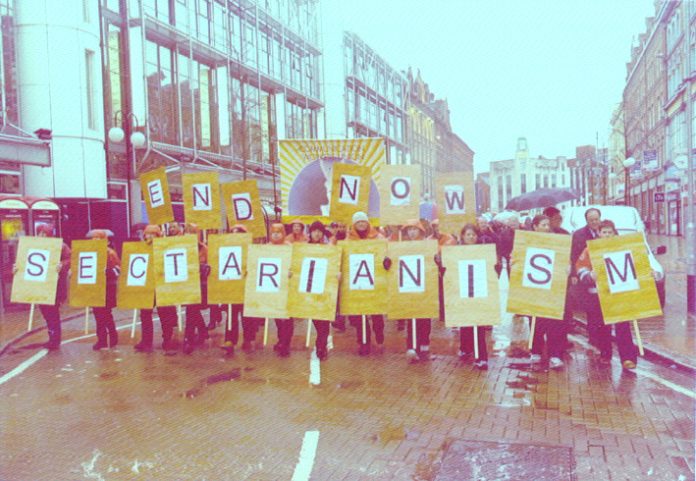 BY IRISH POLITICAL JOURNALIST JOHN COULTER
The Castlerock massacre in Co Derry in which four Catholic workmen were shot dead could have been stopped if police had acted on tip-offs supplied by their touts inside the loyalist death squad, the Ulster Defence Association, nationalist sources have alleged.
25 March marks the 15th anniversary of the 1993 ambush which claimed the lives of 52-year-old James McKenna, Noel Kane (21), Gerry Dalrymple (58) and 25-year-old IRA Officer Commanding James Kelly.
They were among five workmen who arrived in their van in the Co Derry village where they had been completing renovation work for some months when they were attacked by at least two UDA gunmen from another van.
Four were killed and the fifth seriously wounded. The scene of the attack was a short distance from Castlerock police barracks.
What nationalists believe triggered the massacre was that Kelly's name and photo were contained on a supposedly classified security forces document leaked to the UDA.
This also fuelled allegations of collusion in Kelly's murder and that the other victims just happened to be on the wrong place at the wrong time.
The previous day, the UDA had murdered leading Toomebridge Sinn Fein member Peter Gallagher in west Belfast.
On the same day as the Castlerock massacre, the UDA again struck in west Belfast, shooting dead Catholic teenager Damien Walsh.
One of the loyalist gunmen convicted for the four Castlerock killings was notorious UDA murderer Torrens Knight, who was also later convicted of killing eight people in the Greysteel pub massacre in Co Derry a few months later on 30 October 1993.
The Rising Sun killings became known as the 'trick or treat' massacre because one of the UDA gunmen shouted the popular Halloween chant before opening fire in the pub.
However, nationalist sources have said that both massacres could have been prevented because the police allegedly had a mole inside the Co Derry UDA.
Knight was released early in July 2000 from his jail term for the 12 murders because of the 1998 Good Friday Agreement.
It has been alleged in Christian fundamentalist circles that while in prison, Knight became a 'born again' believer.
One top Christian fundamentalist source also alleged that Knight was still a 'saved' Christian', now had his own business and was still living in the North.
His conversion to 'born again' Christianity has sparked a war of words – especially in the nationalist community – that some loyalist killers and terrorists may have allegedly become 'saved'' to get shorter jail terms.
A relative of one of the Castlerock murder victims said of the early releases under the Belfast Agreement: 'Those boys that did it, when the day comes, they will not be wearing masks on their faces or carrying guns in their hands.
'The Lord will say to them, the blood on my hands is my own, whose blood is that on your hands?'
East Derry Assembly member John Dallat, of the moderate nationalist SDLP, has been one leading politician who has alleged that crucial information was not acted upon by police.
There have been allegations the security forces knew of the two 1993 Castlerock and Greysteel massacres in advance, but did not stop them to protect their mole.
The Ulster Political Research Group, the political organisation which gives advice to the UDA, has denied that Knight was an MI5 agent.
Former Police Ombudsman for the North Nuala O'Loan has said the issue of whether Knight was an alleged police informant was not in her remit during her time in office.
A well-placed nationalist source said: 'The only person who can clear up these allegations of whether Knight was or was not a Crown spy, either for the Brits or the peelers, is Knight himself.
'There has been a lot of talk about him becoming one of these Bible thumpers when he was in jail. But some day, Knight will have to stand before God and answer for the fate of these 12 souls.
'And if he really still is one of these so-called "born again' or 'saved' boyos, as you put it, when is the nationalist community going to receive a public apology from Knight for these murders?
'Then again, if Knight is going to give us some hypocritical shite like we heard about the Rat, that even though he's killed all these Catholics, he's still going to heaven.'
Last year, in the run-up to the 10th anniversary of the INLA murder of loyalist godfather Billy 'King Rat' Wright, a cleric who officiated at the Loyalist Volunteer Force boss's funeral – Portadown's Pastor Kenny McClinton – said he believed Wright was now in heaven.
McClinton – himself a double UDA murderer – is now a 'born again' Christian and his comments caused outrage in the nationalist community.
Loyalist killers who become 'born again' Christians usually try to compare themselves to the Biblical New Testament character Saul of Tarsus.
He was a known killer of Christians until he had a miraculous religious conversation on the road to Damascus in the Middle East and changed his name to the Apostle Paul – hence the religious term, 'road to Damascus conversion'.
On the same day as the Castlerock massacre, one of two schoolboys – 12-year-old Tim Parry – who were fatally wounded in the IRA's no warning bin bombs five days earlier in Warrington near Liverpool, died.