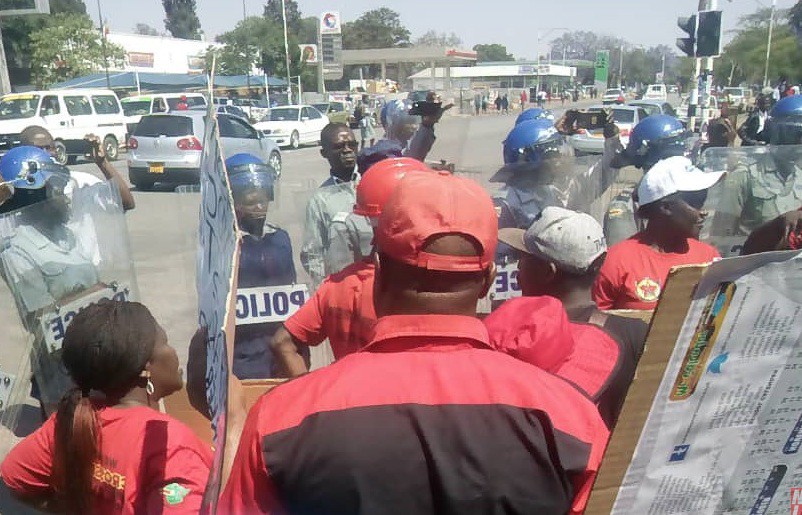 The General Secretary of the African Regional Organisation of the International Trade Union Confederation (ITUC), Kwasi Adu-Amankwah was on Tuesday morning dragged from his hotel room in Harare by authorities soon after his arrival.
Adu-Amankwah was scheduled to meet the leaders of local labour body, the Zimbabwe Congress of Trade Unions (ZCTU).
He is set to be deported.
The ZCTU said in a statement: 'Secretary-General Kwasi Adu-Amankwah faces deportation.
'He is detained at Robert Gabriel Mugabe International Airport in Harare.
'He was dragged from a local hotel and taken back to the airport soon after arriving early this morning. He was scheduled to meet the ZCTU.'
It was not immediately clear why he was held as his lawyer, Obey Shava said he was yet to be granted access to his client, but the ZCTU, on its Twitter, said they fear the labour leader is in the process of being deported.
Amankwah was also scheduled to meet the Ministry of Labour, the International Labour Organisation and the Employers Confederation of Zimbabwe for an appreciation of the trade union and the situation in the country.
According to an update by the ZCTU, Amankwah entered the country early on Tuesday morning and checked into a local hotel.
He was tracked down by government officials and taken back to the airport where he is currently held.
ITUC Africa has since written to President Emmerson Mnangagwa calling for swift intervention and release of Amankwah.
'This is to bring to your attention that … Adu-Amankwah (a Ghanaian) has been taken from (a local hotel) where he checked in upon arrival … we fear he is being processed for deportation.
'We, nevertheless, hope this will not be the case,' reads part of the ITUC Africa letter to Mnangagwa, signed by the Deputy Secretary Adrian Akouete.
'We ask that your government take the necessary steps to ensure that Adu-Amankwah is released and allowed to continue with his mission.
'The appropriate thing will be that the Zimbabwe Department of Immigration will tender an unreserved apology for this action and take genuine efforts to prevent future reoccurrence.'
With at least 17 unarmed civilians killed by the military in the recent spate of anti-government protests, and many more injured, abducted, raped and imprisoned, labour leaders, opposition lawmakers and human rights defenders in Zimbabwe are living in fear of their lives as the government of President Emmerson Mnangagwa continues its vicious crackdown.
In a desperate bid to muzzle dissenting voices, soldiers shot dead the protesters following a six-day (initially three) work 'stay-away' called by the Zimbabwe Congress of Trade Unions (ZCTU) on 14 January.
Over 1,000 people have been arrested with some dragged from their homes and beaten according to human rights groups, the government imposed a temporary shutdown of the internet during the protests and even children have been violently assaulted by security forces.
The ZCTU labour action came in response to the massive price hike for essential goods and services after the government unilaterally imposed a 150 per cent increase in the cost of fuel. In a country where many people live on less than a dollar a day, the steep increases have pushed desperate families to breaking point.
Getrude Tembo, a second-hand clothing vendor based in Harare, said: 'These days we cannot afford to buy our basic necessities.
'In October last year two litres of cooking oil was going for US$3.80. In November it was US$4.90, US$5.00 in December and now it is US$11.
'All the basic commodities have gone up by as much as 300 per cent.'
A number of ZCTU leaders were arrested as a result of the 'stay-away' with Secretary-General Japhet Moyo and President Peter Mutasa charged with 'attempting to overthrow a constitutionally elected government or alternatively inciting violence'.
Following an international solidarity campaign which saw a regional day of action across Africa on 1 February and global support from the international labour movement, Moyo and Mutasa were released on bail after spending nearly two weeks in Chikurubi Maximum Prison.
Their trial date is yet to be set but both union leaders are currently on remand and face a mandatory 20-year jail term if convicted.
President Mnangagwa came to power following a military coup that ousted former president Robert Mugabe after 37 years of power in October 2017; he then claimed victory in a contested election in July 2018.
Despite serving in Mugabe's Zanu-PF government and maintaining all of the same state apparatus as his predecessor, Mnangagwa promised a fresh start that would be marked by the revitalisation of Zimbabwe's failing economy.
Post-election violence, which left six people dead, offered an early sign of things to come under Mnangagwa, but the introduction of harsh austerity measures in November 2018 has left impoverished Zimbabweans even more desperate – and angry.
'I am angry with the government because the situation has taken away our dignity, especially as women,' said Tembo.
'We cannot feed our families. We cannot even afford to get to work by normal means. Imagine as a woman having to travel in a pick-up truck just to get to work because conventional transport is now unaffordable.'
There has been widespread use of armed soldiers to quell protests and arrest trade union and opposition leaders.
Besides the arrest of trade union leaders, opposition leaders Tendai Biti and Amos Chibaya of the Movement for Democratic Change (MDC) Alliance and Evan Mawarire of the #ThisFlag movement are amongst those who are also facing 20 year sentences for taking a lead in calling for demonstrations against the Zanu-PF regime.
The cases of those accused of taking part in fuel protests are being fast-tracked in the courts and many are being refused bail.
This led to lawyers taking to the streets on 29 January to protest over the 'deteriorating rule of law'.
Prominent Harare lawyer, Alec Muchadehama, who is representing the two ZCTU leaders, said that the union leaders have not committed any crimes and were arrested on charges which are 'totally false'.
He said: 'They did not commit anything close to what they are alleging.
'For example, initially they charged ZCTU Secretary General Japhet Moyo with sending some text messages through social media saying that the government must be overthrown.
'But when they looked at his phone, they discovered that there were no such messages.'
Muchadehama said the police then started 'conjuring up facts which are not based on any tangible evidence'.
Acting ZCTU Secretary General, Sylvester Mutindindi, says the arrest of trade union leaders in Zimbabwe is a systematic tool used by government to intimidate unionists through persecution, leaving them weakened in the fight to protect Zimbabwean workers from the socio-economic ills meted out by the government.
'The arrest is an act of repression against the trade unions and the ZCTU strongly condemns the acts of the police.
'It is contrary to Section 59 of the Constitution of Zimbabwe which gives workers the right to demonstrate and petition peacefully,' he says.
Since coming to power in 2017, President Mnangagwa has consistently failed to engage with trade unions while taking a very strong pro-business stance.
But the unions say that peace and prosperity is impossible as long as the government continues to institute policies that harm Zimbabwe's workers and communities.
The ZCTU has called on the government to bring about an immediate end to the repression and engage in genuine social dialogue.
However, journalists report that the government has recently ordered US$8 million worth of teargas canisters to deal with future protests.