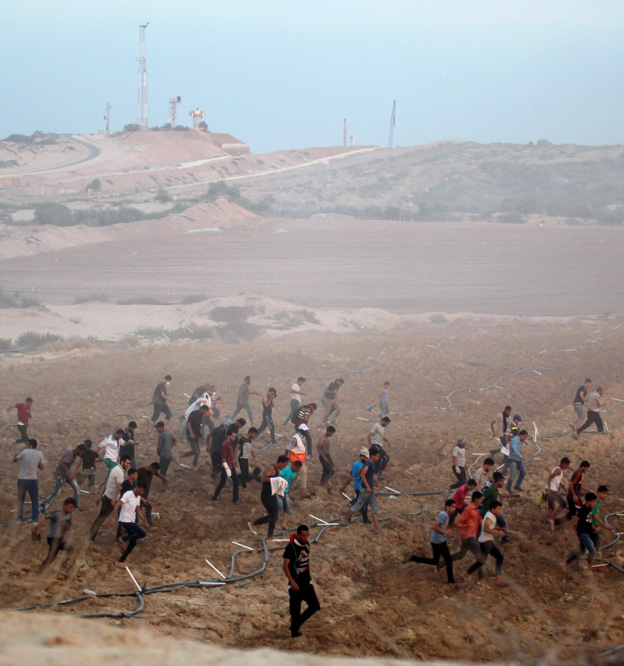 Israeli forces fired on Palestinian farmers as they were working on their lands east of Khan Younis on Monday morning. Khan Younis is a city in the southern Gaza Strip with a population of over 300,000. The farmers were fired on from military observation towers and forced to evacuate the area for fear of their lives.
Meanwhile, several Israeli bulldozers entered into the 'buffer zone' alongside the southern Gaza border and razed lands. Four D-9 Israeli military bulldozers entered dozens of metres into lands near the 'return camps' and razed and levelled lands as drones flew overhead.
Israeli military incursions inside the besieged Gaza Strip and near the 'buffer zone,' which lies on both land and sea sides of Gaza, have long been a near-daily occurrence.
The Israeli army also regularly detains and opens fire on unarmed Palestinian fishermen, shepherds, and farmers along the border areas if they approach the buffer zone, as the authorities have not made clear the precise area of the designated zone.
The practice has in effect destroyed much of the agricultural and fishing sector of the blockaded coastal enclave, which has been under an Israeli air, land, and sea blockade for nearly 12 years.
Across the occupied West Bank, Israeli forces detained at least 19 Palestinians, including minors, during predawn raids on Monday The Palestinian Prisoners Society (PPS) reported that Israeli forces detained one Palestinian in the southern West Bank district of Bethlehem; he was identified as Maher Assaf.
In the central West Bank district of Jerusalem, PPS confirmed that nine Palestinians were detained from the Palestinian neighbourhood of Issawiya. They were identified as Adam Fadi Mustafa, 18, Muhammad Zakaria Elayyan, 18, Abed al-Qader Dari, 19, Qusai Ahmad Dari, 17, Wassim Iyad Dari, 16, Qassem Munir Dirbas, 16, Wadie Daoud Elayyan, 18, Ahmad Abu Rumi, 18, and Muhammad Moussa Mustafa, 19.
In the central West Bank district of Ramallah, Israeli forces detained five Palestinians; PPS identified them as Sadeq Abed al-Raouf al-Barghouthi, Khalid Antar, Ibrahim Mteir, Mahmoud Salah and Mahfouth Zahdi Assi. PPS also confirmed that in the northern West Bank district of Jenin, three brothers were detained by Israeli forces; they were identified as Mustafa, Majd, Bahaa Hashem Abed al-Aziz.
In the northern West Bank district of Nablus, one Palestinian was detained and identified as Fadi Jabri. According to prisoners rights group Addameer, there are 5,781 Palestinian prisoners currently being held in Israeli prisons, of whom 270 are child prisoners, and 50 are under the age of 16.
Israeli settlers blocked the Nablus-Ramallah main road, late on Sunday night, as a form of protest to the stabbing attack that was carried out earlier on Sunday near the illegal Israeli settlement of Gush Etzion. Ghassan Daghlas, an official who monitors settlement activity in the northern West Bank, said that dozens of Israeli settlers from the illegal Israeli settlement of Eli, closed the main road and threw rocks at vehicles attempting to pass.
Daghlas confirmed that several Palestinian-owned vehicles were damaged by Israeli settlers throwing rocks. Witnesses said that Israeli forces reopened the road and removed Israeli settlers from the area several hours later.
Between 500,000 and 600,000 Israelis live in Jewish-only settlements across occupied East Jerusalem and the West Bank in violation of international law, with recent announcements of settlement expansion provoking condemnation from the international community.
Israeli forces distributed flyers, on Sunday night, threatening Palestinian residents of the villages of Kafr al-Dik, al-Zawiya, Bruqin, Masha in the northern occupied West Bank district of Salfit.
Residents of these Salfit-area villages said that a large number of Israeli forces stormed the villages on Sunday night and distributed the flyers in front of the residents' homes and put them up on walls and poles.
The flyers announced that Israeli forces would impose sanctions towards locals under the pretext of committing illegal activities or acts of violence, which allegedly affect security in the area. Hundreds of Palestinians in the besieged Gaza Strip held a funeral ceremony for a teenage boy killed by Israeli army fire along the fence separating the coastal enclave and the occupied territories.
Mourners attended the funeral procession for 12-year-old Shadi Abdul Aziz Mahmoud Abdulal, who was fatally shot in the head by Israeli troopers during protest rallies east of the city of Jabalia in northern Gaza on Friday. He has now become one of the youngest Palestinians to be killed in months of unrest along the frontier this year.
Hundreds of family members and friends attended the funeral, with some calling for revenge.
'God burn those that burned my heart and killed my son,' said Abdulal's mother Umm Shadi, who has eight other children. 'What is my son guilty of? He is 12 years old,' she added through tears.
According to the Gazan Health Ministry, Hani Ramzi Afaneh and Mohammad Khalil Shaqoura, both 21, were also mortally wounded last Friday. Another 248 also sustained injuries by Israeli live bullets, rubber-coated steel rounds or tear gas, six of whom are thought to be in critical condition.
Tensions have been running high near the fence since March 30, which marked the start of a series of protests dubbed 'The Great March of Return.'
Palestinian protesters demand the right to return for those driven out of their homeland.
The clashes in Gaza reached their peak on May 14, the eve of the 70th anniversary of Nakba Day, or the Day of Catastrophe, which coincided this year with Washington"s relocation of the US embassy from Tel Aviv to occupied Jerusalem. Israeli fire has taken the lives of nearly 175 Palestinians since March 30. More than 19,000 Palestinians have also been wounded.
On June 13, the United Nations General Assembly adopted a resolution, sponsored by Turkey and Algeria, condemning Israel for Palestinian civilian deaths in the Gaza Strip.
On Sunday the United Nations expressed its deep concern at the intention of Israeli authorities to demolish the West Bank Bedouin village of Khan al-Ahmar, east of Jerusalem, stressing that such measures are in violation of the international law.
UN Special Coordinator for the Middle East Peace Process Nikolay Mladenov made the remarks in a statement on Sunday, urging Tel Aviv to stop displacing 'a community of 181 people, over half of which are children.' Earlier this month, the Israeli High Court approved plans for the demolition of Khan al-Ahmar village and the evacuation of its residents. It could be razed within the next few days.
Israeli officials allege that Palestinian structures there have been built without the relevant building permits and pose a threat to residents because of their proximity to a highway. However, building permits are nearly impossible to obtain for Palestinians in Israeli-controlled areas of the West Bank and the demolition is just to clear the way for new settlements.
Mladenov called on Israeli authorities not to proceed with the demolition and to 'cease efforts to relocate Palestinian communities in the occupied West Bank.' He warned that 'such actions are contrary to international law and could undermine the chances for the establishment of a viable, contiguous Palestinian state.'
The Ramallah-based Palestinian Authority has also submitted a new complaint over the Israeli 'war crime' against Khan al-Ahmar village at the International Criminal Court (ICC). The decision to demolish the village, which will leave more than 35 Palestinian families displaced, also drew condemnations from abroad.
The European Parliament has passed a resolution, warning that Israel's decision to destroy Khan al-Ahmar village would constitute a grave violation of international law and threaten peace efforts with the Palestinians. The institution, in a 320 to 277 vote last Thursday, passed a resolution against Israel that called for monetary compensation for financial losses should Khan al-Ahmar be demolished.
About 600,000 Israelis live in over 230 settlements built illegally since the 1967 occupation of the Palestinian lands. Emboldened by US President Donald Trump's all-out support, Israel has in recent months stepped up its settlement construction activities in the occupied territories in defiance of United Nations Security Council Resolution 2334.
The resolution, approved in December 2016, states that Israel's establishment of 'settlements in the Palestinian territory occupied since 1967, including East Jerusalem, has no legal validity and constitutes a flagrant violation under international law and a major obstacle to the achievement of the two-state solution and a just, lasting and comprehensive peace.'