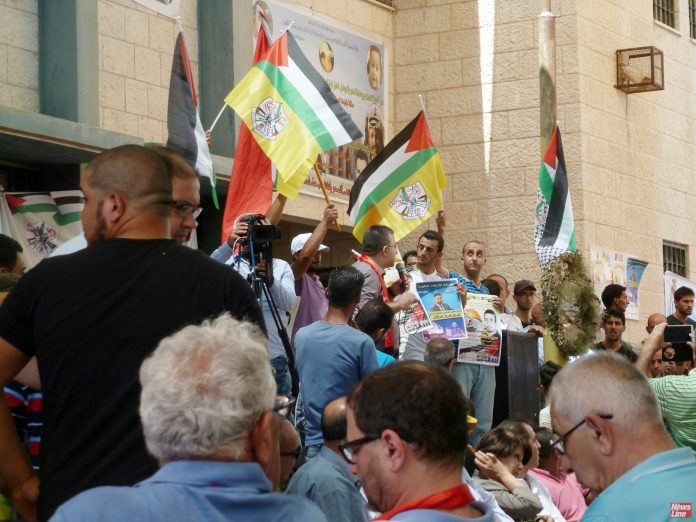 Israeli settlers vandalised a mosque in Deir Dibwan, a village to the east of Ramallah, on Monday. The Mayor of Deir Dibwan, Mansour Mansour, said settlers stormed the village and spray-painted anti-Palestinian slogans on the walls and asphalt of the mosque and vandalised several vehicles.
Israeli media reported that among the graffiti spray-painted on the mosque were the Star of David and slogans reading 'Here they incite murder of Jews.' Palestinians reported that the settlers poured flammable material on the shoe rack at the entry of the mosque, but apparently didn't light it.
Minister of Awqaf and Religious Affairs, Yousef Id'es, denounced the settlers' vandalism. 'There are no longer safe places of worship because of Israeli forces and settlers' attacks and crimes against the Palestinian people,' he said, adding that acts of vandalism are a new provocation to be added to the list of Israeli crimes against the holy sites.
He urged Arab and Islamic countries and other honourable nations to intervene and protect holy places in the occupied Palestinian territories. On other occasions, settlers' raids have ended dramatically, such as the arson attack against the Dawabsheh family in the Nablus-district village of Duma on July 31, 2015.
This resulted in the killing of 18-month-old Palestinian toddler Ali Dawabsheh and seriously injured his parents, Sa'ad and Riham, who died of their wounds weeks later, leaving their seven-year-old son, Ahmad, as the only survivor.
Such attacks are committed by 'Price Tag' – an underground anti-Palestinian Israeli group that routinely attacks Palestinians in the occupied territories and inside Israel.
The Israeli government still refuses to label it as a terrorist organisation, claiming it is only a group of vandals. However, it also considers such acts as hate crimes against Palestinians.
Settler violence against Palestinians and their property is routine in the West Bank but is rarely prosecuted by the Israeli authorities. It includes property and mosque arsons, stone-throwing, uprooting of crops and olive trees, and attacks on vulnerable homes, among others.
Also on Monday, Israeli settlers set up a mobile home on a plot of land belonging to the southern West Bank village of Tuqu, east of Bethlehem. Head of the Bethlehem Office of the Anti-Wall and Settlement Commission Hassan Breijieh said that a group of settlers stormed a 200-dunum tract of land east of the village and set up a mobile home aiming to establish an outpost, under the protection of Israeli forces. Palestinian landowners fended off the settlers' attempt to seize their land, by producing their title deeds as proof of ownership.
Meanwhile, settlers dropped leaflets on Palestinian lands in the town of Janatah, southeast of Bethlehem, threatening them against having anything to do with human rights and anti-settlement activists, including member of the Palestinian Central Council Daoud al-Zeer, and member of the Janatah Municipal Council, Nasri Suleiman.
Al-Zeer said that settlers dropped these threatening leaflets after Palestinian villagers recently fended off a settlers' attempt to seize Palestinian lands adjacent to the illegal Israeli settlement of Sde Bar.
The number of settlers living in Jewish-only settlements across occupied East Jerusalem and the West Bank, in violation of international law, has jumped to 834,000, and settlement expansion has tripled since the signing of the Oslo Accords in 1993.
All settlements across the West Bank are illegal under international law, particularly Article 49 of the Fourth Geneva Convention, which establishes that the occupying power shall not deport or transfer parts of its own civilian population into the territory it occupies. Israeli forces on Monday detained at least 13 Palestinians, mostly in multiple overnight raids across the West Bank.
In Jerusalem district, Israeli forces detained two Palestinian schoolchildren, aged 15, during a raid in Abu Dis town, southeast of Jerusalem. Yasmin al-Khatib, a local activist, said that soldiers surrounded al-Quds University campus, and chased and fired tear gas canisters towards schoolchildren heading to local schools.
Israel began construction of the overground portion of the Gaza border barrier it intends will connect to the sea barrier (currently under construction) which is aimed at preventing Hamas' military wing moving out of the coastal enclave and into Israel.
The Israeli Defence Ministry has confirmed that this overground section of the barrier will be 65 kilometres (40 miles) long and six metres (20 feet) high. It said: 'The border is uniquely suited to the threats from the Gaza Strip and will give a comprehensive solution to preventing entry into Israel.'
The barrier is meant to prevent underground tunnels from Gaza, and is estimated to cost three billion shekels ($833 million). It will include a concrete wall fitted with sensors and reaching dozens of metres deep into the ground and standing six metres high from ground level.
The barrier's construction comes after ten months of mass protests, known as 'The Great March of Return,' launched by thousands of Palestinian civilians in protest against Israel's blockade of Gaza. According to the Palestinian Health Ministry's latest statistics, 263 Palestinians, including more than 45 children, were killed by Israeli forces during the protests along the Gaza border.
The more than two million Palestinians living in the Gaza Strip have suffered from a nearly 12-year Israeli-imposed land, air, and sea blockade, which has plunged the small territory into poverty and some of the highest unemployment rates in the world. The UN has reported that Gaza could be 'uninhabitable' by 2020. Also on Sunday, a 30-year-old Palestinian, Ahmad Ghazi Abu Jamal, died of injuries sustained during the 'The Great March of Return' protests along the northern Gaza border.
Abu Jabal sustained critical injuries when Israeli forces fired live ammunition at him. 'The Great March of Return' protests were launched on March 30th 2018 by thousands of Palestinian civilians in Gaza – which has suffered from a decade-long Israeli siege – who took to the borders to demand their right of return as refugees to their original homelands, now in present-day Israel.
The documentary film 'Gaza', directed by Gary Keane and Andrew McConnell, won the 'Best Documentary Short Film' Premios Goya Award, at at the Goya Awards in Spain. on Sunday.
'Gaza' first premiered at the Sundance Film Festival early this year. The documentary depicts the ordinary lives of people in the besieged Gaza Strip – known as the world's largest open prison – as no one can even imagine how it would look like without a siege.
McConnell, a photojournalist, first visited Gaza in 2010, and in 2012 he teamed up with documentary maker Keane for the film which they shot in 2014 and 2015. They focused mostly on subjects with a connection to the sea, including a family of fishermen and a 14-year-old boy from a refugee camp who spends much of his time around the water.
Keane said: 'We wanted to form a collection of people and let them tell their story. The narrative comes from them. It doesn't come from us. 'We saw normal people with families trying to live, trying to feed their families, trying to maintain some semblance of normality.'
McConnell explained: 'The heart of this film is what it's like to live in this extraordinary strip of land. Gaza is incredibly vibrant, colourful, and boisterous. It's one of the most unique places I've ever been.' The Goya Awards, which were established in 1987, are Spain's main national annual film awards and are presented to the best specialists in both artistic and creative disciplines.