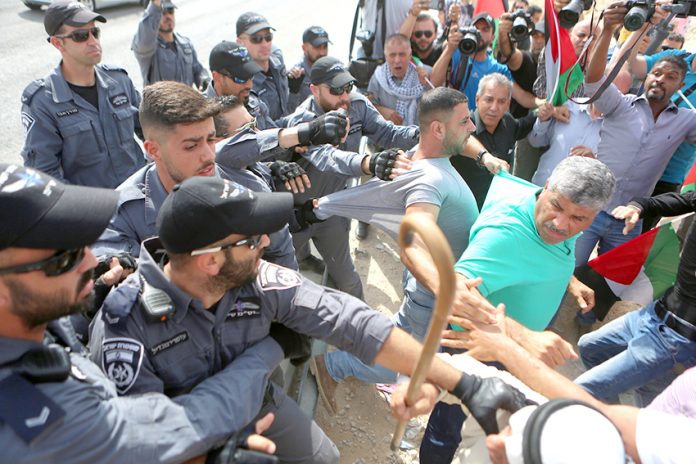 The Palestinian Ministry of Foreign Affairs and Expatriates strongly condemned the Israeli forces' dismantling of two educational caravans in Ibziq village, in the northern occupied West Bank district of Tubas, on Tuesday.
Israeli forces dismantled and seized educational caravans belonging to the school of the late Marwan Majali, known as 'Tahadi 10' school, in Ibziq village, leaving 26 students without a place to learn.
The ministry said in a statement that 'Israel's ongoing crimes against the Palestinian Bedouin communities are an integral part of the series of crimes and open war committed by the Israeli authorities in the framework of its plans to achieve the widest ethnic cleansing of Palestinian citizens from area C, under full Israeli military control, with the aim to take over the area for the benefit of settlement expansion.'
In its statement, the ministry stressed that this Israeli measure falls in line with the Israeli High Court"s decision to demolish the Bedouin village of Khan al-Ahmar, east of Jerusalem, and displace 181 residents, half of whom are children.
The ministry held the Israeli government, headed by Israeli Prime Minister Binyamin Netanyahu, fully and directly responsible for the consequences of these crimes, calling on the United Nations Security Council to promptly activate the international protection system in order to protect the Palestinian people before it is too late.
Last week, several Palestinian students, along with teachers and officials, were wounded in the Israeli army attack on a school south of Nablus in the West Bank.
The students of al-Sawiya al-Lubban Mixed School were challenging an Israeli military order to shut down their school based on the ever-versatile accusation of the school being a 'site of popular terror and rioting.' 'Popular terror,' is an Israeli army code for protests.
The students, of course, have every right to protest, not just against the Israeli military Occupation but also the encroaching colonisation of the settlements of Alie and Ma'ale Levona. These two illegal Jewish settlements have unlawfully confiscated thousands of dunums of land belonging to the villages of al-Sawiya and al-Lubban.
'The Israeli citizens,' that the Occupation army is set to protect by shutting down the school, are, in fact, the very armed Jewish settlers who have been terrorising this West Bank region for years.
According to a 2016 study commissioned by the United Nations, at least 2,500 Palestinian students from 35 West Bank communities must cross through Israeli military checkpoints to reach their schools every day. About half of these students have reported army harassment and violence for merely attempting to get to their classes or back home.
However, this is only half of the story, as violent settlers are always on the lookout for Palestinian kids. These settlers, who 'also set up their own checkpoints,' engage in regular violence as well, by 'throwing stones' at children, or 'physically pushing (Palestinian children) around.'
'UNICEF's protective presence teams have reported that their volunteers have been subjected to physical attacks, harassment, arrest and detention and death threats,' according to the same UN report.
In other words, even the 'protectors' themselves often fall victim to the Israeli army and settler terror tactics. Add to this that Area C – a major part of the West Bank that is under full Israeli military control – represents the pinnacle of Palestinian suffering.
An estimated 50,000 children face numerous hurdles, including the lack of facilities, access, violence, closure and unjustified demolition orders. The school of al-Sawiya al-Lubban located in Area C is, therefore, under the total mercy of the Israeli military, which has no tolerance for any form of resistance, including non-violent popular protests by school children.
What is truly uplifting, however, is that, despite the Israeli military Occupation and ongoing restrictions on Palestinian freedom, the Palestinian population remains one of the most educated in the Middle East.
According to the United Nations Development Program (UNDP), the literacy rate in Palestine (estimated at 96.3%) is one of the highest in the Middle East and the illiteracy rate (3.7% among individuals over the age of 15) is one of the lowest in the world.
If these statistics are not heartening enough, bearing in mind the ongoing Israeli war on Palestinian school and curricula, consider this: the besieged and war-stricken Gaza Strip has an even higher literacy rate than the West Bank, as they both stand at 96.6% and 96% respectively.
In truth, this should not come as a total surprise. The first wave of Palestinian refugees that were ethnically-cleansed from historic Palestine were so keen on ensuring their children strive to continue their education, they established school tents, operated by volunteer teachers as early as 1948.
Palestinians understand well that education is their greatest weapon to obtain their long-denied freedom. Israel, too, is aware of this dichotomy, knowing that an empowered Palestinian population is far more capable of challenging Israeli dominance than a subdued one, thus the relentless and systematic targeting of the Palestinian educational system.
Israel's strategy in destroying the infrastructure of Palestinian schooling system is centred on the allegation of 'terror': that is, Palestinians teach 'terror' in their schools; Palestinian school books celebrate 'terrorists'; schools are sites for 'popular terror' and various other accusations that, per Israeli logic, compels the army to seal off schools, demolish facilities, arrest and shoot students.
Israeli police forces detained a Palestinian youth, on Saturday, in Jerusalem City in the central occupied West Bank for wearing a shirt of the Palestinian flag. Witnesses said that Israeli forces prevented the Palestinian youth, identified as being from Palestinian lands occupied by Israel in 1948, from entering the Al-Aqsa Mosque reportedly for wearing a shirt of the Palestinian flag.
Israeli police forces stopped, searched and detained the youth from inside the Old City of Jerusalem and transferred him to an Israeli police station in the Salah al-Din Street.
Witnesses added that the youth was pushed and assaulted as he was taken to the police station.
Israeli forces detained a 17-year-old Palestinian for allegedly attempting to carry out a stabbing attack against an Israeli soldier, on Tuesday afternoon, near the Ibrahimi Mosque in Hebron City, in the southern occupied West Bank. Hebrew-language news outlets reported the Palestinian refused to be searched by Israeli forces as he was crossing through an Israeli military checkpoint near the Ibrahimi Mosque in Hebron City.
However, as he was passed through a metal detector, it appeared he had a knife in his possession and was called upon to be personally searched. During the search, the Palestinian reportedly pointed the knife towards an Israeli soldier in an attempt to carry out a stabbing attack.
Local sources said that the Palestinian, Wadie Abu Turki, was immediately detained.
Israeli forces have detained scores of Palestinians, many of them minors, for allegedly being in possession of knives following a spate of alleged and actual small-scale knife attacks by Palestinians that surged in the fall of 2015.
Hebron in particular grew as the epicentre of upheaval, with a number of Palestinians having been shot while being detained at military checkpoints in the area. Eyewitnesses have also said in a number of cases that Israeli security forces planted knives on slain or imprisoned Palestinians to claim that they were acting in self-defence during a stabbing attack.
According to prisoners rights group Addameer, there are 5,640 Palestinian prisoners currently being held in Israeli prisons, of whom 270 are child prisoners, 50 are under the age of 16 and 53 are female.