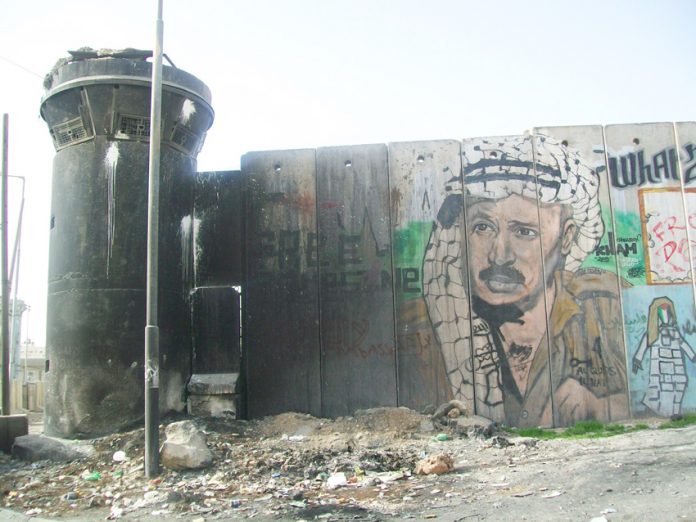 US Secretary of State John Kerry failed on Wednesday to save faltering Middle East peace efforts, after both Israel and Palestinians declined further talks.
The Palestinians are angry about Israel's refusal to release 26 Palestinian prisoners by a weekend deadline, and announced that they were planning to take their claim for statehood to 15 UN agencies.
And Israel, having already broken the terms of a July deal to return to the negotiating table, unveiled plans for 700 more settlement homes in east Jerusalem.
Kerry, who only hours before had held a two-hour breakfast meeting with Israeli Prime Minister Benjamin Netanyahu in Jerusalem following late-night talks, abruptly cancelled plans to fly back to the region on Wednesday to see Palestinian leader Mahmud Abbas.
Instead he was working the phones from the secure US mission at NATO, phoning foreign leaders, a senior State Department official said. It was also more than likely he would be conferring with the White House.
State Department spokeswoman Jen Psaki said: 'Kerry will conduct several calls with foreign counterparts and the US Middle East negotiating team while in Brussels.'
But it was not immediately clear where Kerry can go from here, with both sides trading recriminations and the fragile peace effort seemingly in tatters. If he fails to get the peace talks back on track, it will mark a humiliating blow for Kerry.
Kerry himself insisted that it was 'premature to draw any final judgement about today's events and where things are'. And he again urged both sides to look at the final goal of peace.
But it was clear on Wednesday morning that he and his staff had gone into damage limitation mode. The tough behind-the-scenes negotiations, in which Kerry has invested countless hours and energy, had already been complicated by news the US could make a three-way deal under which Washington would free a convicted US-born Israeli spy.
The US has long opposed the early release of Jonathan Pollard, arrested in 1985 and sentenced to life imprisonment for spying for Israel, even though he's due for parole in 2015.
And there was sharp criticism that Kerry and his team were considering using him as a bargaining chip to keep the talks on track. The chaos and potential fallout from a second failed attempt to broker peace by this US administration would pose a grim prospect for President Barack Obama.
While Obama had endorsed Kerry's efforts publicly, it had always remained unclear just how much he would be willing to back him if things went wrong.
Already under fire both at home and abroad for his perceived weakness in foreign policy, such as a failure to conduct robust efforts to end the war in Syria, Obama and his team may be unwilling to give Kerry more time in the Middle East.
It could be that after making a comprehensive peace deal his signature issue, Kerry could find that the White House pulls the plug from a process now on life-support.
• Renewed Palestinian action to join UN agencies and international treaties could push Israel to try to annex territory in the occupied West Bank, an Israeli minister warned on Wednesday.
Israeli Tourism Minister Uzi Landau said: 'If they are now threatening (to go to UN institutions), they must know something simple: they will pay a heavy price. One of the possible measures will be Israel applying sovereignty over areas which will clearly be part of the State of Israel in any future solution.' He added: 'Israel could also hurt the Palestinians economically by acting to block financial aid to them.'
Palestinian president Mahmud Abbas on Tuesday said he had begun steps to join several UN agencies. The Palestinians have repeatedly threatened to resume legal action through international courts and the UN over Israel's illegal settlement expansion on occupied territory in the West Bank and in annexed east Jerusalem.
Abbas made his announcement just hours after Israel reissued tenders for hundreds of settler homes in annexed east Jerusalem, as Washington was working around the clock to resolve a major dispute over Palestinian prisoners.
The standoff came soon after US Secretary of State John Kerry left Israel on Tuesday. He had been due to fly back to the region on Wednesday for talks in Ramallah with Abbas but he cancelled his visit following the Palestinian leader's announcement, while attempting to remain optimistic. He said in Brussels: 'It is completely premature tonight to draw … any final judgement about today's events and where things are.'
He had hoped to convince the Palestinians to extend the faltering talks beyond their April 29 deadline, with the sides discussing a proposal which would have included a limited freeze on settlement construction.
• Israeli forces detained 10 Palestinians in the West Bank overnight, locals and an army spokeswoman said. Witnesses said that soldiers arrested Muhammad Mahmoud Maali and Hatem Imad Maali in the village of Beita in the Nablus district. Israeli military vehicles, meanwhile, entered nearby Asira al-Shamaliya village, where soldiers arrested 30-year-old Nair Abd al-Fattah.
Additionally, Palestinians said that Israeli forces in Hebron arrested Muhammad al-Jamal, 24, and in Dura south of Hebron arrested 21-year-old Ahmad Munif Qazaz. An Israeli army spokeswoman confirmed they had also arrested 10 Palestinians overnight.
• Israeli settlers damaged the car of a Palestinian man from a Nablus-area village early on Wednesday. Ghassan Daghlas, a Palestinian Authority official who monitors settlement activities in the northern West Bank, said that a number of settlers stormed Jalud and smashed a car belonging to local resident Riyad Ahmad Hammoud.
The settlers were from the nearby illegal Israeli outpost of Ahiya, Daghlas said. Settlers in the occupied West Bank routinely attack Palestinians and their property.
In 2013, there were 399 incidents of settler violence against Palestinians in the occupied West Bank, according to the UN Office for the Coordination of Humanitarian Affairs.
Over 90 per cent of investigations into settler violence by Israeli police fail to lead to an indictment.
More than 500,000 Israeli settlers live in settlements across the West Bank and East Jerusalem, in contravention of international law.