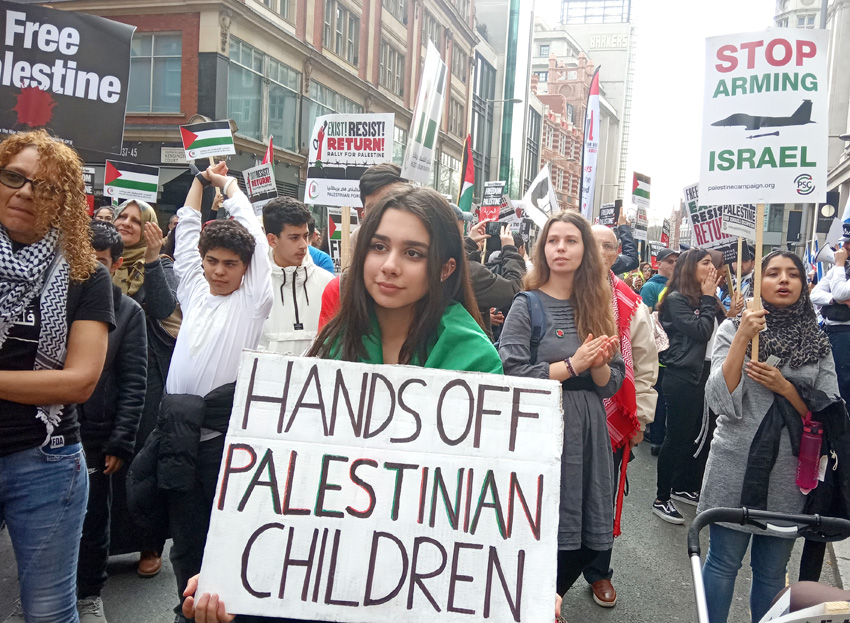 ISRAEL has arrested some 16,500 Palestinian children since the outbreak of the Second Intifada (uprising) in late-2000, a study says.
Abdul-Naser Farwana, a Palestinian ex-prisoner and researcher at the Detainees and Ex-Detainees Affairs Commission, said in a 26-page study that during the first decade of the 21st century, (2000-2010), at least 700 cases of arrest were documented annually.
However, Farwana added, the number of cases had jumped sharply to 1,250 'in the last eight years'.
The second Intifada began on September 18, 2000 and was known as the al-Aqsa Intifada.
It was sparked by former Israeli prime minister Ariel Sharon's provocative visit to the al-Aqsa Mosque complex.
Farwana further said that all facts and statistics confirm that there was a systematic arrest policy adopted by the Israeli regime to target Palestinian children, and that the number of child detainees has increased steadily since 2000 and significantly since 2011.
He also revealed that since 1967, Israeli forces had arrested some 50,000 Palestinian children, a deliberate policy adopted against Palestinian children with the aim of destroying their lives and future.
Israel occupied the West Bank as well as East Jerusalem al-Quds during the Six-Day War in 1967. It later annexed the Palestinian city in a move not recognised by the international community.
Israel lays claim to the whole city, but the Palestinians view its eastern sector as the capital of their future sovereign state.
US President Donald Trump recognised Jerusalem al-Quds as the Israeli 'capital' in December 2017 and moved the American embassy from Tel Aviv to the ancient city in May 2018, sparking global condemnation as well as protests by the Palestinians.
Back in March, the UN children's agency, UNICEF, said that Israeli forces had killed around 40 children and wounded hundreds more in one year of anti-occupation protest rallies along the fence that separates the besieged Gaza Strip and the Israeli-occupied territories.
It also strongly called for an end to violence against children in Gaza and elsewhere across the occupied territories.
Amazon has removed a book written by Hezbollah Deputy Secretary General Sheikh Naim Qassem from its bookstore, under Israeli pressure, after UN Special Coordinator for Lebanon Jan Kubis recommended it as 'necessary reading'.
The American company removed the book from its sales sites in the US and all over the world after Haim Iserovich, a reporter from the Hebrew-language Maariv daily, demanded its withdrawal.
According to the Jerusalem Post (Maariv's sister paper) Iserovich first started investigating the book after Kubis met Qassem and praised his book last week.
Kubis wrote on Twitter on May 20 that he was 'grateful for an open and substantive discussion on a broad range of topics with Deputy Secretary General Naim Qassem of Hezbollah. On top I received a copy of his book – a necessary reading.'
Kubis' remark angered Tel Aviv. 'We are shocked and disappointed by this meeting,' the regime's foreign ministry spokesman Emmanuel Nahshon tweeted.
The UN official did not specify which of the Hezbollah official's 11 books he had received, but Iserovich found that at least one of these books – 'Hizbullah (Hezbollah): The Story from Within' – was being sold by Amazon.
The Maariv reporter noted that the book says Zionism violates the most basic human rights and that 'Zionists took over Palestinian land, carrying out aggression against a peaceful Palestinian people.'
Israel has targeted Syria's defences in the southwestern province of Quneitra, killing one soldier, wounding another, and destroying a military vehicle.
Citing one of its reporters, the official Syrian Arab News Agency reported in late Monday that the Israeli regime had fired one missile against area.
The act of aggression targeted 'a military site to the east of Khan Arnabeh' at 10.21 local time, it noted.
The Israeli military claimed that it had attacked a Syrian anti-aircraft position after an Israeli warplane came under fire earlier in the day.
They also claimed that the jet was conducting a 'routine flight in northern Israel' when it came under fire, and the the projectile had missed and the plane completed its journey.
Quneitra contains Syria's Golan Heights. Israel has occupied the territory since 1967, technically putting the regime at war with Damascus.
The so-called Syrian Observatory for Human Rights, (a western-backed monitor based in London), said the Israeli missile was reportedly fired from the Golan.
SOHR director Rami Abdel Rahman said that three Syrian soldiers had been wounded during the missile strike.
In March, the United States, Israel's biggest ally, recognised the regime's 'sovereignty' over Golan in a move that, observers say, was meant to embolden Tel Aviv in its encroachments against the Syrian government and people.
The occupying regime repeatedly strikes Syria's fortifications nearby, claiming it seeks to secure 'its own territory'.
Israel has also carried out numerous strikes against Syrian military positions and those of its allies elsewhere across the country.
The regime also has a history of medically treating Takfiri terrorists fleeing the Syrian Army's operations.
Israeli Prime Minister Benjamin Netanyahu says Israel will continue to treat wounded Syrian militants.
It once also notoriously provided safe passage for Western-backed self-proclaimed rescue workers, whom Damascus had found to be working with Takfiris.
Israeli lawmakers have approved the first reading of a bill to dissolve the parliament (Knesset) and hold new general elections, as Prime Minister Benjamin Netanyahu's efforts to form a coalition government remain deadlocked.
The measure, drafted by Netanyahu's right-wing Likud party, was passed with 66 votes in favour, 44 against and five abstentions on Monday night.
Two more votes, scheduled for Tuesday and yesterday, are required for the final approval of the law.
A special Knesset committee, which has been set up to prepare the potential Israeli elections, said the polls would take place on September 17.
Netanyahu won a fifth term in office in the April elections. He had until 21:00 GMT yesterday to form a government that controls at least 61 seats in the 120-member parliament.
If Netanyahu fails to do so by the deadline, President Reuven Rivlin may assign another lawmaker to do the task.
The coalition talks reached a stalemate over disagreements between ultra-Orthodox parties and Yisrael Beiteinu, a secular right-wing party led by former minister of military affairs Avigdor Lieberman, on a military conscription bill.
At a Knesset press conference, Netanyahu pledged to continue pursuing coalition talks over the next 48 hours, saying he was 'doing everything possible to form a right-wing government and prevent unnecessary elections that will cost billions of shekels.'
The premier also blamed the crisis on Lieberman and urged him to reconsider joining the government. Lieberman said he was acting only out of 'principle,' calling Netanyahu's inability to form an administration a 'huge, unprecedented failure'.
Lieberman also stressed that he had already made concessions and was ready for new elections if needed.
'We will support the dissolution of the Knesset and we will not recommend any other alternative candidate to the president for the formation of the coalition,' he said.
Sources said a meeting between Lieberman and Netanyahu during the Knesset's Monday vote had ended without any breakthrough.
'Unfortunately, I haven't been able to convince Lieberman to avoid another election,' Netanyahu said.
Benny Gantz, the co-chair of the centrist Blue and White alliance, who ran against Netanyahu in the April elections, said that the prime minister could settle the coalition crisis if he wanted to, but he refuses to do so because it does not serve his interests.
'Bibi could get out of his chair and there would be a functioning government tomorrow, but this is how it goes when the citizens are always the secondary consideration,' he tweeted.