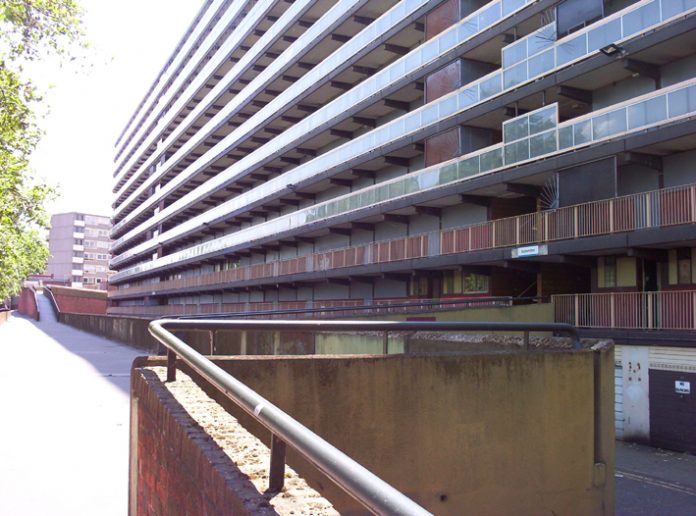 TENANTS on the Heygate Estate in Elephant and Castle are furious at the way they are being treated 'like cattle' to be driven off the estate to make way for private developers.
Hundreds of remaining tenants and their children on the south-east London estate are now threatened with eviction by their landlords, Liberal and Tory-run Southwark Council.
Yet Southwark admit that they still have no contract with private developers Lend Lease for the 'regeneration' of Elephant.
The £1.5 billion 'regeneration' project would mean the demolition of Heygate Estate, destroying more than 1,200 council homes.
Yet the leader of Southwark Council, Nick Stanton, has admitted that Lend Lease still hasn't signed the deal, with a July 1 deadline fast approaching.
Tenants say they have been treated with contempt, and lied to by Southwark, which promised them it would build 'new homes' to move straight into.
The giant Aylesbury estate nearby is also targeted for a 'regeneration' scheme and an 'action plan' has now been submitted to the Communities Secretary Hazel Blears for its demolition.
Yet some Heygate tenants say that, even though Southwark Council plans to demolish Aylesbury Estate, it has offered them places there instead.
At its meeting last week, the South-East London Council of Action – set up last year to oppose the privatisation of Heygate and Aylesbury estates – tenants angrily protested about a letter they had received from Southwark Council.
The letter said: 'I am writing to inform you that the accommodation you currently occupy is "short life property'', which means that the Temporary Accommodation Department only has use of the properties for a limited amount of time.
'These properties will then have to be passed back to the neighbourhood in late November/early December of this year.
'To ensure that the Temporary Accommodation Department meets this target, all of our tenants on the Heygate Estate will be served with a Notice to Quit.
'This will give all Temporary Accommodation tenants 28 days notice in which they will be expected to have left their properties when the notice expires.
……..'In the event that individual tenants refuse to leave their property, measures will be taken to evict them and the Council may discharge its duty to house them.'
Eveyln Amahian says that after living in her home on Heygate Estate for more than two years, she should be given secure tenant status.
She says that even though the council promised her in court that she would be found alternative accommodation, the council has not found her anywhere else to live and is now denying that promise.
Before she went to court, the council called to say they had a property for her to view. Yet she never got to view the property and the council took her to court for refusing the offer.
She told News Line: 'I moved onto the Heygate Estate on May 17, 2007.
'The council told me I am going to live here for a short while. I have been living here for over two years now.'
Speaking about the threat of eviction, Evelyn said: 'I have nowhere to go. If I don't find anywhere, I'll be on the streets with my two-year-old.
'I don't think I have been treated fairly and this situation has really disturbed my health and affected my studies. I need a permanent roof over my head.
'We have nowhere to live and I am a student, I can't afford a private landlord.
'If they think they're going to destroy this building, they should offer the tenants here suitable accommodation for them to live in, instead of throwing them on the streets and threatening them with eviction.
'What I'm surprised about is why my tenancy was a non-secure tenancy.
'I have been a temporary tenant for two years and the rent is £174 a week and some permanent council tenants pay less than £100.
'I owe the council no rent and yet this is how we are treated.
'I think homeless families like mine should have the right to secure, affordable accommodation.
'Instead of driving people out into the streets, they should spend the money to repair the houses so people have somewhere to live.
'They should be building council homes, not demolishing them.'
Andy Glasspool, whose family are leaseholders in one of the maisonettes on the estate, said: 'What they're doing now is rubbish.
'One of my neighbours has a disabled son and the places they're offering him are not suitable for someone who's wheelchair-bound.
'In one flat, he said the kitchen was so small that if you put a table in there he couldn't get his wheelchair in. It wouldn't fit past the kitchen sink.
'My parents have been living on Heygate for more than 10 years and they don't want to move.
'They're now pushing us out, they've put the price of this house down £20,000 while the heating and electrical charges have more than doubled, they might even have trebled, and all the time the Council Tax is rising too.'
He said: 'Where else are my parents going to get a three-bed flat for the same price?
'Across the road, where the railway station is, there were studio flats going for £249,000 – and who wants to live next to a railway station and a main road like the Walworth Road?
'Where else are my parents going to go in London and buy a three-bedroom flat? They can't.
'They will have to go back to Bournemouth or the Isle of Wight or somewhere else.'
Another tenant, Ulo, said: 'They gave us a place. We turned it down.
'Then they offered us a second place where we would have to spend £3,000 to do it up and the council was going to give us £425.
'The housing officer was there to witness the estimate and she said that £3,000 was cheap, because she knew the enormity of the work to be done on the place.
'So they are offering people places that are not adequate or habitable.
'The place was damp and the contractor said it would take time to do this place up, so they had to withdraw their offer.
'I have now received a letter that threatens tenants with eviction.
'They promised to give us another temporary place if they can't find a permanent place for us before the end of the year and we have been in "temporary'' accommodation for four years and our stuff has been in storage for that time.
'I doubt if anything in storage will be useful after four years.
'There's nothing wrong with this estate, yet people are shipped out to inadequate places.
'They have to accept them because they believe there's no option.
'We need council housing. Where will the poor people go?
'To get a two-bedroom flat in the private sector you're looking at a minimum £900-£1,200 a month.
'If you're taking home about £1,100 a month and you're paying £900 a month rent, then you'll never reach the poverty line, never mind rise above it!
'And you'll leave that legacy to your children. It's keeping people in poverty for perpetuity.'
Mr Baduna said: 'I've been living here since 1974 – 35 years.
'I have brought up five kids here in this house and they all went to the local school just around the corner and it's not right what they're doing to us.
'We don't want to move. It's the council who are forcing us out.
'They're letting places run down and down. I can't remember when they did the last repair or painting.
'Of course they should be restoring council housing, not getting rid of it.
'We need more council homes, not less.
'They promised us they were going to build a new place for us and move us in, but look what they did.
'They changed their minds and now they're trying to push us anywhere, whether the place is suitable or not suitable for you to take it.
'I went into an appeal and so far I've won my appeals because what they offered us was not suitable.
'My wife has asthma and bronchitis and she's diabetic and she finds it hard to walk.
'I suffer myself with emphysema.
'We've made our home here – 35 years is a long time.'
Ivy Simpson said: 'They didn't find a place for me to go. I had to bid for a property.
'If they get rid of all the council houses, what do they expect the poor people to do? They cannot live on the streets, they have to have somewhere to live.
'I think we should all be united to fight for what we want.
'We pay our taxes and everything, so people should have the ability to get what they want and not let private people come in and buy up everything, and when they make a house, you cannot afford to buy one!
'I couldn't get any decent council place to move to and I've been living here for 25 years now.'
• The next meeting of the South-East London Council of Action to stop evictions and keep council housing is at Browning Street Nursery and Community Centre, Tuesday June 30, at 7.30pm.