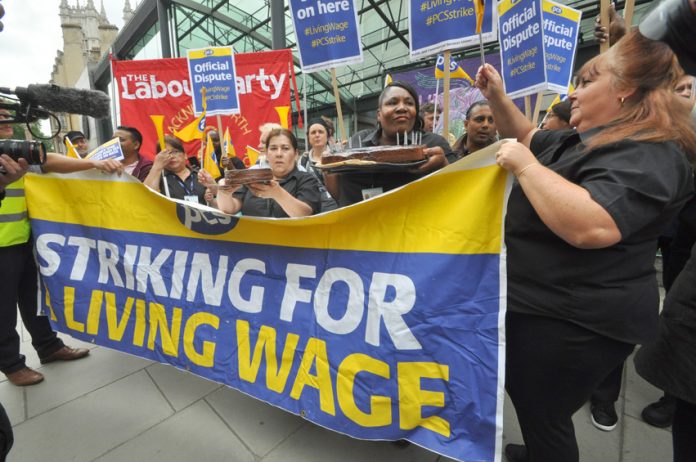 WORKERS from three separate government departments, some of them engaged in indefinite strike action, will hold a joint demonstration and march through central London at midday today.
Outsourced workers at the Department for Business, Energy and Industrial Strategy (BEIS), HMRC and the FCO (Foreign and Commonwealth Office) are joining up to unite their struggles today.
The march is assembling outside BEIS (1 Victoria Street, London, SW1H 0ET) at 11.30am and departing at 12 noon to HMRC on 100 Parliament Street.
'Come along with flags and banners and show your support for the campaign. We will be leafleting the HMRC office about the disputes and have bucket collections for the strike funds,' urges the PCS.
On Monday 15 July, outsourced cleaners and caters employed by Aramark and ISS at BEIS started indefinite strike action in their demand for the London Living Wage.
ISS cleaners in HMRC Bootle and Liverpool took two days strike action on 15 and 16 July in their fight to end poverty pay.
Interserve cleaners, porters and maintenance staff at the FCO have taken 11 days of strike action over pay and trade union recognition and have called a further three-day strike for 29-31 July.
Solidarity and support
Today, Thursday 18 July, cleaners from HMRC in Bootle are coming down to join their colleagues from BEIS and the FCO for the joint rally and demonstration against outsourcing and low pay.
PCS stated on Monday: 'Our members who are cleaners and caterers working for Aramark and ISS have begun their indefinite walkout with huge support from the wider trade union movement.
'Contracted-out workers at the Department for Business Energy and Industrial Strategy (BEIS) received a rousing reception from fellow trade unionists as they walked at noon on Monday.
'The cleaners and caterers have been campaigning for over nine months for the London Living Wage and previously taken part in a series of stoppages against contractors Aramark and ISS.
'Now in a major escalation of their campaign for pay justice, they have downed tools for an indefinite period, until they reach a negotiated settlement with the contractors.
'They will be joined on strike from the 22 July for 5 days by contracted-out security, porters and postroom staff.
'Workers in a separate dispute for a living wage and better working conditions have also go on strike for the first time.
'Cleaners working for ISS in HMRC Bootle in Merseyside are on strike for two days from today.'
PCS General Secretary Mark Serwotka addressed the 100-strong crowd alongside other trade union general secretaries including RMT's Mick Cash and new UCU leader Jo Grady.
Praising both sets of workers earlier, Serwotka said: 'Contracted-out staff in BEIS have led a courageous campaign to win pay justice from unscrupulous and greedy contractors.
'For them to have no other choice but to take indefinite strike action is a testament to their dogged determination to win.
'PCS is supporting them all the way in their fight for the London Living Wage and I call upon the entire trades union movement to get behind our members.
'I urge BEIS to take control of this situation, put pressure on the contractors to pay up and ultimately bring all of these staff back in-house.
'ISS cleaners in HMRC Bootle also have the union's full support in their fight. PCS is committed to fighting the scourge of outsourcing wherever it rears its ugly head.
'Our members deserve to be paid a decent wage for the important work they do.'
Receptionist staff working for ISS at BEIS will also be balloted for action from the 29 July with a possibility of strike action in August.
PCS members working for ISS in HMRC offices in Bootle and Liverpool entered their second day of strike action on Tuesday.
Members on the picket line in Bootle said they had been overwhelmed by support from across the trade union movement and members of the public and were especially touched by the numerous donations to their hardship fund.
ISS have employed strike breakers at the sites involved in the dispute and in one example sent in 16 staff to do work that is normally done by 10.
When challenged on this, management were quoted as saying it was because there was 'too much work'.
The PCS also received reports of health and safety concerns due to the standard of work done by these teams and is pursuing these issues with management locally.
One striking member on the picket line on Tuesday said: 'It has been so lovely to see the support we have had, particularly in the face of the strike-breaking attempts we have seen by ISS.
'It's disgraceful that they haven't even bothered to respond to us and are sending in way more staff than they would normally use to do our jobs.
'It just shows that they do have the means to meet our demands and makes us even more determined to keep up the fight.'
Unite is calling for an inquiry into the sale and subsequent collapse of the AstraZeneca site in Avonmouth Bristol.
In December 2016 the site and the workforce were transferred to the start-up pharmaceutical company Avara for just £1.
As part of the deal Avara continued to supply AstraZeneca's branded drugs to the company.
When the transfer was completed, the 230 staff at the site, the vast majority of whom are members of Unite, were given 'cast iron guarantees' verbally and in writing that if the plant closed in the first three years, then AstraZeneca would honour the enhanced redundancy rights of the transferred staff.
In February this year, the site went into administration, however despite the previous assurances on redundancy payments from AstraZeneca, the multibillion pound conglomerate has refused to pay the affected staff the enhanced redundancy payments which are estimated to be £14 million.
Due to the failure of Avara to inform and consult the workforce before making them redundant, Unite has taken legal claims for a protected award on behalf of the workers.
If the claim is successful, due to Avara being in administration, the taxpayer will have to pick up the bill. Any financial awards will be substantially less than the workers would have received if they had remained employees of AstraZeneca.
Unite is also concerned about the future of the site which is estimated to be worth in excess of £100 million.
Unite regional secretary for the South West Steve Preddy said: 'AstraZeneca's sale of the site to Avara needs to be fully investigated, either by the relevant parliamentary body or a financial regulator.
'Unite's members have been treated appallingly and so called "cast iron guarantees" have been proved to be entirely worthless.
'AstraZeneca is a multi-billion conglomerate and £14 million is small change for the company but it makes a huge difference for our members, many of whom have spent their working lives at the site.
'The workforce are the latest victims of bandit capitalism. The powers that be are allowing these practices to continue unchecked and have learned nothing since the Carillion scandal. Questions also need to be answered about who now owns this piece of prime real estate and what plans there are for this site.'