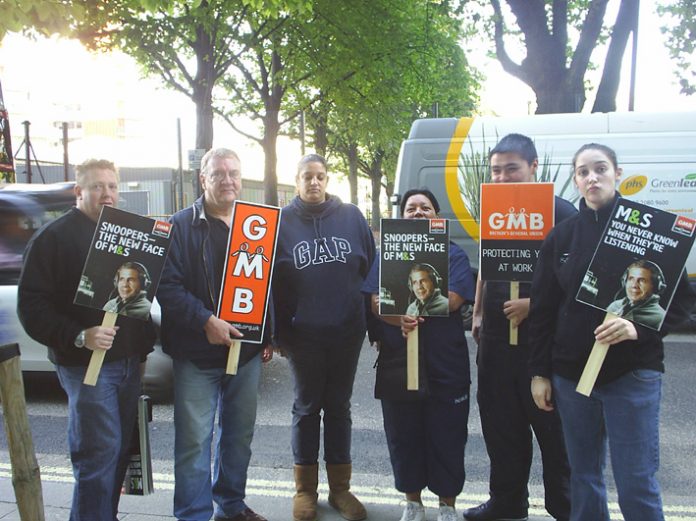 The GMB on Wednesday welcomed the reinstatement at Heathrow Airport's Arora Hotel of 'a father sacked for fulfiling family commitments'.
GMB said the hotel management 'have done the right thing' as it celebrated the immediate reinstatement of GMB member Virgilio Teixira who was unfairly dismissed from his £20,000 a year job as Head Chef at the hotel on 31st July this year.
Compass Food and Beverages boss Gavin Evans alleged that Teixira should not have left the four star Arora International Hotel's kitchen at London Heathrow at the end of his shift.
Compass says it was his responsibility, not that of the company, to cover the kitchen when the chef covering the late shift did not turn up due to oversleeping.
Teixira, by prior arrangement, had to get home to look after his three children so that his wife could to go to work for her employer.
Teixira who is Portuguese, lives with his wife and two sons, aged 10 and 6, and daughter aged 18 months in Hounslow.
Hounslow GMB Branch Secretary Perry Phillips, who represented Teixira at his appeal, said: 'This is great news for Mr Teixira and a full demonstration of the need of workers to belong to GMB.
'The management realised that they have to take account of their employee's family commitments and the strain that can be caused by not having the proper proceeders in place to help workers meet all their responsibility both at work and at home.
'This is a real victory for Mr Teixira, GMB and for the management.
'We have all learned from this experience and will all do our jobs better for it.'
The GMB also said on Wednesday that it will fight for the reinstatement of another sacked hotel worker.
It announced that it will be mounting a demonstration outside the Grosvenor House Hotel in central London on Monday, 20 October, in support of a sacked kitchen worker.
The GMB said that Polish kitchen staff were sacked by Grosvenor House Hotel for asking for a night shift premium, as the union reported the Cover Staff agency to the Gangmasters Licensing Authority.
GMB members will stage a demonstration in support of GMB member Boguslaw Modzdonek who was sacked from his job as a kitchen night supervisor from the hotel in Park Lane last month.
The internal appeal hearing is scheduled for 10am Monday 20th October 2008 and a demonstration will be held from 9.30am-1pm outside the hotel to coincide with the hearing.
Boguslaw Modzdonek was one of 30 GMB members working on the night shift in the kitchens at the prestigious Grosvenor House Hotel who were sacked by the hotel management in September.
The management alleged that their work papers were incomplete.
This was in spite of the fact that many of the mainly Polish nationals had been directly employed by the hotel for more than two years.
The next day, all bar Boguslaw Modzdonek were taken back on in their old jobs but this time employed through their original labour supply agency called Cover Staff.
The workers originally had been supplied as a labour force to the Grosvenor House Hotel by the Cover Staff agency before being taken on as direct employees by the hotel.
The union alleged: 'The real reason why GMB member Boguslaw Modzdonek was not taken back and why the Polish workers were sacked in the first place was because, acting as a representative of the workers he had asked for a night premium and other improvements to their working conditions in the hotel's underground kitchens.
'He had also raised issue with the hotel management regarding health and safety and hygiene.
'For this he has been victimised and sacked for trade union activities by the A JW Marriott hotel management who own the hotel.
'GMB has lodged an appeal on Boguslaw Modzdonek's behalf and the appeal will be held next Monday 20th October. Since he was sacked, Boguslaw Modzdonek has been without work or an income.'
The GMB has reported Cover Staff to Gangmasters Licensing Authority (GLA) inspectors to carry out a full investigation into its activities as a labour provider to the Grosvenor House Hotel.
If as the hotel claimed, the Polish workers' papers were not in order then both Cover Staff and the hotel would have been employing them illegally.
GMB London Regional Secretary Ed Blissett said: 'This is the real face of the upstairs downstairs Britain.
'Workers employed in the kitchens of a 5 star hotel are sacked and victimised for asking for a premium for working at night compared to their colleagues who work the day shift.
'29 of them are back at work in the hotel but this time they are working for an agency.
'Their GMB representative Boguslaw Modzdonek gets sacked for trade union activities.
'I have news for the management of the Grosvenor House Hotel – GMB does not walk away from our members.
'GMB will campaign to get justice for Boguslaw Modzdonek.'
Meanwhile, in its ongoing campaign for a Marks and Spencer worker who was sacked for revealing that M&S was cutting redundancy pay, the GMB said it will 'press on to the Employment Tribunal' and is 'confident that M&S will eventually be forced to do the right thing'.
The GMB was informed by Marks & Spencers management on Tuesday morning that the internal appeal had upheld the sacking of GMB member Tony Goode for leaking to the press details of the cuts in the M&S redundancy scheme.
Tony Goode was summarily dismissed in early September for leaking details of the cuts in the redundant pay scheme in August.
His appeal hearing took place in late September and the result was given to the GMB on Wednesday, 15th October 2008, in a 14 page document.
Maria Ludkin, GMB Legal Office said: 'GMB is very disappointed that M&S management has not seen fit to reverse their ridiculous decision to sack GMB member Tony Goode for voicing widely held opposition to the company's plans to cut the redundancy pay scheme.
'GMB will press on to the Employment Tribunal and is confident that M&S will eventually be forced to do the right thing.
'In the meantime the GMB campaigns to secure justice for Tony Goode and to end M&S corporate bullying goes on.'
Marks and Spencer summarily sacked GMB union member Goode, a single parent of 2 children with 25 years unblemished service with the company, in late August.
He told the press that M&S were going to cut the redundancy terms for 66,000 workers employed by the Company.
In July 2008 M&S published plans to cut back the redundancy pay from a maximum of 72 weeks pay for long service employees to 50 weeks and to cut the amount paid to all workers.
A typical 49-year-old employee with 30 years of service would see their possible pay-off fall from £35,000 to £26,000.
Those aged over 41 would get three weeks pay per year worked instead of the current 3.75, while staff aged between 22 and 40 would receive two weeks instead of 2.5.
These plans gave rise to widespread fears amongst M&S workers that redundancies were on the way due to the slowdown in retail sales due to the credit crunch.
Goode raised his concerns with the internal M&S 'staff association' whose representatives were consulting 66,000 M&S workers on the cuts which were due to be introduced from 1 September 2008.
He was concerned that this consultation would make no difference and that M&S workers would have the cuts imposed on them, as had happened when long service pay was ended and pension benefits were cut.
He decided to bring the concerns of M&S workers to a wider audience. He sent the M&S plan to the media who published the details.
M&S responded by finding out who told the media. From electronic records they identified Tony Goode and suspended him there and then.
He was charged with telling company "secrets" to the press.
He was represented by GMB at a disciplinary hearing. He was summarily dismissed for gross misconduct on 3rd September.
He left M&S after 25 years with only 8 days holiday pay worth less than £1,000.