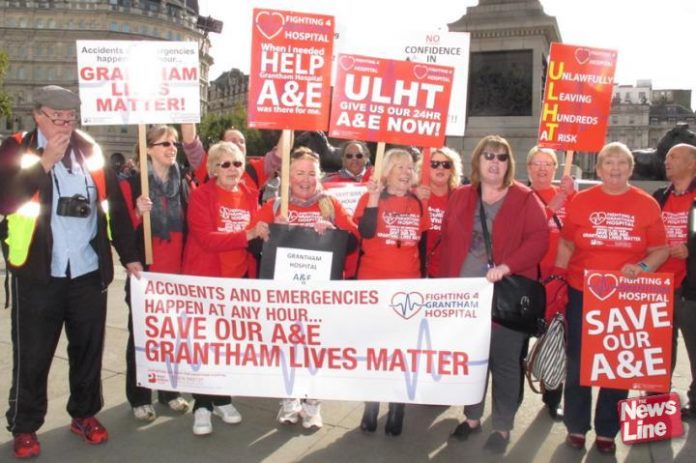 FAMILIES are being asked to care for their sick relatives, act as nurses and even administer injections, in an extremely controversial move to 'free up hospital beds'.
As the winter crisis facing Accident & Emergency departments (A&Es) reaches epic proportions, in a bid to tackle overcrowding, sick patients are being discharged early.
Age UK said that this may constitute a breach of a hospital's 'duty of care'.
Hospitals are offloading sick patients onto families while simultaneously GPs have been called in to 'clear wards'. Families are being asked to take over the daunting task of not only caring for their loved ones but administrating medical treatment duties.
The scheme has been launched at Leicester's hospitals. Leicester's hospitals declared a 'system critical alert' last Tuesday as staff tried to cope with hundreds of patients needing emergency treatment and admission.
Dr Nick Willmott, in the West Leicestershire CCG said: 'When a patient is ready to be discharged, their needs will be assessed and a care plan will be drawn up, detailing the health and social care support which they need to recover, as well as any equipment they need.
'The idea of supporting recovery may seem daunting at first, but learning these basic techniques, such as administering injections or supporting someone to move from their chair to their bed in the correct way means that a loved one can be discharged earlier, and ultimately recover more quickly at home.'
Caroline Abrahams, of the charity Age UK, said: 'Discharging patients before they are medically fit to leave and without the support at home they need to recover cannot be the right solution – and could get close to breaching the hospital's duty of care.
'It is one thing to ask families to help with routine care for an older person, quite another to expect them to take on the full responsibility for administering injections or moving someone who is bedridden when they have not been properly trained. This looks like a recipe for unsafe care.'
Meanwhile, GPs are being parachuted into A&E to clear out 'unnecessary' admissions.
They are being drafted in to help send patients home and 'free up beds'. In NHS North Lincolnshire, family doctors were called in to assess patients at Scunthorpe General Hospital. Those deemed able to go home by the GPs were discharged.
The call was put out by NHS North Lincolnshire CCG managers frantically trying to deal with pressure on Scunthorpe General Hospital, which they said is 'facing unprecedented demand' on services, with patients 'experiencing extremely long A&E waits'. GP leaders said the move was 'incredible' and warned that GP practices were themselves overwhelmed and did not have the capacity to step in.
The CCG emailed practices this week asking them to confirm 'whether a member of the senior clinical team could be mobilised to attend the hospital to review and potentially support the discharge of a small number of patients'. It continued: 'These patients will require medical oversight and support in the community which will need to be provided by their own practice.'
The CCG said it was 'also looking at whether we can discharge patients to additionally commissioned community beds and we will be looking to secure enhanced GP and nursing cover for those beds' and that 'we will approach practices separately regarding this when available beds have been identified'.
Lincolnshire LMC medical director Dr Kieran Sharrock said: 'GPs in Lincolnshire are working at full speed already dealing with patients with both acute and chronic illnesses. Many practices are reporting having to work fifteen hour days to cope with the demand and associated administration.
'For the secondary care sector to have the temerity to ask GPs to then also assist in the work that the hospital should already be doing is outrageous.' Dr Andrew Green, chair of the BMA's GP Committee (GPC) clinical and prescribing subcommittee, said the request was 'incredible'.
He said: 'Patients rarely have discharges delayed due to a lack of a medical opinion, it is usually due to factors such as social care, or the provision of discharge medication. These vital services must not be overlooked in what appears to be a panic reaction to a bed shortage, which once again illustrates the point that nobody believes that general practice is also in a workforce and workload crisis.'
Deputy GPC chair Dr Richard Vautrey highlighted the recruitment struggles GP practices are facing in areas like Lincolnshire and said it was 'a concern that whilst NHS management is focused on trying to relieve the real pressures in hospitals, they do not seem to be offering the same level of additional support to general practice and community nursing teams but expect them to do more.'
It comes as another Midlands CCG has moved to discharge patients early. NHS West Leicestershire CCG sent out a press release explaining that patients may be discharged to 'unexpected' settings – including being sent home to be cared for by 'their loved ones'.
• In Scotland a new GP contract, due to be phased in over the coming two years, will spell the end of the 10-minute GP consultation standard, the GPC said. Scottish GPC chair Dr Alan McDevitt claimed placing an 'arbitrary figure' on appointments 'doesn't help' and there needed to be 'flexibility' to enable GPs to 'match availability to demand'.
According to Dr McDevitt, measures to be set out in the new GP contract, especially around other members of the primary care team taking on a greater role and reduced admin, would help make longer appointments possible by offering GPs the flexibility to expand appointment time where needed.
Under the contract, due to be phased in over a two-year period starting from April this year, the role of the GP will be dealing with undifferentiated presentations, complex care and 'leading wider teams to improve patient outcomes'.
Dr McDevitt said: 'I haven't had a 10-minute appointment system for ages, but if you were to say everyone has 20-minute appointments you would need twice as many appointments. You can't solve this contractually. It is only by focusing on patients who need the GP most that's how we expand appointment time. The only way we can achieve that is to stop doing other things we don't need to do.'
The idea of expanded 15-minute consultation slots was raised with NHS England last year by the GPC but there was concern that such a move would simply increase the length of the GP day. The Scottish Government has pledged an additional £500m for primary care by 2020 with a relatively small £72m being made available in 2017/18. It has also recently said that GPs would stop providing some services under the new contract, potentially including childhood and travel vaccinations.