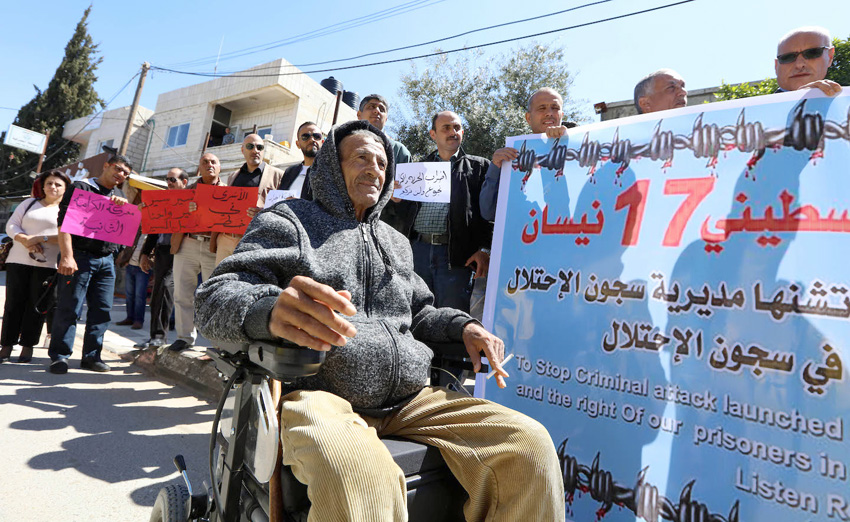 A PALESTINIAN human rights group says dozens of Palestinian prisoners have lost their lives since 1967 after being exposed to various forms of brutal torture at the hands of their interrogators in Israeli prisons and detention centres.
The Palestinian Prisoners' Club (PPC) said in a report on Tuesday that Israeli authorities use various methods of torture, both physically and psychologically, against Palestinian prisoners, humiliate their personality and most notably pressure them to sign confessions extracted during their interrogation, the Palestinian Arabic-language Shehab news agency reported.
The PPC then pointed to the case of Palestinian prisoner Arafat Jaradat, who was killed at Megiddo Prison in 2013 only five days after his arrest as a result of being severely tortured.
Israeli urban warfare-trained infantry forces, better known as Nahshon, killed prisoner Ra'ed al-Ja'bari after torturing him physically in 2014.
Palestinian detainee Yassin al-Saradih was also badly tortured in Eichel Prison. He was transferred to an Israeli hospital, where he passed away on May 20, 2018.
Samer al-Arbeed has been taken to hospital in a critical condition after being severely tortured.
In September 2018, 24-year-old Palestinian man Muhammad Zaghloul al-Khatib al-Rimawi died shortly after he was severely beaten by Israeli soldiers at his home in the occupied West Bank village of Beit Rima.
The Palestinian human rights group further highlighted that the concept of torture is not limited to the use of violence against Palestinian prisoners during their arrest and interrogation, but all the appalling procedures that they go through inside detention centres fall within the framework of torture.
The most notorious of these methods include solitary confinement, detention of prisoners in harsh and compelling conditions that do not meet the minimum health standards, torturous transfers as described by prisoners, and the policy of medical negligence.
Eight Palestinian administrative detainees are now on hunger strike in Israeli jails.
The PPC said Israeli forces exercise psychological and physical torture against Palestinian detainees from the very first moment of their arrest, by beating them with rifle butts on different parts of their bodies, without any consideration to the injury of some detainees.
This practice has resulted in severe injuries, which has caused amputations and diseases that accompanied the prisoners even after their release.
Sleep deprivation through continuous interrogation sessions of up to 20 hours, restricting the detainees during their interrogation, tightening restrictions to prevent blood circulation from reaching their hands, beatings, slapping, kicking, verbal abuse, intentional humiliation, as well as threats to arrest a family member or family house demolition, threats of sexual assault, denial of toilet use, denial of bathing or changing clothes for days or weeks, exposure to extreme cold or heat, constant noise and verbal abuse are among other methods of torture.
The Palestinian foreign ministry says Israel is exercising the policy of repression, abuse and deliberate medical negligence against Palestinian inmates.
There are also other methods of torture known under the so-called military investigation, where the detainee is either forced to lean back over a chair, causing him to suffer immense back pains.
An extreme pressure is alternatively used on various parts of the Palestinian prisoner's body, or they are subjected to violent shaking and strangulation by several means.
More than 7,000 Palestinians are reportedly held at Israeli jails. Hundreds of the inmates have apparently been incarcerated under the practice of administrative detention, a policy under which Palestinian inmates are kept in Israeli detention facilities without trial or charge.
Some Palestinian prisoners have been held in administrative detention for up to eleven years.
Palestinian inmates regularly stage hunger strikes in protest at the administrative detention policy and their harsh prison conditions in Israeli jails.
According to reports, at least 13 Palestinian lawmakers are currently imprisoned in Israeli detention facilities. Nine of them are being held without trial under administrative detention.
The pre-indictment hearing over Israeli Prime Minister Benjamin Netanyahu's has resumed as the premier's last-ditch efforts to form a coalition administration with his leading election rival hit a snag again.
Netanyahu's lawyers arrived for the pre-indictment hearing at the Israeli Justice Ministry headquarters in Jerusalem al-Quds on Wednesday.
Netanyahu, who did not accompany the lawyers, is accused of acting on behalf of specific wealthy businessmen and interest groups in exchange for gifts and positive news coverage.
Consequently, legal authorities, led by Attorney General Avichai Mandelblit, intend to charge the Israeli premier with bribery, fraud and breach of trust.
During the pre-indictment hearing which is to last four days, Netanyahu's lawyers will seek to convince Mandelblit to drop the indictment.
The hearing comes as Netanyahu's tenure as premier is threatened by his failure to conclude unity talks with centrist Blue and White alliance of former military chief Benny Gantz.
Netanyahu's strongest rival Gantz rejected his offer to form a unity government on Thursday, promising his own secular coalition.
Both rivals failed to win the required parliamentary seats for a majority government after a second round of inconclusive Israeli elections last month.
Netanyahu, who has been given 42 days by Israeli President Reuven Rivlin to form a unity government, had intended to meet Gantz on Wednesday as part of a 'last effort'.
Gantz' Blue and White alliance, however, announced on Tuesday that it would not take part in the talks planned for Wednesday given that its 'pre-conditions' had not been met.
Gantz and Netanyahu's main point of disagreement is reportedly over who will first take on the role of prime minister in a possible rotation agreement.
Gantz has also vowed not to be part of a government led by a premier facing criminal charges.
Given the failure of the intended Wednesday negotiations, Netanyahu may have to inform Rivlin that he is unable to for a unity government.
Rivlin may then proceed to ask Gantz to fulfil the task or alternatively call on the Israeli parliament to make a final decision by granting either presidential rival at least a minimum of 61 votes out of the total 120 parliamentary seats.