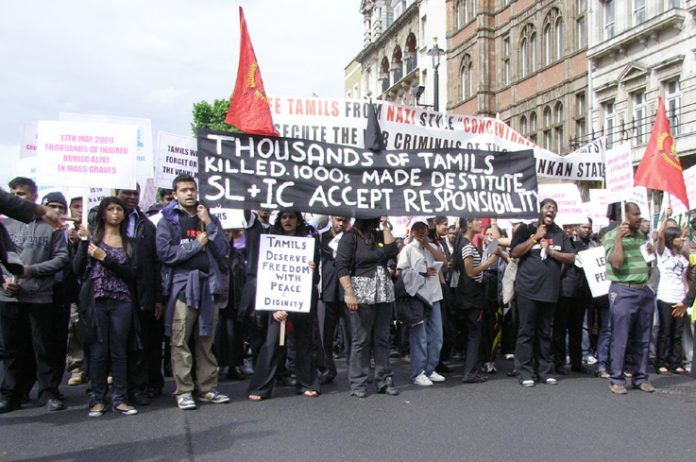 Exiled journalists have condemned state media abuse in the Sri Lanka presidential election campaign, reports TamilNet.|
Journalists for Democracy (JDS), a Germany-based media advocacy group consisting of members exiled from Sri Lanka, on Saturday issued a statement titled: 'Sri Lanka: Democracy and free expression in peril'.
The JDS statement said: 'Journalists for Democracy in Sri Lanka (JDS) warns that withdrawing the competent authority appointed to monitor state media during the pre-election period is a clear indication of the inability of the nominally democratic institutions to restrain the ruling party practice of using every weapon in its arsenal to bring down democracy.
'Elections Commissioner Dayananda Dissanayake, earlier nominated Jayampathy Hettiarachchi as the competent authority in the wake of complaints by political and civil organisations on state media abuse in the run up to the presidential election.
'However, it is reported that the nomination has been withdrawn even before the letter of appointment has been handed over.
'Reminiscent of past elections under every regime where state media were always used as a propaganda tool of the incumbent regime, every state media outlet this time too was utilized to support the campaign of President Rajapakse and discredit those challenging him.
'Courts, the elections commissioner and who is in charge of an operation and the watchdogs have failed to keep that abuse in check during supposedly one of the largest democratic exercises in Sri Lanka.
'This clearly demonstrates that the present state or its media set up does not tolerate a semblance of democratic practice even during an election where every adult should have the right of free and fair opportunity to express their political preference.
'It should be recalled that this obstacle against free political expression is erected in a country where tens of thousands Tamils made destitute by a war and thousands more locked under draconian anti-terrorist laws are made incapable of casting their vote.
'With only a couple of days to go, JDS is afraid that the multitude of unfavourable developments, including the inability of institutions set up to guarantee fairness to citizens in Sri Lanka, will lead to an election where democracy and free expression will become inevitable casualties.
'(Signed) Executive Committee
'Journalists for Democracy in Sri Lanka.'
Meanwhile, armed gangs believed to be supporters of the ruling United Peoples Freedom Alliance (UPFA) last Friday night destroyed six election propaganda offices of common opposition candidate General (retd) Sarath Fonseka in separate incidents in the Gampaha district in the western province, according to Janatha Vimukthi Peramuna (JVP) media spokesman.
The JVP spokesman said armed mobs smashed and destroyed the offices after threatening those present in the offices.
The incidents took place at Galwela Junction in Mahara, Mahabim at Biyagama, Makola, Galwala Junction, Pamuniwila and Malwana Junction, the spokesman added.
JVP officially on Saturday lodged complaints with the respective police stations and the Office of the Commissioner of Elections.
More than three hundred thousand fake ballot papers are in circulation in several parts of the country with just days left for the presidential election, scheduled to be held on January 26.
The Deputy Inspector General of Police (DIG) Gamini Navaratne who is charge of the police election unit has sought public support to crackdown fake ballot paper distribution.
DIG told Colombo media on Saturday that already the police had seized two ballot boxes filled with about twenty thousand fake ballot papers before being transported to Puththa'lam.
The Common Left Front has reported that its election campaign has won a lot of support from both Tamil and Sinhalese workers.
It has opposed both Rajapakse and Fonseka, and called for a workers' and small farmers' government.
It has also declared its support for the right of the Tamil people to Self Determination.
The Tamil National Alliance is one of those parties that has decided to back one section of the regime against the other.
'The votes of Tamils are of great value in this presidential election,' Tamil National Alliance (TNA) leader, R Sampanthan said on Saturday in a big election campaign meeting held on Saturday around 3:00pm in Nalloor Chaddanaathar Koayil area, in which nearly four thousand people from various parts of the peninsula participated, sources in Jaffna said.
'After considering various pressing issues including the resettlement of Vanni people in their places we decided to offer our support to Sarath Fonseka,' he said.
'He agreed to consider our demands favourably while Mahinda was not prepared to give in on any of them and therefore we decided to support Sarath Fonseka in this presidential election,' Sampanthan further said.
TNA parliamentarians Mavai Senathirajah, Selvam Adaikalanathan, Ms Pathmini Sithamparanathan, Imam, Thurairatnam, Solomon Cyril and Suresh Premachandran were present at the meeting.
'Our decision to support Sarath Fonseka was taken after several deliberations among us and talks with both Mahinda Rajapakse and Sarath Fonseka,' Sampanthan explained.
'We stand firm in our decision to keep North and East undivided and when Sarath Fonseka is elected president we will certainly hold talks with him to unite North and East,' he said.
'Finding a solution to the ethnic issue will be the next topic in the talks with Sarath Fonseka,' he further said.
'We will seek the help of the international countries including the western world in achieving our goals in the talks with Sarath Fonseka,' Sampanthan said.
'These are the reasons for our decision to support Sarath Fonseka and the Tamils of the country should not fail to cast their votes in this election,' he said.
Though some persons said to be Eelam People's Democratic Party (EPDP) supporters tried to disturb the meeting it went on for three hours without any problem, the sources said.
Though TNA had campaigned for Sarath Fonseka in Vadamaraadchi and Thenmaraadchi areas earlier, this meeting in Nalloor was the first public meeting held by TNA.
This is also the first big election meeting held in Jaffna peninsula after a period of twenty years.
Polling day is next Tuesday.