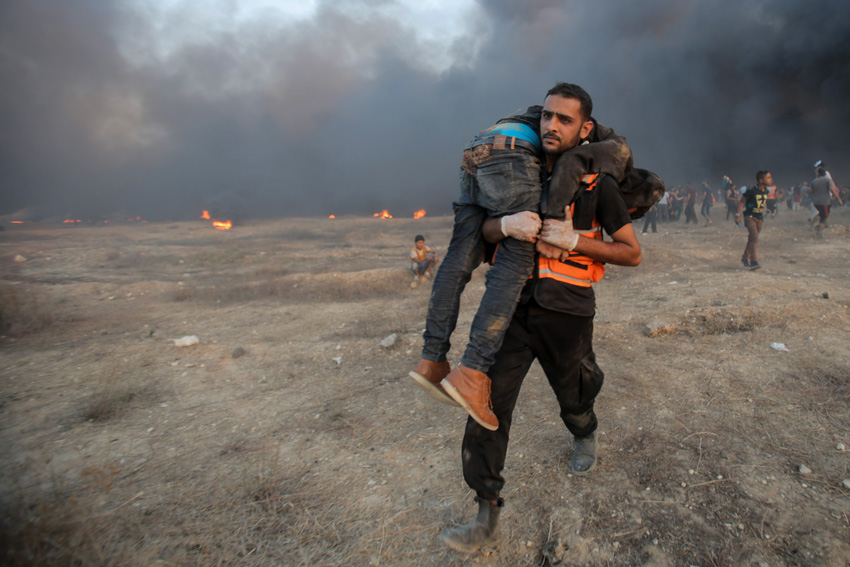 PALESTINIAN factions rallied and protested throughout the occupied Palestinian territories on Tuesday against the latest US position that claims Israeli settlements are not inconsistent with international law.
President Mahmoud Abbas' Fatah movement spearheaded the demos, and was joined by other factions and city councils urging people throughout the occupied territories to join the rallies and protests 'in condemnation of the American-Israeli conspiracy against our people, their cause and for stealing the land.'
Member of Fatah Central Committee and of the Executive Committee of the Palestine Liberation Organisation (PLO), Azzam Ahmad, told Voice of Palestine radio that all the factions had agreed on holding the day of rage 'to speak in one voice and tell the entire world that our rights cannot be stolen by the occupation, and to affirm our commitment to the national programme of the PLO and its rejection of the American administration – which is biased toward Israel.'
He said the Palestinians are discussing calling for a special session for the United Nations Security Council, and if the US uses the veto then the issue will be raised at the UN General Assembly under the term United for Peace to condemn the last US pro-settlements declaration.
Jamal Muheisen, also a Fatah Central Committee member, told Voice of Palestine that the day of rage is only the beginning of a series of activities until there is a mass uprising against the crimes of the Israeli occupation.
The Ministry of Education said schools would be dismissed early to allow teachers and students to participate in the rallies that were planned to be held in the centres of the major West Bank cities.
On the same day Human Rights Watch (HRW) vowed to 'keep on documenting Israeli abuses of the Palestinians despite the deportation of its Israel and Palestine director Omar Shakir,' according to an HRW statement, saying the deportation 'reflects the (Israeli) authorities' intensifying assault on human rights.'
Shakir was set to leave Israel later Monday night after Israel's Supreme Court upheld the government's deportation order on November 5 and gave him until November 25 to leave.
HRW said Shakir 'will continue to monitor human rights abuses in the occupied territories from another HRW office in the region.'
Kenneth Roth, executive director of Human Rights Watch, said the deportation of Shakir 'will not succeed in hiding (Israel's) human rights abuses.'
He said that this decision 'shows why the international community must reboot its approach to Israel's deteriorating human rights record. A government that expels a leading human rights investigator is not likely to stop its systematic oppression of Palestinians under occupation without much greater international pressure.'
Israel revoked the work visa of Shakir, a United States citizen, in May 2018 on the asserted grounds that his advocacy violated a 2017 law that bars entry to people who advocate a boycott of Israel or its settlements in the occupied West Bank.
A district court in April, and then the Israeli Supreme Court, found that this position constitutes grounds for deportation under an expansive reading of the 2017 law.
'Neither Human Rights Watch nor Shakir as its representative has ever called for a boycott of Israel. Human Rights Watch has urged businesses to stop operating in illegal settlements as part of their global duty to avoid complicity in human rights abuses – just as it calls on businesses to comply with this duty in many other countries,' said HRW in its statement.
Recently, Israeli authorities have sought to undermine the work of human rights activists, including denying entry to a number of other international rights defenders, maligning Israeli rights advocates, imposing burdensome financial reporting requirements on them, and raiding the offices of and arresting Palestinian rights defenders.
In October, Israeli authorities prevented an Amnesty International staff member from travelling out of the occupied West Bank for undisclosed 'security reasons.'
This is the first time the government has used the 2017 law to try to deport someone who is lawfully inside Israel, and the first time it has ordered a Human Rights Watch staff member to leave in the organisation's 30 years of working in the country, said HRW.
'Today, Israel deports Shakir because Human Rights Watch urges businesses to shun illegal settlements,' said Roth. 'Who's next – someone who calls for the International Criminal Court to examine possible crimes in Israel and Palestine or correctly calls the West Bank "occupied" rather than "disputed"?'
On the same day, Hanan Ashrawi, member of the Executive Committee of the Palestine Liberation Organisation (PLO), warned that the 'Israeli deportation of Human Rights Watch Director, Omar Shakir, is a desperate measure to conceal its war crimes.'
'With the deportation of Human Rights Watch Director, Omar Shakir, Israel has unequivocally demonstrated the subservience of all official branches of government to the regime of political repression, brute force, and racist mentality that maintain the illegal occupation of Palestine,' her statement said.
'For years, Israel has been engaged in a smear and incitement campaign as well as a strict stifling censorship regime against Palestinian, Israeli, and international human rights advocates and organisations in an attempt at intimidating and silencing them,' it added.
'Deportation is another coercive tactic in a long and shameful list of actions targeting the human rights community and the victims of Israel's persistent human rights violations,' it added.
'Deporting the Human Rights Watch Director in Israel/Palestine, Mr. Omar Shakir, is a desperate and despotic action consistent with the unlawful practices of this occupation regime.
'It is an alarming wake-up call to all those who seek peace and justice for both sides that Israel will resort to extreme measures to hide the truth. This is of critical concern because of the systematic targeting of the defenceless Palestinian population and a deliberate escalation that is politically motivated to terrorise vulnerable Palestinians and to enact its expansionist plans over historical Palestine.
'This systematic campaign of persecution targeting international and local human rights advocates to silence dissent must be made to fail. We encourage more human rights bodies and activists to seek the truth and work for justice in our region, despite the challenges and dangers.
'Without monitoring and accountability, the Israeli occupation will continue its campaign of violence and intimidation with full impunity without any curbs. It is incumbent upon the international community, both governments and relevant organisations, to intervene to protect the human rights protectors as well as the Palestinian people as a whole.
'Israel cannot expect to impose a blackout on the whole world as a cover-up to maintain its violent agenda against the Palestinian people,' the statement insisted.
A later statement that same day added: 'Israeli forces today detained 23 Palestinians, including three children, from occupied Jerusalem and the West Bank,' said the Palestine Prisoner Society (PPS).
It said Israeli police raided the East Jerusalem neighbourhood of Issawiyeh in the dead of the night, breaking into homes and detaining at least 10 Palestinians, including a child.
Over the last several months, Issawiyeh, a Palestinian village of some 20,000 people, has been facing a rise in police harassment and raids that have disrupted daily life in the neighbourhood.
Meanwhile, PPS said that three Palestinians, including a 17-year-old teenager, were detained from the southern West Bank district of Hebron.
In Bethlehem district, soldiers detained three Palestinians, including two in an Israeli military raid at al-Azzeh refugee camp, north of Bethlehem city, one of them a 14-year-old boy.
In the northern West Bank, Israeli military raided Anabta town, east of Tulkarm city, where soldiers detained a Palestinian, as reported in the PPS statement.
PPS added that a similar Israeli military raid was conducted in Attil town, northeast of Tulkarm, resulting in the detention of another man.
In Ramallah district, Israeli forces rounded up two Palestinians after ransacking their home in Kobar town, north of the city.
During ensuing confrontations, soldiers opened fire at local youngsters who protested against the raid. No injuries were reported though.
In addition, PPS confirmed that a 13-year-old Palestinian was detained from Aqbat Jabr refugee camp, southwest of Jericho.
Two other Palestinians were rounded up at Tammun town, south of Tubas city in the northern Jordan Valley.