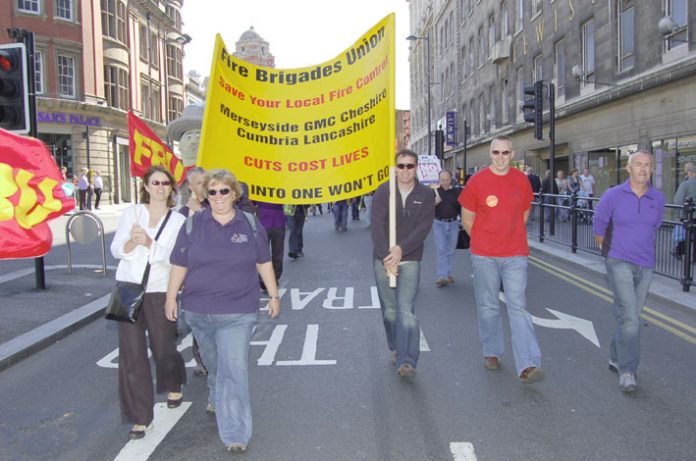 Fire Brigades Union (FBU) General Secretary Matt Wrack says the deaths of four firefighters in Warwickshire has echoed in fire services around the world.
The comments were made as the service and the community prepared for the funeral of Darren Yates-Badley last Friday, 7 December.
The funerals of John Averis, Ian Reid and Ashley Stephens have been taking place since 30 November.
Matt Wrack and representatives of the Fire Brigades Union have attended all the funerals.
Matt Wrack said: 'The deaths of John, Ian, Ashley and Darren in the line of duty has been a terrible blow to their families and colleagues.
'They are a great loss also to the communities which they served with pride and conviction.
'Their deaths have touched our colleagues in other fire services.
'Messages of support have come from serving firefighters and their unions from every continent.
'Those firefighters may express their grief and sadness in different languages and with different gestures.
'What unites us is knowledge of the risks and dangers inherent in firefighting.
'These are the risks and dangers faced by all firefighters in all communities and all countries.
'Because of this, the deaths in Warwickshire have resonated in fire stations across the world.
'The families of John, Ian, Ashley and Darren are united in their grief and sadness.
'In the fire service we also think of ourselves as a family and we are also united in that grief and sadness.'
Meanwhile, firefighters are battling life-threatening cuts in the fire service.
One of the union's campaigns is against the closures and mergers of fire control centres.
The FBU said on Friday: 'Whitehall needs to urgently re-think plans to close all 46 emergency fire controls in England and move to one control for each region.'
The call came after an announcement that plans to reduce the number of emergency fire controls in Scotland have been halted.
The FBU added: 'Scotland will now get all the benefits of an enhanced digital radio system, inter-operability between emergency fire controls and other emergency services, modern data terminals in fire appliances and real time updates of the exact position of vehicles much cheaper and much faster than England.
'In England, the regional control project is now running years late, costs are ten times the original estimate of £100 million and it is placing enormous burdens on the fire service.'
FBU general secretary Wrack said: 'Scotland has looked into the abyss and quite rightly stepped back.
'They will now get a better and more resilient system which is much cheaper and quicker than that planned for England.
'It makes a real difference when Government takes the time to engage with frontline staff and the fire service before key decisions are made.
'Whitehall made poor decisions in the face of overwhelming opposition within the fire service at the time.
'The Whitehall obsession with a regionalised structure in England is bleeding the fire service dry of money and personnel.
'This is an example of public money being wasted on another IT project of dubious benefit and which diverts money from frontline services.
'Scotland has understood those issues, Whitehall has not.
'It is not technology and buildings which gives us the resilience to deal with major incidents.
'It is professional fire crews and emergency control staff which give us that strength and we have never failed the public.'
In a written House of Commons answer given on 27 October 2005 on the original estimates of the costs of regional fire controls in England, fire minister Jim Fitzpatrick said consultants Mott MacDonald 'estimated project costs at £100 million, comprising project management costs, technology costs, accommodation costs and redundancy'.
The costs are now officially over £1 billion and rising, stressed the FBU.
Meanwhile, Hertfordshire firefighters are expected to vote unanimously in favour of industrial action should one of them have their ill-health pension benefits removed as anger is close to boiling point over the government's recent changes of guidance on pension benefits in case of injury.
Herts fire crews are also up in arms over the shortage of firefighters in the county, despite Herts County Council agreeing in July last year that this problem would be resolved.
Hertfordshire FBU branch secretary Tony Smith was on Friday meeting with Fire Authority chiefs to raise concerns about engine manning, pensions and plans to regionalise control rooms.
The FBU is particularly concerned over the shortage of experienced personnel available on fire engines in the County.
Recently several staff have become disillusioned with the way the Service is being run and have left to join brigades in other counties.
Herts FBU Secretary Tony Smith said: 'Every day Herts fire crews are willing to risk their lives to save others but feel they are being let down by senior managers and the Council.
'Firefighters across the county are extremely angry that our employers have reneged on their agreement that saw an end to our industrial action last year.
'We are angry that our safety is being jeopardised and we are angry that if we get injured our employers will force us to leave the Service without a pension.
'We won't be looked after if injured.
'Last year, our employers told us that they could be trusted and we believed them.
'They said they would work with us to improve the Service but their words are ringing hollow.
'Instead they continue to erode the frontline emergency response service we can offer to the public and now it seems that they will not look after us if we get injured in the line of duty.'
In Norfolk, meanwhile, the FBU has said FBU members in the brigade may be forced to question the risks they take in light of the new government guidance on ill-health pensions.
Norfolk firefighter and FBU chair Peter Graves, said: 'It is highly regarded that firefighters will push themselves to the limits to save a life whether it is at a fire or at a road traffic collision.
'Unfortunately we are now being forced to question our actions before committing ourselves into what could be a harmful or dangerous environment.'
FBU Norfolk has already met with chief fire officer Richard Elliott to raise its concerns, but believe his hands are tied by the government guidelines.
It is now lobbying local MPs to support their cause.
Officers are also considering the implications of the government guidance on ill-health pensions.
FBU Assistant General Secretary Andy Dark said: 'With the revised CLG (Communities and Local Government) guidance the hazard remains the same, but the risk has just increased. The risk now is of no job and no pension.'
The news from Hertfordshire and Norfolk comes after the FBU last week secured an important victory in its campaign for justice for firefighter pensions.
Following a judicial review launched by the Union in relation to the three London members affected by the guidance, the lawyers for the department of Communities and Local Government (CLG) and the Board of Referees conceded an important part of the Union's case and the three London members' pensions should now be restored.
However, the matter is not resolved. Even the three members concerned may still face the same issue again depending upon other decisions. Most importantly, the guidance issued by CLG in September 2006 remains in place at this time.