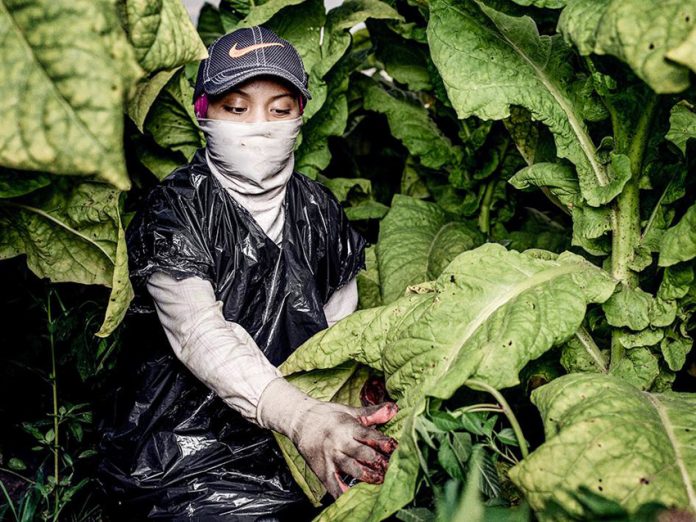 THE United States government and tobacco companies are failing to protect teenage children from hazardous work in tobacco farming, says a new report by Human Rights Watch.
The 72-page report US: Tobacco Farms No Place for Teens documents the harm caused to 16- and 17-year-olds who work long hours as hired labourers on US tobacco farms, exposed to nicotine, toxic pesticides, and extreme heat.
Nearly all of the teenagers interviewed suffered symptoms consistent with acute nicotine poisoning – nausea, vomiting, headaches, or dizziness – while working on tobacco farms. Teenage children too young to legally buy a pack of cigarettes are getting exposed to nicotine while they work on US tobacco farms,' said Margaret Wurth, children's rights researcher at Human Rights Watch and co-author of the report. 'The US government and tobacco companies should protect everyone under 18 from hazardous work in tobacco farming.'
Tobacco farming in the US puts children at risk of nicotine poisoning, pesticide exposure from toxic chemicals applied to the crop, heat illness, and chronic pain and injuries from performing repetitive motions.
Some US-based tobacco companies and growers groups took action in 2014 to ban employing children under 16 to work in tobacco farming, but excluded older teens from their policies. Teenagers are still vulnerable to the harmful effects of the work, Human Rights Watch said.
Human Rights Watch conducted field research for the report in July 2015, in eastern North Carolina, and interviewed 26 children ages 16 and 17, as well as parents, experts in farmworker and adolescent health, and tobacco growers.
Beyond routine exposure to nicotine, many of those interviewed reported working in or near fields that were being sprayed with pesticides, or re-entering fields that had been recently sprayed, and feeling suddenly ill with headaches, nausea, difficulty breathing, burning eyes, and itching noses and throats.
Almost all the teenagers who spoke to Human Rights Watch worked 11 or 12 hours per day in extreme heat, without suitable protective equipment, inconsistent access to toilets, and no place to wash their hands. Very few had been given any safety training or health education about the hazards of tobacco farming.
'Ines', 17, said that she got violently ill after a day of work in a tobacco field. 'At work, I was feeling kind of sick, like something was wrong with me,' she said. 'And then, in the night, that's when everything started. . . This painful stomach ache hit me. It was so strong that I was crying at night. My mom was going to take me to the emergency room, because I was feeling really bad. And I started puking. I think I threw up three or four times that day. It was so painful.'
Elena G., a tall 16-year-old girl, lives in a mobile home in eastern North Carolina with her mother, three sisters, two brothers, and nephew. Since she turned 12, she has spent her school summer vacations working long hours as a hired labourer on tobacco farms in several nearby counties.
Human Rights Watch first interviewed Elena in May 2013 for a report on hazardous child labour in United States tobacco farming. At the time she was just shy of 14, and about to begin her second summer working in tobacco farming.
In July 2015, Human Rights Watch interviewed her again. Some things had changed: Elena had finished her first two years of high school. But in at least one fundamental way, things were very much the same; she was still spending her summers working in tobacco fields.
'I don't feel any different in the fields than when I was 12,' she told Human Rights Watch. 'I (still) get headaches and . . . my stomach hurts. And like I feel nauseous. . . I just feel like my stomach is like rumbling around. I feel like I'm gonna throw up.'
The report follows up on research published by Human Rights Watch in 2014 documenting hazardous child labour in US tobacco farming, including interviews with 141 child workers, ages 7 to 17, in four US states.
For nearly two years, Human Rights Watch has met and corresponded with executives of eight large companies purchasing tobacco from farms in the US and has urged the companies to strengthen their child labour policies.
In 2014, the two largest tobacco manufacturing companies in the US – Altria Group and Reynolds American – announced that they would ban hiring children under 16 to work on tobacco farms.
This change followed similar statements by two associations of tobacco growers.
'Banning children under 16 from working in tobacco farming is a good first step," Wurth said.
'But 16- and 17-year-olds are still highly vulnerable to the effects of nicotine and pesticides. They deserve protection too."
Several other tobacco companies prohibit those under 18 from a number of particularly hazardous tasks in tobacco farming, but none of the companies have policies sufficient to protect all children under 18 from dangerous work, Human Rights Watch said. US laws and regulations offer less protection than most tobacco company policies on children's work in tobacco farming.
Under US labour law, it is legal to hire 12-year-olds to work unlimited hours outside of school on a tobacco farm of any size with parental permission, and there is no minimum age for children to work on small tobacco farms or farms owned and operated by family members.
Teenagers are particularly vulnerable to the harmful effects of the work because their brains are still developing. Research has shown that the prefrontal cortex – the part of the brain used for planning, problem-solving, and controlling impulses – continues developing throughout adolescence and into the early 20s.
The prefrontal cortex is susceptible to stimulants, such as nicotine. While the long-term effects of absorbing nicotine through the skin are uncertain, nicotine exposure during adolescence has been associated with mood disorders, and problems with memory, attention, impulse control, and cognition later in life.
Pesticide exposure during childhood has been linked to cancer, reproductive health problems, depression, and other problems later in life. Under international law, the US is obligated to take immediate action to eliminate hazardous labour for those under 18, including any work that is likely to harm their health or safety.
Tobacco companies, for their part, have a responsibility to work to prevent and eliminate serious human rights problems in their supply chains. The US Department of Labour has acknowledged the risks to children who work in tobacco farming, but has failed to change US regulations to end hazardous child labour in the crop.
A bill introduced by Senator Richard Durbin and Representative David Cicilline would ban hiring anyone under 18 to work in direct contact with tobacco, but the bill has not been brought for a vote in either house of Congress.
'The US government needs to do much more to protect child workers from the dangers of tobacco farming,' Wurth said. 'The US government and Congress should take urgent action to ban everyone under 18 from hazardous work on tobacco farms.'