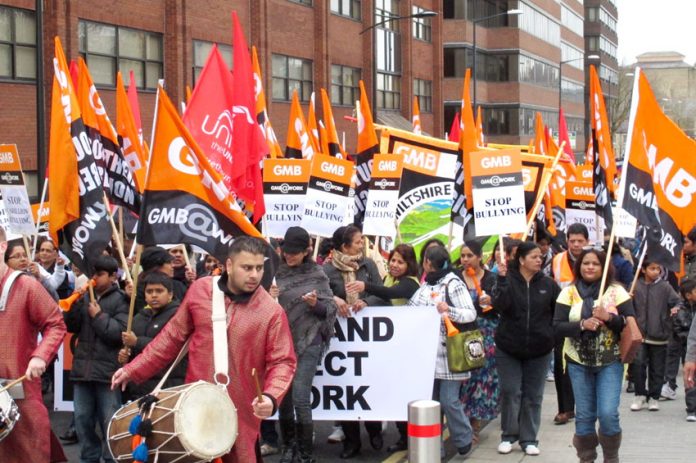 'We are comrades! We have shown we are not just GMB but all of Swindon together!' GMB shop steward Paulo Fernandes told a cheering crowd in the town on Saturday.
He was speaking at the end of a 500-strong march led by striking ancillary workers employed by privateer Carillion on the PFI contract at Great Western Hospital, Swindon.
Paulo continued: 'It is surprising to hear in this century and in this developed country of the UK that bullying is still going on.
'Most of our staff are Goans. We are fighting for respect. Carillion has no right to bully or harass us.'
The strikers were joined on the march by delegations from Wiltshire and Swindon GMB, Swindon NUT, Bristol and District CWU, Unite Swindon Health Service Branch, Swindon Unison and Wiltshire FBU.
Led by Indian drummers, the strikers chanted 'No to bullying! Recognise GMB! Fair holidays! We will win!'
Paulo told News Line before the march set off: 'Today is our twelfth day of striking.
'We are not fighting for a single penny extra. All we are demanding is a single word "respect" at work.'
He alleged: 'Carillion is going against diversity and equality by harassment on the job, bullying and threatening.
'The management are miss-using the policy of the company.
'On holidays, it is not mentioned in company policy that they should be two weeks only.
'We can ask for more. But our demand is only for three or four more days so we can accommodate four weeks including our rest days.
'Our shift pattern is four days off, seven days on rota, then three days off and seven days on rota.
'We are only asking the three or four days extra so we can go on holiday for four weeks at a time and see our families in Goa.'
Paulo further alleged: 'Our housekeeping manager used to give extended holidays to a few people. She would ask for gifts in return.
'She has resigned but we are not satisfied because there should be an investigation of our 109 collective grievances against her, including alleged criminal actions.
'Also we want Carillion to recognise our chosen union, the GMB.
'We are ready for positive dialogue at any time.
'We will continue striking until we win.'
GMB member Clifford Rodriguez, a porter at SWICC care centre, said: 'We are not happy with the bullying.
'We're not happy with management, the way we are not getting respect at work.
'We are especially upset over the holidays.
'They are not giving more than ten days at a time.
'We are spending so much money on tickets and travelling, it's not worth it for ten days.
'And we don't get holidays at Christmas at all. They won't sanction holidays from 10th December to 10 January.
'I haven't been able to see my family in Goa for Christmas for the past four years.
'My last wish is for Carillion to recognise our chosen union so then we can work happily.
'If we have a difficulty, we can go and ask our union to help us.'
He concluded by alleging: 'We are not happy with management because some of them are corrupt. That should not happen at work.'
Glen Burrows, chair of Bristol RMT retired members branch told News Line: 'I'm here in solidarity with our GMB brothers and sisters.
'We have a number of campaigns in the RMT against low pay, including cleaners on the Tube.
'We congratulate the GMB for supporting this group of workers, who are courageous and standing firm against cut-throat employers.'
GMB housekeeping shop steward at Great Western Hospital, Carmina Fernandes, said: 'We want Carillion to recognise our GMB union.
'We want them to stop bullying and for a fair holiday system.
'Our strike is strong. This is our fifth strike, this time for seven days.'
GMB member Martina Rodriguez added: 'We will keep fighting until we win.
'We are strong because of the support of the GMB union.
'Until we win all our demands, we will keep fighting.'
GMB member Selina Fernandes, a housekeeper, said: 'We want respect at work. We want to stop the bullying. We want them to recognise our GMB.'
Kitchen hostess Esperanza De Souza, also a GMB member, stressed: 'We want the GMB to be recognised.
'And whatever they say, we want everything in writing, because we don't trust Carillion anymore.
'They keep changing the language – they say one thing one day and another the next.
'We want a fair holiday system, no favouritism.'
Steve Huckery, GMB Yorkshire region organiser, and his father came from Leeds to join the march.
He told News Line: 'We've come down to support these people who've been in dispute for a total of 12 days strike action.
'Our understanding is they are taking action because of bullying by management and for trade union recognition.'
He added: 'Osborne's plan for local pay is just a way of splitting the trade union movement.'
Along the road, a group of Unite members joined the march.
Sandy Musgrave, Unite rep at Wincanton Marks & Spencer warehouse, told News Line: 'We support the Carillion workers.
'We're protesting against the way M&S want to bring in a two-tier contract.
'New starters wouldn't be on the same rate of pay, holidays or sick pay.
'They'll have less breaks than us and compulsory overtime, which means there wouldn't be overtime for us.'
Addressing the end of march rally, GMB national officer Justin Bowden declared: 'Well done for bringing so many people onto the streets of Swindon.
'I come with a message from GMB general secretary Paul Kenny, our national executive committee and all our members.
'You have the absolutely unreserved support of the whole of your union.
'Your fight for dignity and against corruption has become an inspiration to people across the country.
'Victory to the Carillion workers,' he concluded to chants of 'We will win!' from the strikers.
Bristol GMB branch secretary Andy Newman told the rally: 'We're already winning. Now you're the strongest women I've met.
'We will win respect at Carillion.
'You've earned the respect of the GMB and the whole trade union movement.'
He pledged: 'We will not walk away until you have won. You have changed Swindon.
'We are now starting seven days of strike action.
'Agency workers have been brought in. We're taking legal action. It will cost them £5,000 for every agency worker for every day of strike action.'
Other speakers were local NASUWT rep Pete Baldry, prospective Labour Party candidate Anne Snelgrove and GMB organiser Carole Vallelly read out a message of support from blacklisted GMB rep Dave Smith.