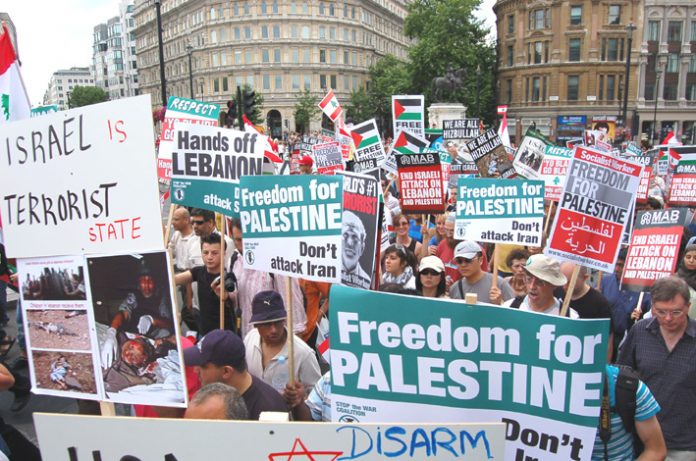 US President George W Bush was in Saudi Arabia on Monday to rally support for his campaign to isolate arch foe Iran and for his Middle East 'peace' drive.
Bush had warned on Sunday of what he called the threat to the world posed by the Islamic republic, saying it should be confronted 'before it's too late.'
'The United States is strengthening our long-standing security commitments with our friends in the Gulf – and rallying friends around the world to confront this danger before it is too late,' he said on Sunday in the keynote speech of his Middle East tour.
Tehran 'seeks to intimidate its neighbours with missiles and bellicose rhetoric,' Bush said in his address in the UAE capital Abu Dhabi. 'Iran's actions threaten the security of nations everywhere.'
He described Iran as 'today the world's leading state sponsor of terror' and, with Al-Qaeda, the main threat to the region's stability.
Iranian Foreign Minister Manouchehr Mottaki retorted that Bush's efforts to damage Tehran's ties with its Arab neighbours were futile, and dismissed his tour which started last Wednesday in Israel as a 'failure'.
Iran and the imperialist powers have been at loggerheads for several years over its nuclear drive, which Washington suspects is a cover for ambitions to build atomic weapons – a charge Tehran denies.
But tensions escalated shortly before Bush headed to the region over a confrontation in the strategic Strait of Hormuz between Iranian speedboats and US warships.
On the peace track, Bush called on Washington's oil-rich Gulf Arab allies to support US policy goals in the Middle East.
The US leader has set a target of an Israeli-Palestinian peace treaty by the end of his term in January 2009 that would lead to the creation of a Palestinian state and end Israel's four decade occupation.
He said on Sunday that for Israel, peace with its Arab neighbours was the best guarantee of security while Palestinians should 'reject the terrorists who pose the greatest threat to a Palestinian state.'
Saudi Arabia's King Abdullah is hosting Bush at his ranch outside Riyadh on Monday but despite the intimacy of the setting, the two allies face 'difficult talks' both on Iran and the Middle East conflict, analysts and diplomats say.
While Sunni-ruled Saudi Arabia has voiced concern over the rise of Shi'ite Iran, it is opposed to another war in the region after the 2003 US-led invasion of Iraq that has strengthened the Islamic regime in Tehran.
'One of the things the president will urge His Majesty King Abdullah is to make a strategic investment in the future of the region, a region which would not be dominated by extremists,' said a senior official travelling with Bush.
Bush will court Riyadh's diplomatic influence in the region but also its financial muscle which could make an enormous difference in places like the Palestinian territories, Lebanon, Iraq, Afghanistan and other locations.'
King Abdullah is the architect of a 2002 Arab initiative revived last year offering normalisation with the Jewish state in return for an Israeli withdrawal from occupied territories.
On the Iran crisis, Saudi Arabia has already called for Washington and Tehran to exercise restraint.
'Saudi Arabia is a neighbour of Iran in the Gulf, which is a small lake. We are keen that harmony and peace should prevail among states of the region,' Foreign Minister Prince Saud al-Faisal said.
'We have relations with Iran and we speak with them. If we sense any threat, we will speak with them about it,' he said after the naval face-off in the Gulf.
The White House has tried to play down the significance of Iranian President Mahmud Ahmadinezhad's visit to Saudi Arabia last month for the annual Muslim hajj pilgrimage.
Bush and Abdullah are also expected to discuss arms sales and efforts to combat terrorism, with the US administration believing its ally – the homeland of Al-Qaeda chief Osama bin Laden – still has 'more to do'.
The United States announced last July military pacts worth 20 billion dollars for Saudi Arabia in a bid to counter Iran.
Ahead of Riyadh, Bush was to travel from Abu Dhabi to the emirate of Dubai, which was to close down on Monday for a public holiday as part of security measures for his tour of the bustling city state's landmarks.
The US leader has also travelled to the West Bank, Kuwait and Bahrain. After Saudi Arabia, his week-long tour is due to end in Egypt on today.
His chief ally in the region, Israeli prime minister Olmert has however expressed his scepticism over reaching a peace deal with the Palestinians, and then implementing it.
Olmert voiced his scepticism on Monday about the chances of reaching a peace deal with the Palestinians, but said maintaining the status quo was dangerous.
'I'm not sure we can reach an agreement and I'm not sure we can reach its implementation,' a senior government official quoted Olmert as telling parliament's foreign affairs and defence committee.
'But I will be committing a sin to my duty if I didn't try,' he said, as negotiations opened between the two sides on the core issues at the heart of their decades-long conflict.
His comments came after US President George W Bush predicted an Israeli-Palestinian peace treaty could be signed by the end of his term in January 2009.
'The opposition and the head of the opposition want to maintain the status quo at any price,' Olmert said. 'I say this is dangerous, adventurous and irresponsible.