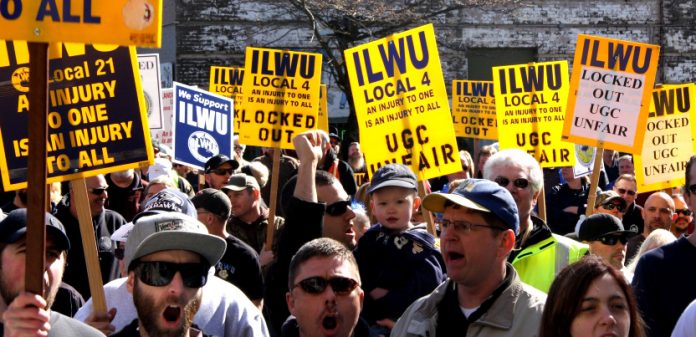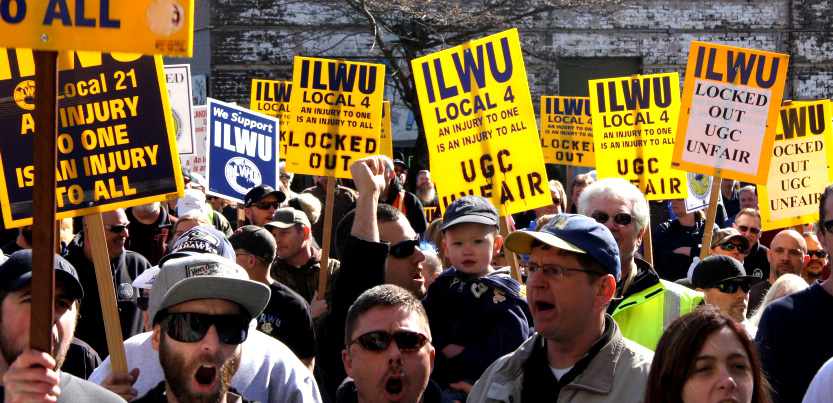 Longshore workers in British Columbia have overwhelmingly voted to authorise industrial action, raising the prospect of a strike at the Port of Vancouver, Canada's busiest port, which handles the largest volume of cargo in and out of the country.
The International Longshore and Warehouse Union (ILWU) Canada has announced that 98.4 per cent of members voted 'in favour of supporting strike action if necessary.'
A work stoppage could come at any time during the next 60 days, with 72 hours notice.
It significantly raises the stakes in contract negotiations between ILWU Canada and the British Columbia Maritime Employers' Association (BCMEA), which represents companies operating at the ports.
A contract for the longshore workers expired in March 2018.
The ILWU and the BCMEA agreed on their previous contract in 2010 after the longshoremen authorised a strike.
About 2,700 ILWU longshoremen work at British Columbia's ports, which handled 3.6 million 20-foot-equivalent units (TEUs) of cargo in 2018.
Most went to Vancouver, whose volumes hit a record 3.4 million TEUs and 147 million metric tons in 2018.
A federal mediator has been attempting to get the two sides to reach an agreement.
Neither the union nor the BCMEA has disclosed their areas of contention.
The average unionised longshore worker earned about C$119,000 per year in 2018 (a Canadian dollar equals US$0.75), according to the BCMEA.
Their pay lags behind longshore workers at major US ports on the West Coast, who earned about US$171,000 per year on average in 2018, according to the Pacific Maritime Association.
About C$200 billion in trade goes through the Port of Vancouver each year, and it serves as Canada's main gateway for Asia.
The Canadian International Freight Forwarders Association warned in April that a strike would hurt Canada's supply chain, and could result in cargo permanently being redirected to ports in the US.
Meanwhile, the provincial office tasked with preventing occupational injury, illness and death in Ontario will see $16 million in cuts this year, despite the fact the body is not taxpayer funded and does not impact the government's bottom line.
The Ministry of Labour's prevention office budget will drop from more than $119 million in 2018 to $103 million, new budget estimates released by the Ford government show.
The bulk of the cuts will impact research projects on issues like occupational disease, as well as the province's independent health and safety associations, which provide ministry-approved training and support to workplaces across Ontario.
Critics say the cuts make 'no sense' because the prevention office's costs are fully reimbursed by the provincial workers' compensation board and are not borne by the general public.
'It's not even tax dollars. It makes no sense. It will not affect the provincial deficit,' said Maryth Yachnin, a lawyer with the Toronto-based legal clinic Industrial Accident Victims Group of Ontario (IAVGO).
'It will ultimately lead to more accidents.'
Although it operates out of the Ministry of Labour, the prevention office is funded by reimbursements from the workers' compensation board as part of its mandate to promote safe workplaces.
The Workplace Safety and Insurance Board is funded entirely by employers' insurance premiums.
In exchange for benefits provided by the province's no-fault compensation system, injured workers give up their right to sue their employer.
Last year, the WSIB eliminated its unfunded liability, or the difference between the projected future costs of paying benefits to injured workers with existing claims and the money in the board's accident fund.
As a result, employers received a 30 per cent reduction in the premiums they are required to pay the WSIB starting in 2019.
Board president Tom Teahan has said the WSIB's improved financial position would 'ensure we can offer the best health-care services' to Ontario workers.
In 2018, the WSIB provided $217 million to the ministry to cover occupational health and safety and prevention office costs.
The province's health and safety associations (HSAs) will see a funding drop of $12 million.
While HSAs generate some of their own revenue through training programme fees, other prevention efforts – like the Occupational Health Clinics For Ontario Workers and the Office of the Worker Adviser, both of which have been instrumental in assisting occupational disease victims receive workers' compensation – do not generate any revenue.
Ministry funding for both those bodies flatlined this year.
Research funding will drop by $1.68 million, from $8.5 million last year to $6.8 million this year.
In the past, that money has gone to initiatives like preventing chemical exposure amongst vulnerable nail salon workers and educating migrant farm workers about chemical hazards as well as reducing violence toward health care workers.
'Those are cutting edge issues,' said Andy King, a researcher at McMaster University and the former chair of the Ministry's occupational health and safety research advisory programme.
'We're trying to get some really crunchy research that should not only inform employers about what they should do, but inform inspectors about what they should do.
'But that's not an interest of this government,' he said.
King said independent health and safety research that involves both employers and labour in project design has traditionally been a strength in Ontario, but the budget for it was small even before the cutbacks.
'We have a record that's amazing. At the same time, there's not a lot of money there,' he said.
'This is really important to workers because ideological approaches to research kill workers.'