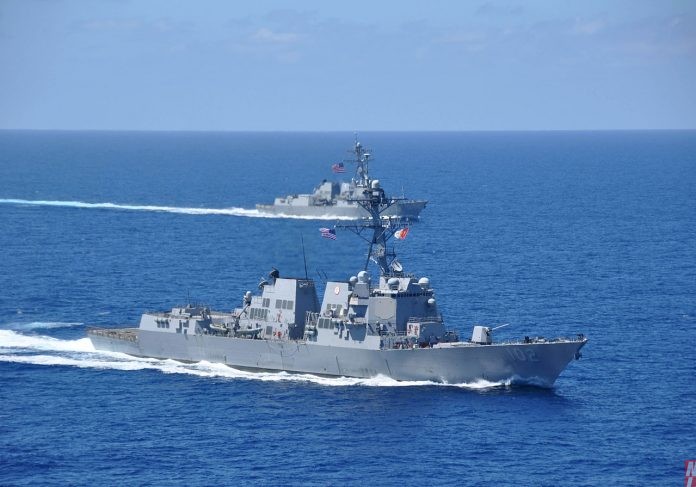 CHINA has reversed its decision to cancel trade talks with the UK after British finance minister Philip Hammond criticised London's military plans for the deployment of a British warship in the Pacific.
'China sets great store on Sino-Britain ties, and hopes Britain can earnestly respect China's core interests and concerns, and make efforts for promoting the healthy and stable development of relations,' Chinese Foreign Ministry spokesman Geng Shuang said at a daily news briefing in Beijing on Friday.
China also said it would welcome a visit by the British finance minister to enhance bilateral relations.
'As for the issue of Chancellor Hammond visiting China, we have said that we welcome him to visit,' Geng added, without elaborating.
Beijing threatened to call off planned trade negotiations with the UK after British Defence Secretary Gavin Williamson vowed to send an aircraft carrier to the South China Sea.
Williamson said in a speech that the deployment of aircraft carrier HMS Queen Elizabeth would be as a show of strength by the UK, accusing China of increasingly disputing the waters in the Pacific region.
A British government source said Williamson's speech had been cleared in advance by both Hammond's department and Prime Minister Theresa May's office.
Hammond's trip to Beijing was cancelled on February 16th, a day after a Chinese official in London lambasted Williamson's 'Cold War mentality'.
In a thinly-veiled rebuke to the British Defence Secretary, Hammond hailed his country's ties with China as 'important', and insisted that no decision had actually been taken on the carrier's deployment.
Asked if the London-Beijing relationship had been damaged by Williamson's comments, Hammond said: 'It's a complex relationship and it hasn't been made simpler by Chinese concerns about Royal Navy deployments in the South China Sea.'
May's official spokesman also said: 'Our relationship with China is a very important one. We have strong and constructive ties on a range of issues and we will continue to do so.'
Beijing has been angered in the past by the fact that Britain is seeking closer military cooperation with the United States in the South China Sea, a region which China claims in its entirety and dismisses similar territorial claims by six other Southeast Asian countries.
In August, a British warship sailed close to the Paracel Islands claimed by China in the South China Sea, prompting fury in Beijing.
This comes as London has been desperate to broaden its cooperation with the world's second largest economy in a bid to offset the shocks of leaving the EU at the end of March.
However, the UK government has also been accused of trying to please the United States by countering China's rising influence in the South China Sea region.
The bodies of more than 3,500 people who were killed at the hands of Daesh have been exhumed in Syria's northern city of Raqqah, the Takfiri terrorist group's former bastion.
According to reports on Thursday, the burial site is located in the al-Fukheikha suburb and so far the remains of 120 people have been unearthed from the mass grave at a farmland outside Raqqah.
'We've heard accounts from residents of al-Fukheikha that they would see people gathering with someone in an orange suit,' Turki al-Ali, who is supervising the recovery effort, said.
The terror group would typically dress its captives in orange suits when they executed them.
'There are some 2,500-3,000 bodies estimated there, plus between 900 and 1,100 bodies in the individual graves, so at least 3,500 total,' Asaad Mohammad, a forensic assistant at the site, said.
He added that the burial site is 'the largest grave since Daesh came to Raqqah' in 2014 and that the identity of the victims remains unknown.
Daesh established its de facto capital in Raqqah in 2014 after it overran territories in Syria and Iraq. The group committed some of the most heinous crimes against civilians and military forces, which shocked the world.
Eight more mass graves have already been dug up around Raqqah where recovery efforts began in January 2018.
Since then, more than 3,800 bodies have been uncovered across Raqqah.
Kurdish militants recaptured Raqqah more than a year ago with the help of US airstrikes which left the once sprawling city totally destroyed.
The US and its allies have repeatedly been accused of targeting and killing civilians and drawn criticism over their failure to destroy Daesh, which they claim to be fighting.
'These mass graves hold the answers to the fate of people who had been executed by Daesh fighters, who died in coalition airstrikes, or who have been missing,' Sara Kayyali of Human Rights Watch said.
Amnesty International's new Secretary General Kumi Naidoo said after visiting Raqqah back in October that 'attacks by the US-led coalition not only killed hundreds of civilians but also displaced tens of thousands, who are now returning to a city in ruins, while many others languish in camps'.
Amnesty International is shocked by the horrific destruction left by the US-led campaign in Syria's Raqqah.
The US-led coalition recently airlifted to safe sanctuaries several large boxes full of 'spoils' that members of the foreign-sponsored terror outfit had claimed in Syria's eastern provinces of Hasakah and Deir Ezzor as well as neighbouring Iraq.
Daesh usually accepts to withdraw from areas under its control after it strikes deals with Washington.
Local sources, requesting anonymity, told Syria's official news agency SANA last week that US helicopters landed in the Dashisha area of Hasakah and Hajin in Deir Ezzor, and transported dozens of Takfiri commanders and militants to unknown locations.
The sources added that the extremists, in return, had directed US forces to their caches of stolen gold east of Shaddadi town.
In December, US President Donald Trump ordered his commanders to execute a 'full' and 'rapid' withdrawal of over 2,000 American forces from Syria within 30 days, arguing that with the defeat of Daesh the US military's mission in the country had come to an end.
However, White House Press Secretary Sarah H. Sanders said on Thursday that around 200 American troops will remain in Syria on a 'peacekeeping' mission despite Trump's pledge to fully evacuate the Arab country.
The US is leaving behind a small contingent of its troops in Syria for 'peacekeeping' purposes, the White House says.
'A small peace keeping group of about 200 will remain in Syria for (a) period of time,' she said in a statement.
Russia says Syria's Kurdish militants should begin dialogue with the government of Syrian President Bashar al-Assad as the United States — hitherto backing them on the ground — is preparing to withdraw from the Arab country.
'If there are no foreign troops on the ground of Syria's northeastern part, I think that the best solution would be to start up a dialogue between the Kurds and Damascus,' said Russian Deputy Foreign Minister Sergei Vershinin at the Munich Security Conference adding: 'We support this dialogue between Damascus and the Kurds.'
Most of the Kurdish militants in northern Syria are members of the People's Protection Units (YPG), a US-backed militant group that forms the backbone of the so-called Syrian Democratic Forces (SDF).
The SDF, which has been fighting against the Takfiri Daesh terrorist group, has set up what is effectively a semi-autonomous administration in northern Syria during the country's seven-year conflict.
US President Donald Trump said abruptly in December last year that a full withdrawal of all the 2,000 US troops in the Arab country would happen soon.
With the planned withdrawal of the US, the Kurds would be exposed to possible Turkish military action as Ankara regards the YPG as an extension of the outlawed Kurdistan Workers' Party (PKK) in Turkey. The PKK militants have been fighting against the Turkish army for an autonomous region inside the Anatolian country since 1984.
The prospect of a new conflict involving Turkey and the Kurds now looms ever larger over the horizon as Daesh's territory has also significantly withered.
'The Kurds are a part of the population of Syria,' Vershinin further said. 'We know about the problems between Damascus and the Kurds but I think there is a solution through dialogue.'
Syrian Kurds have as recently as January shown willingness to work with Damascus.