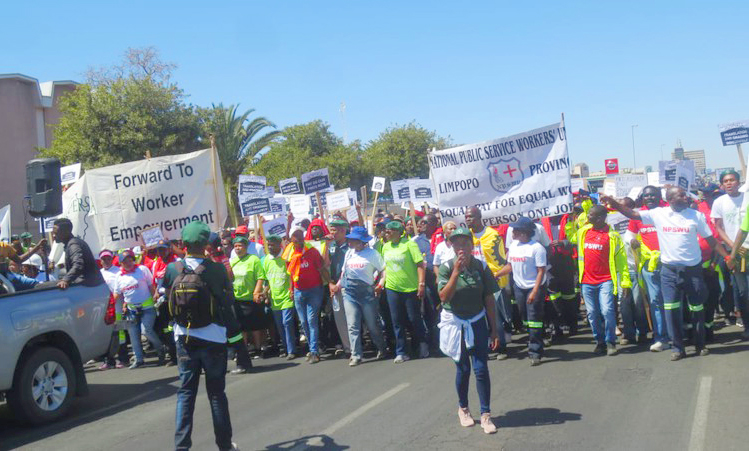 WE KNEW there would be a bloodbath of jobs if Sibanye-Stillwater's acquisition of Lonmin's Marikana operations was approved by the Competition Commission.'
Association of Mineworkers and Construction Union (Amcu) president Joseph Mathunjwa was responding to last week's announcement by Sibanye that it would cut 5,270 jobs – 3,904 employees and 1,366 contractors – at its Marikana operations in South Africa's North West province.
'We saw it coming,' said Mathunjwa. 'That is why we opposed the sale. We fought it and the government did not support us,' he said, accusing the company of having planned the cuts in advance.
'These retrenchments are well orchestrated to destroy Amcu and its leadership,' he went on.
'They never expected me to come back from the elections as president.'
Mathunjwa said the government is complicit. 'It's exploitation and they have the backing of the government. No one can doubt it's a neoliberal government,' he said.
Mathunjwa said that the mine had posted more than R1.1 billion in operating profits before the sale earlier this year.
Amcu has more than 20,000 members at Sibanye's Marikana operations.
It has 78,000 members in the platinum sector where it is the majority union and has overall more than 150,000 members across all sectors in which it is involved.
Marikana, also known as Rooikoppies, is a town in Rustenburg local municipality, Bojanala Platinum District Municipality district in the North West province of South Africa.
The name Rooikoppies means 'red hills' in Afrikaans.
The Marikana massacre took place on the periphery of Wonderkop on 16 August 2012.
It was the most lethal use of force by South African security forces against civilians since 1976.
The massacre took place on the 25-year anniversary of a nationwide South African miners' strike.
The killings took place at two locations, roughly 500 metres away from each other, with 17 people fatally wounded at each of these locations.
The vast majority of those killed were killed by fire from the R5 assault rifle used by the South African Police Service (SAPS).
The official figure for strikers injured during the shooting is 78.
Hundreds of Limpopo health workers marched to the offices of the MEC for Health in Polokwane last Friday.
Among their demands are that emergency medical services staff be paid for extra hours and that staff shortages be addressed.
They also want management to verify how many hours are owed to emergency staff from a 2007 dispute.
The workers are affiliated to National Public Service Workers Union (NPSWU) and the Health and Other Service Personnel Trade Union of South Africa (HOSPERSA).
HOSPERSA also demanded that unroadworthy ambulances and patient transport vehicles be taken off the road.
The group marched from Landdros Mare Road to the offices in College Street, holding up posters while blowing whistles and singing.
But when they reached the department, the gates had been locked.
'This tells us that MEC does not want to hear our concerns. We want to hand over a memorandum of our demands,' said Bongani Ngwenya from HOSPERSA.
The gates were opened after union leaders agreed they would be peaceful.
The department sent an official from Human Resources to get the memorandum, but leaders refused and demanded that someone in management address them.
Dr Ntodeni Norah Ndwamato, a director, later came out to accept the memorandum.
While reading out their demands, Risimati Chabalala from NPSWU said: 'We marched some time ago, demanding that the department should open (another) Emergency Medical Services college so that we could have trained personnel to serve communities.'
Chabalala said an independent investigation was needed into the current college administration.
After signing the memorandum, Dr Ndwamato promised that the department would look into their concerns and respond before 9 October.
The City of Cape Town said that it had contingency measures in place if firefighters proceed with their plan to boycott overtime work.
The South African Municipal Workers' Union (Samwu) confirmed that firefighters would only work from 8am until 4:30pm from Tuesday this week.
Last week, they marched to the Civic Centre and Parliament, demanding a change to the overtime pay structure.
Samwu's Sebenzile Kiva said during a union meeting on Monday that it was agreed that firefighters would not work overtime shifts.
The City of Cape Town said the striking union represents about 60% of its 900 firefighters.
The city has threatened to take action against staff who refused to work standby hours, however, the union warned this could not be done.
The National Union of Metalworkers of South Africa (NUMSA) met with employers from the Motor Industries Bargaining Council, (MIBCO) last week, as part of mediation under the auspices of the Commission for Conciliation Mediation and Arbitration, (CCMA).
This sector represents workers in components companies, petrol stations, and car dealerships, and employs approximately 306,000 workers.
Following the meeting, the NUMSA leadership stated: 'We met with an expectation that employers, who are represented by the FRA, RMI and NEASA, would engage meaningfully with the demands made by our members.
'But unfortunately they remain inflexible and as a result talks collapsed. It seems we are headed for a strike.
'There are two key issues which our members want urgently resolved: Transport/night shift allowance for fuel station workers who work awkward hours, and whose income is so low that it makes transportation to and from work very costly.
'The peace clause – which locks us into a wage deal of three years, and in that time, we are unable to negotiate benefits and conditions until the agreement expires.
'At the mediation employers demanded that we drop our demands on both these issues, because they wanted only to deal with the wage demand.
'They made it clear that they had no interest in addressing the working conditions of workers. They want a three-year wage agreement, with a 5% wage increase for each year.
'We reject this offer with the contempt it deserves.
'Since we opened up for wage talks, the employer has been arrogant and they continue to demonstrate that they do not care about their employees.
'And we are not surprised because this racist untransformed industry, displays an attitude towards African workers which is reminiscent of the dark days of Apartheid.
'Furthermore, the bosses cannot justify demanding a peace clause of three years, without also offering to address the working conditions of workers, including critical issues like transport allowance.
'We have arranged formal conciliation on the 30th of September 2019 under the auspices of CCMA, and we are currently negotiating the picketing rules as part of the preparation for that meeting.
'If conciliation fails then we are well within our rights to request a strike certificate, for an industry-wide shutdown.
'Aluta continua!'