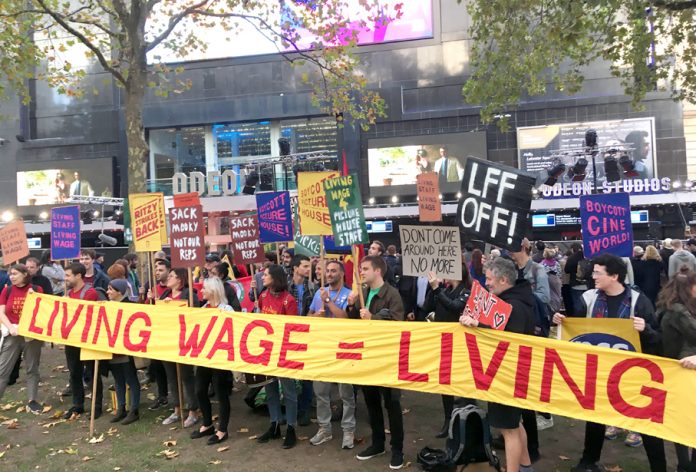 BECTU members campaigning for the Living Wage at the Picturehouse circuit began nine days of strike action on Wednesday, 4th October, which coincided with the start of the BFI London Film Festival.
On Wednesday, all London sites – Crouch End, Central, Hackney, Ritzy and East Dulwich – were on strike from 3.30pm. In place of picket lines a demonstration was held in Leicester Square from 5.30pm-7pm.
This is followed today, tomorrow and Sunday with strikes at Hackney Picturehouse and Picturehouse Central only from 5pm-7pm. Picket lines will be in place. On 11-14th October, as above, there will be strikes at Hackney Picturehouse and Picturehouse Central only from 5pm-7pm. Picket lines will be in place.
On 15th October, the closing day of the festival, all London sites will be on strike from 3.30pm.
News Line spoke to some of the over 60 participants at Wednesday's lively demonstration in Leicester Square. Strikers and supporters shouted: 'What do we want – a living wage!' Many were angry and defiant over Picturehouse's threat to discipline and/or sack strikers.
Ritzy striker Sophie Lowe said: 'We're fed up with the threats from the company. They are threatening to sack anyone who strikes. We are more determined than ever. We are united to win the strike.They are millionaires. We are not asking for much just working rights and a living wage, sick pay and maternity and paternity pay. This is a company that can afford to pay. And we want our reps at the Ritzy reinstated.'
BECTU London and southeast arts and entertainment organiser Naomi Taylor told News Line: 'Today we are protesting against the threat by Picturehouse that they are going to dismiss workers taking part in strike action.
'People are angry and worried for their jobs. BECTU will stand by all its members. If Picturehouse do dismiss or discipline anyone who is taking part in strike action, it will be breaching the law. This is one of the most important disputes that is happening in the country right now. It shows up the demands of the law that don't actually protect you. If a company has enough money they can just sack people and take the consequences. Picturehouse workers have been fighting for over a year for the Living Wage. Picturehouse owner Cineworld can easily afford to pay the Living Wage.'
BECTU official Teresa Debrou added: 'Other unions are having their own campaigns around the Living Wage. I'm here to support our Picturehouse members. This is a long-running campaign. They are determined to win, there are more strikes going forward. BECTU will take appropriate action if any of our members are sacked or disciplined.'
Picturehouse Central striker Andrea Cencioni said: 'We are on strike today for the London Living Wage. We are also fighting for maternity and paternity leave, adoptive leave, sick pay, the end of zero hours contracts and recognition of our chosen union, the BECTU section, Prospect. We also want reinstatement of the four reps from the Ritzy – Mark Cohen, Natalie Parson, Kelly Rogers and Tom McKein.
'We are determined and confident we are going to win this dispute. We believe in a fairer society where companies share their profits, and we are asking for the end of poverty wages in London. We are not scared of Picturehouse's threats to sack us if we go on strike. We are fighting back with the help of our union and its lawyers. We are prepared to go to the Employment Tribunal if need be.'
Ritzy striker Agatha Adamowicz said: 'I feel really sad that Picturehouse has refused to negotiate with us. It's been over a year now. We've been striking and fighting for the London Living Wage, decent sick pay, maternity and paternity paid leave. I'm sad and disappointed about Picturehouse's response to our latest strike. Conversation is always more effective. It's better than threats. They make us more determined. We are here to support each other, other unions should show solidarity against these threats.'
BECTU digital control officer Honor Bayes said: 'Our members are upset because Picturehouse is refusing to pay the Living Wage. It's a multi-million pound organisation, with the CEO of parent company Cineworld earning over $2m last year while many Picturehouse workers cannot afford to pay their rent. All our London members are asking for is another 45p more an hour.
'It's a very reasonable demand but the company won't even negotiate with BECTU over that.
'And they refuse to recognise BECTU as the recognised trade union at all of their cinemas, apart from the Ritzy. So we're asking for recognition at all Picturehouses currently involved in the dispute.'
Central Picturehouse striker Nesa said: 'We're here again, striking for a living wage. We want union recognition and adequate sick pay, maternity and paternity pay. This struggle has been going on for over a year now. We are determined to win. We are not giving up until we get what we deserve. The threat to sack strikers that Picturehouse is making is really absurd. It won't put us off. Picturehouse is making us more determined.'
Crouch End Picturehouse striker Alex Garcia said: 'At the moment we are making slow progress but it's something worth fighting for. We're getting closer to winning a living wage. The next step is to get Picturehouse to sign up to being an accredited Living Wage employer. We are also asking for maternity and sick pay. In terms of those it's going to be a much bigger struggle. Also we want recognition of our union, BECTU.
'I'm not surprised by the threat to sack us if we go on strike, the company has always been mildly threatening. This is the first time they've been opening threatening to us. People are worried but we still came out today. Support from BECTU makes a massive difference, with their legal support.'